The following guide is demonstrated on the basis of MX Player v1.25.1, which may apply to future version even if the layout varies. To closely keep pace with the steps without any discrepancy, update your MX Player to the latest version and get ready.
Step 1. To install MX Player DTS codec, first of all, ensure that the version of Custom Codec is consistent with your MX Player. Then visit either link below to download the codec pack.
https://drive.google.com/open?id=0B1cOHQ70J9vlSUVMMG1MSHFXbTQ
https://github.com/USBhost/MX_FFmpeg/releases
Step 2. Most tutorials throughout the web require you to confirm the Custom Codec type on your smartphone, such as x86, x86_64, neon, neon64/ARMv8, etc. Actually, to dispel the confusion, you can skip that unnecessary step and directly download the AIO (all in one) version to your smartphone as the snapshot shown below. No need to unzip the file, MX Player is able to unzip and finish the installation.
Tips: You're also allowed to download the "mx_aio.zip" file on computer and then transfer or sync it to your smartphone via USB cable, WIFI or Bluetooth, etc.
Step 3. Open MX Player on your Android device, tap the "three horizontal lines" in the top-left corner and select "Local Player Settings" option. Choose "Decoder" and scroll down to the bottom. Tap "Custom code" option and load your downloaded "mx_aio.zip" file. After done, you're prompted to restart MX Player to make it work. Now you can play and hear the DTS audio normally.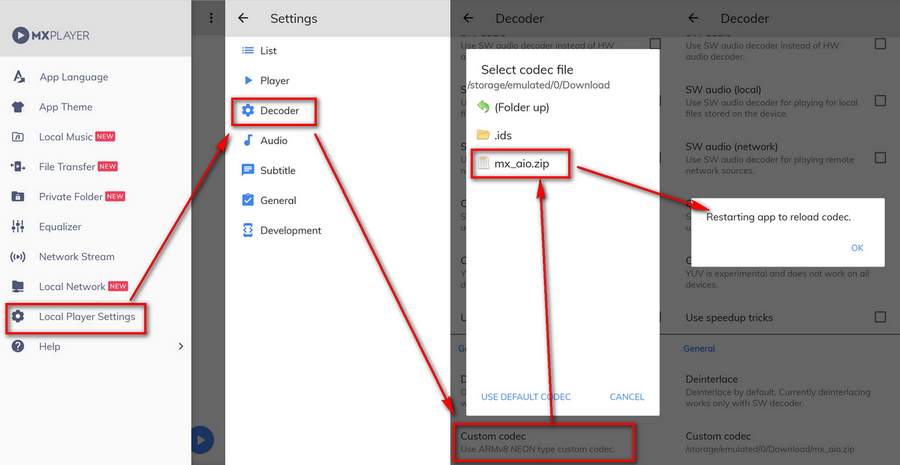 Note: Whenever you update the MX Player, it will check the custom codec version loaded. It will show a message "Custom Codec is out of date. Replace it with the new version" if there is a new version available, which means you have to repeat the aforementioned steps to reinstall the new version again.