Before we get to E-AC-3 vs DTS, it might be a good idea to have a look at the love-and-hate story of the Dolby Labs and Digital Theater Systems, Inc. Since they share the similar product goals in the cinema theatre and home theatre markets, each product developed by these two companies is inevitably in a state of competition with the first generation being the competition between AC-3 and DTS since the last 90s. They have alike audio quality and close usage, so people often make comparisons between the two in terms of their audio performances. Though it's really difficult for me to spot any difference in their audio quality, most audiophiles show partiality for DTS for it has a larger bitrate (1509.75 kbit/s) which would seemingly guarantee a higher sound quality. Therefore, in the consumers' mind, DTS gets the upper hand in this round. But what about E-AC-3 vs DTS? Can EAC3 audio win DTS in this one?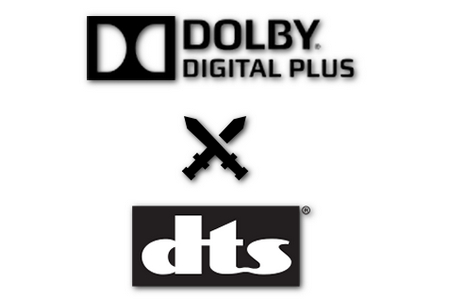 E-AC-3 vs DTS
1.Bitrates
E-AC-3: up to 6144 kbit/s
DTS: up to 1509.75 kbit/s
2.Channels
E-AC-3: 1.0 to 7.1
DTS: 1.0 to 5.1
3.Usage
E-AC-3: It is not widely supported. HD DVD system has full support for E-AC-3, while Blu-ray Disc offers E-AC-3 as an option.
DTS: It has a wider usage and support for both commercial/theatrical and consumer-grade applications.
Sum up: Dolby Digital Plus audio clearly beats DTS in the bitrates and audio channels but shows weakness in its usage.