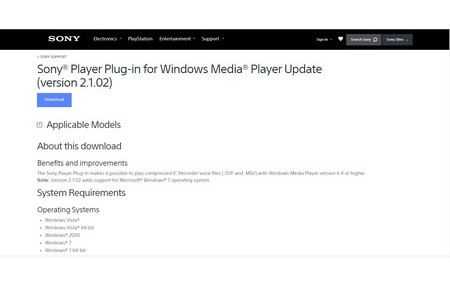 MSV Player to Play MSV Files
If you only want to solve the issue of how to open MSV files, then, there is another way to help you. Just with Sony Player Plug-in installed, Windows Media Player can become an MSV player capable of playing MSV files directly. Follow the steps to play MSV files on Windows Media Player.
Please note that this method can only be used in some editions of Windows 7, Vista, XP, 2000, and Windows Media Player version 6.4 or higher version is required.
Step 1. Download the Sony Player Plug-in with the link below and follow the operation procedure to install it on your computer.
https://www.sony.com/electronics/support/downloads/W0005501
Step 2. After the installation, restart the computer. Now, you can just double click the MSV file and Windows Media Player will start and begin playback.