Optionally, if you do not want to install any application on your computer, there are also many online converters you can choose from on the Internet. In order to re-encod the MPEG4 files, I will utilize Online-Convert to process this work. You can visit it via the official site: https://video.online-convert.com/convert-to-mp4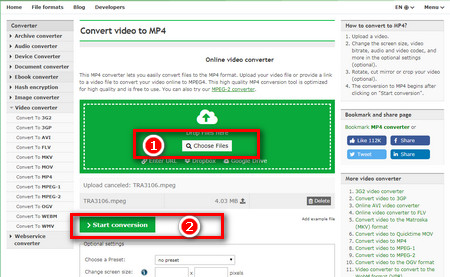 Convert MPEG to MP4 online
Step 1: Upload Videos into Online Converter
Click Choose Files to upload MPEG videos. Similarly, you can process it by dragging and dropping files therein. Uploading files will cost you a bit of time according to the size of your file.
Step 2: Start MPEG4 into MP4 Conversion
As soon as the MPEG4 file is uploaded, click the Start Conversion button to enter the conversion page. Now, your hands are free. Since the conversion is finished, the converted file will be downloaded automatically. Do not forget to check it.