Some Frequent Problems You May Suffer from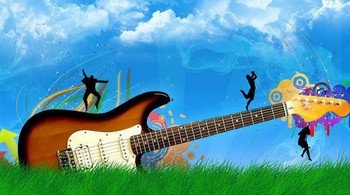 Extract BGM
Have you ever been involved in such a kind of situation where after you have seen a movie which contains a pretty melodic or compelling music, you try hard to find it, either on search engines or by asking net friends around the world,but nobody knows and nobody cares. You get totally upset and play the movie again and again just for the music, what a time-consuming job! It is not until Free HD Video Converter Factory's emerging that things get completely changed.
What Can Free HD Video Converter Factory Do for You?
It comes to the world like Jesus Christ. The latter one brings his followers with merciful gospel and tasteful wine. While HD Video Convert Factory offers you the best and easiest way to convert MPEG4 to MP3 to help you extract your favorite music from a certain movie. It comes as a savior for those who are still struggling hard and sparing no effort to look for the melody which haunts dream day and night. This MPEG4 to MP3 converter free is going to wipe out all the disturbances with the fastest conversion speed and over 5X compression rate, simple and convenient with a pretty intuitive interface and easily-understood guidace for newbies.
Download Free HD Video Converter Factory and change mpeg4 to mp3 in the easiest way.
Can't wait to know how to convert from MPEG4 to MP3? Some basic skills are provided below, here we go!
4-Step Simple Guidance on Handling the MPEG4 to MP3 Converter
Step 1. Import the Video
Open Free HD Video Converter Factory's interface, open "Converter" and click Add Files on the left top to set your MPEG4 files. As well, you can add your files directly by dragging it to the interface.
hint: you can delete the files you have added by clicking Clear button on the top.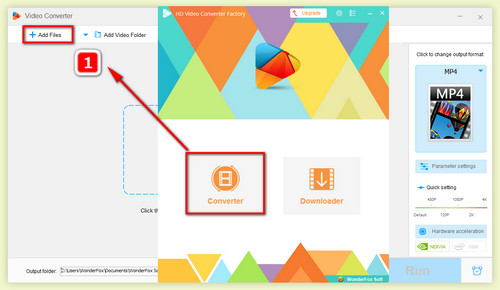 Delete the file you have chosen
Step 2. Choose MP3 Format
Step 2. The crucial step on "How to convert MPEG4 to MP3": Go to the right side and press Output Format and then you will see a list of formats. Go to the audio section and choose MP3.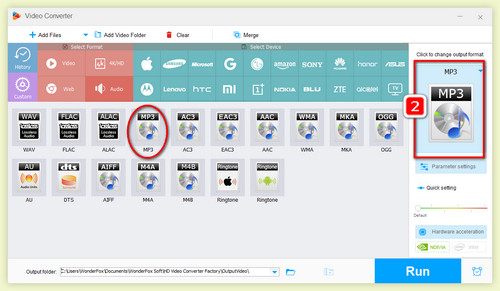 Find the audio icon and choose MP3
Step 3. Modify the Settings
Press Parameter Settings and in the open list you can preset your MP3 audio's parameters as you can change your bitrate and sample rate or boost the volume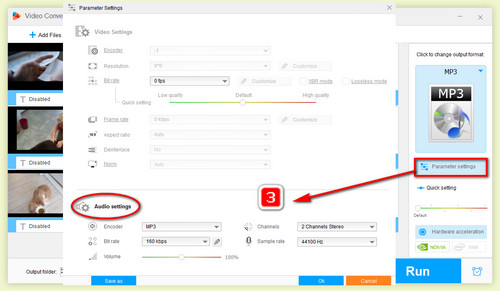 Audio parameters
Step 4. Start the Process
Click Run to launch the conversion. After you have changed MPEG4 to MP3 press Open Folder at the bottom and then you can find your MP3 files.
hint:If you want to extract background music from a segment of a movie you need to make a full use of the editing function to clip the video and clip the part containing the background music. After you have clipped the video just repeat my guidance above.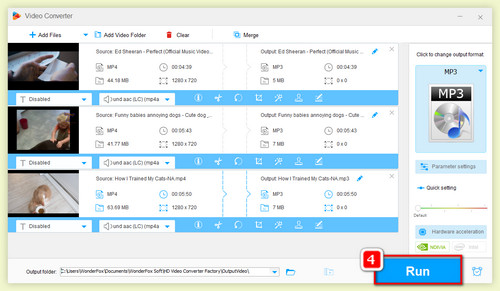 Click Run to start
Comparison Between Free HD Video Converter Factory and Online Converter
To find out what the differences between other video converters and HD mpeg4 to mp3 converter, I tried using an online software named Online Audio Converter. I put a 15MB's MPEG4 video onto it and selected my target format-MP3 and then began the conversion. However you know what, I kept waiting for over 3 minutes and only around 50% of the original file got converted and at last my patience's gone so I canceled the progress decisively.
Pissed off by the inefficiency of that audio converter, I launched Free HD Video Converter Factory and added my MPEG4 to the interface and I noticed that the target format - MP3 was compressed into 1MB compared with the original one's 15 MB and out of question, the conversion was really quick that it only took around one second or even fewer! Moreover, Free HD Video Converter Factory supports 16 audio formats for you to convert your files into while Online Audio Converter only gives 8 formats to choose from. Free HD Video Converter Factory can convert video of MPEG4 to MP3 without any quality loss while Online Audio Converter and others can't make it ( I retrieved my patience and ran through the whole process again ). But the most important advantage of Free HD Video Converter Factory is that its conversion speed will be never restrained by network. Now, I think you already see what to choose to convert MPEG4 to MP3.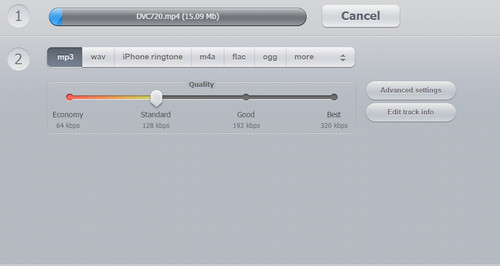 Online audio converter
Some Other Function Beside "how to convert MPEG4 to MP3"
1. Over 300 formats and devices for you to convert into, not only MP3 and MPEG4,AVI, MKV, MOV, WAV, FLAC, ALAC etc are also included.
2. High compression rate saves more space on your hard drive.
3. Convert your MPEG or MP4 into MP3 without quality loss.
4. the best free video downloader in the world
Now, please download the Free HD Video Converter Factory to complete your jobs.
Main Functions of HD Video Converter Factory
Download the videos and movies from YouTube.
The settings supports you to define video and audio parameters manually.
You can merge several videos together to watch a successive montage.
A built-in editor is supported.
Various media formats, optimized profiles for 220+hot devices.