When a video is first created, the raw video data is encoded into a compressed or uncompressed format for distribution. Re-encoding means to encode again, using different encoders, quality, size, etc. The term is often used interchangeably with transcoding/conversion.
Tips. Learn more about video encoding.
Video re-encoding is needed in many situations, such as playing or uploading a video on a certain platform, reducing video file size, upscaling or downscaling video resolution, etc. Therefore, knowing how to re-encode a video is important. In the following, you will learn about the best video encoding software and the steps to use it to easily re-encode your video. Continue reading!
WonderFox HD Video Converter Factory Pro is a professional video converter program that allows you to easily re-encode videos in any way you like. It can help you re-encode video to H.264, H.265, MPEG-4, MPEG-2, DivX, Xvid, VP9, and other mainstream video encoding formats. In addition, it provides various device profiles to which you can convert video in one click for smooth video playback. Its customizable settings also let you effortlessly change video size, quality, audio format, and more.
With excellent format support, this software can help you re-encode MP4, MKV, MOV, AVI, MPG, TS, WMV, WebM, etc. As the cherry on top, batch mode is supported. Now, let's download and install Download the software to re-encode videos.
Step 1. Add Video File
Launch the video re-encoder software and open the Converter program. Next, click Add Files to add one or more video files to the conversion list.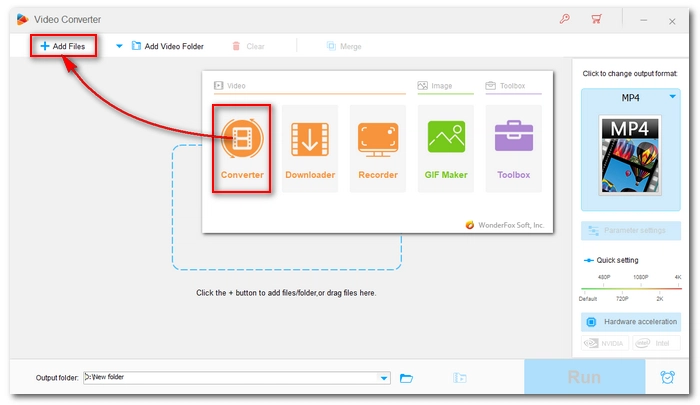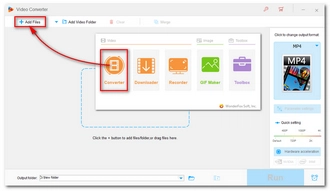 Step 2. Select Output Format
Press the format image on the right side of the program to unfold the output format library. Then go to the Video category and select your wanted video output format.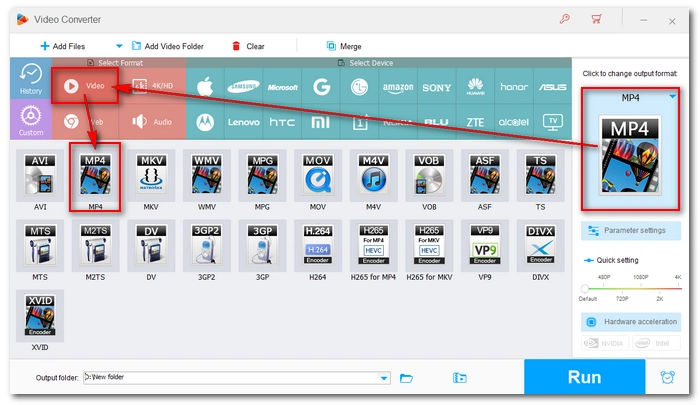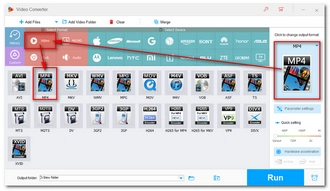 Step 3. Modify Re-encoding Settings
Open Parameter settings. Now, you can freely adjust the encoding settings as you see fit. For example, you can re-encode H264 to H265 by choosing H265 from the video encoder drop-down options (provided that you have selected MP4 or MKV as the output format). You can also choose a lower resolution or bitrate to re-encode video to smaller size. When are done with the settings, click Ok to continue.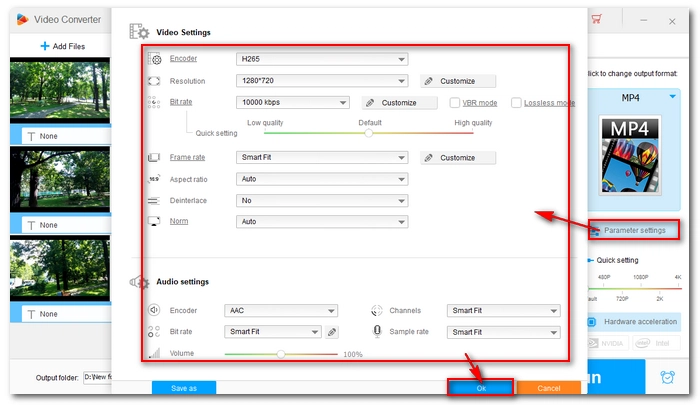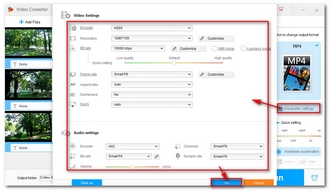 Step 4. Re-encode Video at Once
Finally, click the ▼ button at the bottom of the interface to set an output path and hit Run to start the video re-encoding process. If your computer supports hardware acceleration, the program can enable it to speed up the re-encoding process up to 30x.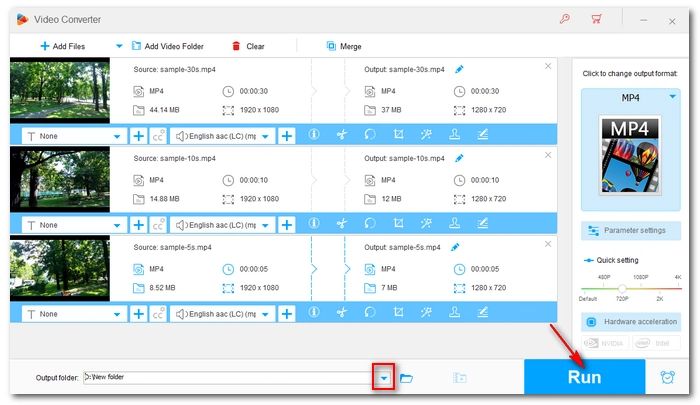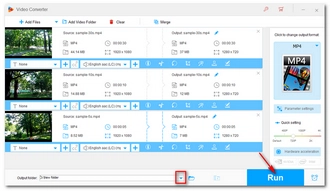 Note that while it is easy and fast to re-encode videos with WonderFox HD Video Converter Factory Pro, if you are using the unregistered version, you can process only the first five minutes of videos for free. To re-encode longer videos, you will need to buy a license that values at $69.95 (currently, the 50% off coupon [$34.95] for this software is still available). With the software fully activated, you can enjoy more advanced features like batch compression, unlimited video downloading, HD screen recording, GIF making, and more.
Nevertheless, you can try to re-encode videos with the free version of the program which has limited functionality (slow speed, no batch support, and no FHD/UHD output).
That's all I want to share about video re-encoding and how to re-encode videos. I hope this article is useful to you. Thanks for reading. Have a good day!
1. What does it mean to encode a video?
Encoding a video means the process of compressing video from raw data or from one encoding to another.
2. How long does it take to encode a video?
Depending on the video size and the encoding method you choose, the encoding time can take somewhere between a few seconds to hours. For example, to re-encode a two-hour 2.5 GB 720p AVI video into a 720p MP4 video using an H264 encoder, the processing time is about 2 hours. It could be as long as 5 hours if you choose to re-encode the video with H265/HEVC.
That said, if your computer supports GPU/hardware acceleration, the re-encoding will be up to 30x faster.
3. Why does video encoding take so long?
If the original video has a high resolution and big size, and you want to re-encode the video into a more compressed format, the process will take longer.
4. Does re-encoding a video reduce quality?
Yes, re-encoding a video usually reduces quality because the video encoders are mostly lossy codecs.
5. Video encoder vs video container
A video encoder and a video container are not the same thing. A video encoder is a program that encodes video data, and a video container is a package file that can hold a video encoder and other video data.