Frequently Meet Situations on CPRM DVD
Q: My wife has some DVDs that were made in Japan. I believe they were off the air recordings done on a Sony Recorder. They are -R, and have CPRM protection. There is no problem to play CPRM protected DVD with a player which supports CPRM or PowerDVD Plus. But I have not found a way to get rid of that protection CPRM. Has anyone found a solution?
Q: I have just rendered a home movie onto one of these discs and the picture is garbled, sound is OK. Is this something to do with CPRM because I've never heard of it before and wouldn't have bought the discs otherwise.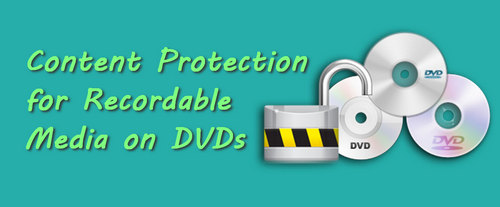 Content Protection for Recordable Media
Q: I had a friend in Japan who burned some DVDs of a Japanese TV program. On the DVD it says that it is DVD-R and CPRM. Is it because it is in Japanese Digital TV that my DVD player or my DVD burner on my computer will not recognize the DVD? Can anyone shed light on the situation for me, please.
Have you ever met the vexatious issues listed above? And speaking of CPRM, you may not be familiar with it. Actually, it is a sort of DVD copy protection and widely used in Japan and other areas, so recording something from a TV broadcast to a DVD recorder may include the protection, and make it unplayable on players that do not support CPRM. In this case, many of you would like to remove DVDs CPRM protection, so a DVD decrypter is necessary.
Fast Solution on CPRM Protection Removal via WonderFox DVD Ripper Pro
Referring to DVD decrypter, WonderFox DVD Ripper Pro is the right choice. Programmed with the most advanced DVD decryption technology, this CPRM DVD decrypter is capable of removing any DVD copy protection and converting DVD to digital files handily. As the fastest DRM removal software, WonderFox DVD Ripper Pro assists you in bypassing DVD CSS, Region Code, Multi-angle, Sony ARccOS, Disney X-Project DRM and Cinavia Protection. Also, it is able to back up damaged old DVDs and scratched DVDs. Meanwhile, it is easy to master the use of this program. All you need to do is follow my guide to deal with the DVD CPRM protection removal.
Preparation: Please get this CPRM decrypter download first and install it on your Windows computer. After that, insert your DVD to the DVD-ROM drive.
Disclaimer: WonderFox does not advocate ripping DVD for illegal activities, the method introduced below is only for personal backup and fair use. Please make sure if it's legal to rip a DVD in your country.
Convert CPRM DVDs within 3 Steps
Step 1
Click "DVD Disc" button to add your DVD content to this DVD ripper. Also, you can add ISO Image or DVD Folder to this software if you need. By the way, this CPRM removal software will smartly check the main movie for you.
Add DVD Content to This Ripper
Step 2
Then head to the Output Format part to select one wanted format. Here you are free to choose any digital format that is compatible with your devices since this program is able to rip DVD to 300+ formats and devices.
For example, you can convert DVD to MP4, DVD to MOV, DVD to tablet and so forth.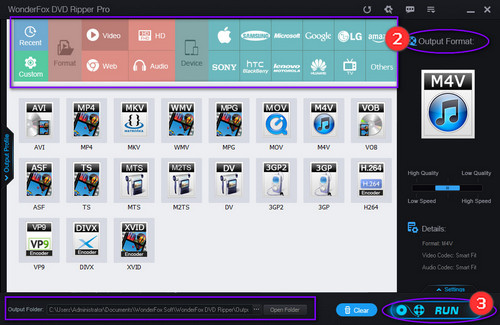 Choose One Output Format and Start to Remove CPRM
Step 3
Set one save folder for your final digital DVD video, and then press the RUN button to start to decrypt CPRM protection.
Optional: Experienced users can customize the parameter in the Setting part before pressing the RUN button. Such as change resolution, change aspect ratio, change frame rate and more.
That is the whole process to deal with CPRM from you DVD. Additionally, you can crop the DVD movie, add special effect, add subtitle to DVD movie, or remove subtitle from the DVD video as you like.
Other Specific Information on CPRM
CPRM is the short of Content Protection for Recordable Media developed by 4C Entity, an industry consortium that consist of IBM, Intel, Matsushita and Toshiba. It is a sort of digital right management that applies for controlling the content copying and moving. And that's why CPRM DVDs are not playable on standalone DVD players.
Copy CPRM DVDs to Your Devices
Since CPRM is a copy control method, it can greatly protect the copyright owners' right while imposing restrictions on DVD owners' reasonable use of the DVD content. In detail, if the DVD content can be copied for only once, DVD RW CPRM discs can record it in VR mode while cannot reproduce the record. So you can set your device in VR mode and insert CPRM DVD RW and there would be no requirements on format. However, if the DVD discs are not compliant with CPRM technology, it would be completely unable to copy the content.
To play content with CPRM on a PC, internal drive, external drive, media, DVD playback software must be compatible with CPRM. In this case, you need a CPRM compatible player or a CPRM decrypter to assist you if you want play the CPRM DVD smoothly. And the most convenient way is to decrypt CPRM for your own use via WonderFox DVD Ripper Pro. It would definitely be your best choice in CPRM DVD ripping since it can copy the DVD content to your devices (PCs, phones, tablets and more) while maintain the high quality.
If you still have some questions on CPRM DVDs, please feel free to join us in the discussion below.
Now, please download the DVD Ripper Pro to remove CPRM from DVDs.
More Special Features of WonderFox DVD Ripper Pro
A powerful Ripper to decode any DVDs fast and safely
Performing as an excellent DVD Player with high-quality output
Back up damaged old DVD to fix scratched DVDs
Fastest DVD-to-digital Conversion Speed
A Video Compressor to save space for your storage
Convert DVD Folder and ISO image as well