Free ISO Burner, as the name suggests, is a specific ISO burning software and it is available on Windows XP/Vista/Windows 7/8/Windows 10. With the best ISO burner, you're able to easily handle most ISO to DVD burning tasks since this application supports a wide range of disc formats including CD-R, CD-RW, DVD-R, DVD-RW, DVD+R, DVD+RW, Blu-ray, and more.
Free ISO Burner is a lightweight tool that doesn't require installation and can even be directly launched on a USB drive. After downloading the FreeISOBurner.exe file, you only need to directly open the file to run it.
Featuring an apparent and clear UI, Free ISO Burner is a simple ISO burner for all users. Moreover, there are some additional options you can choose from to adjust the disc volume, burn speed, and cache size though usually, yet you don't need to change these settings if you have no special requirements.   
Just as it claims, Free ISO Burner is a 100% free tool without adware or spyware. It's a good destination for you who want to burn ISO and CD/DVD images to discs.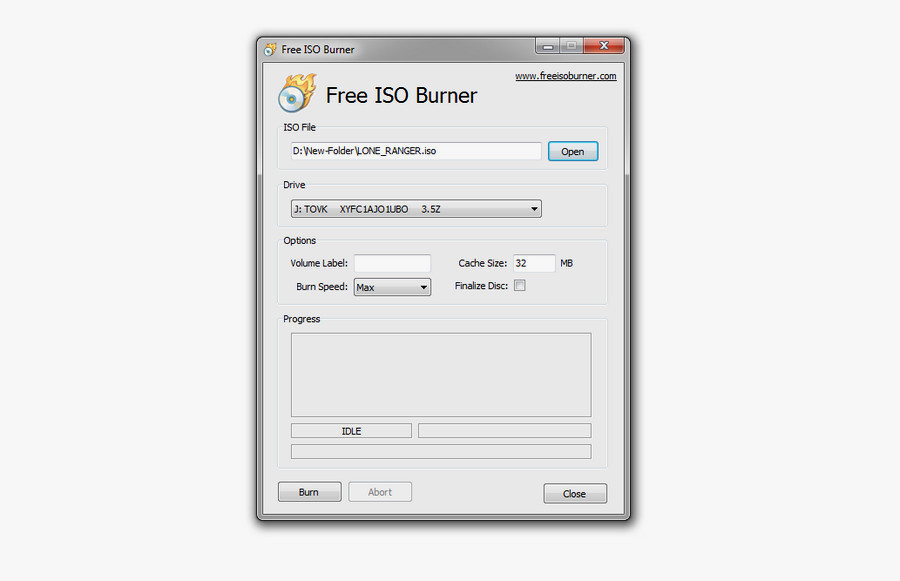 If what you're expecting is a more powerful free ISO burning software, ImgBurn should be your best bet. ImgBurn supports virtually all disc image file formats covering ISO, BIN, CCD, CDI, CUE, DI, DVD, GI, IMG, MDS, NRG and PDI and enables you to burn (HD)DVD video, Blu-ray, and CD discs. ImgBurn includes but is not limited to an ISO to disc burning tool. It can also convert folder and files to ISO, directly write files and folders to a disc, and also create ISO image from a DVD. The Verify and Discovery tools will help check your discs and optical drive.
As for ISO burning, ImgBurn supports image queue system and layer break selection, which enables you to handle double layer DVD Video jobs. And there are several other advanced options that are not included with most freeware. Of course, this software may be a little overkill for the newbies when it comes to these esoteric buttons. But for experienced users, ImgBurn is quite a flexible and configurable choice.
ImgBurn is primarily for Windows computer. You can install Imgburn via several mirrors on the official Imgburn site but you should be careful not to download any skeptical adware or bundled software there.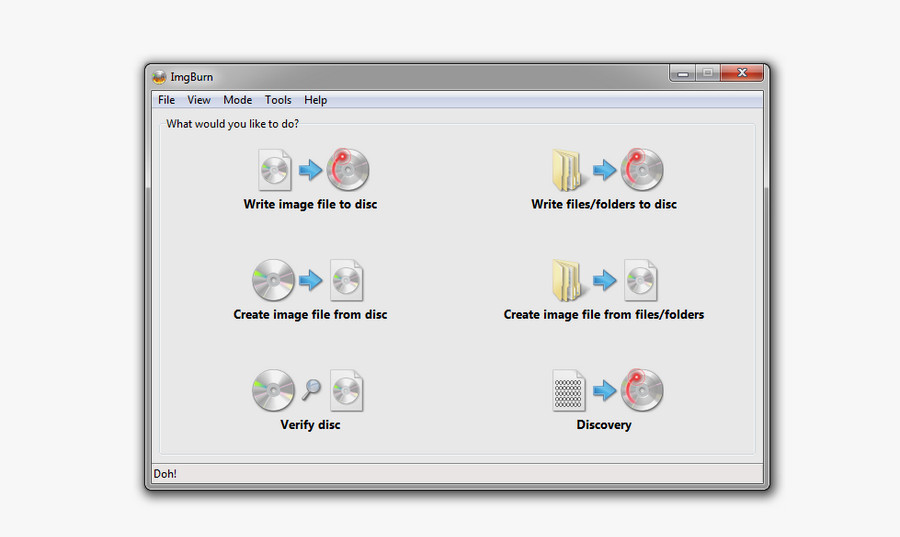 ISOBurn provides a straightforward way to burn ISO image files to CD-R, CD-RW, DVD-R, DVD-RW, DVD+R, DVD+RW, HD DVD and Blu-ray Disc. Apart from digital files like videos, audio files and photos, ISOBurn also supports bootable image files.
There are no bells and whistles like some other ISO burners freeware feature. All ISOburn brings you is the easiest and most basic solution to burn ISO image files.
ISOBurn is a small program and will not occupy much storage on your hard drive but it requires Windows operating systems and .NET Framework 4+ for installation.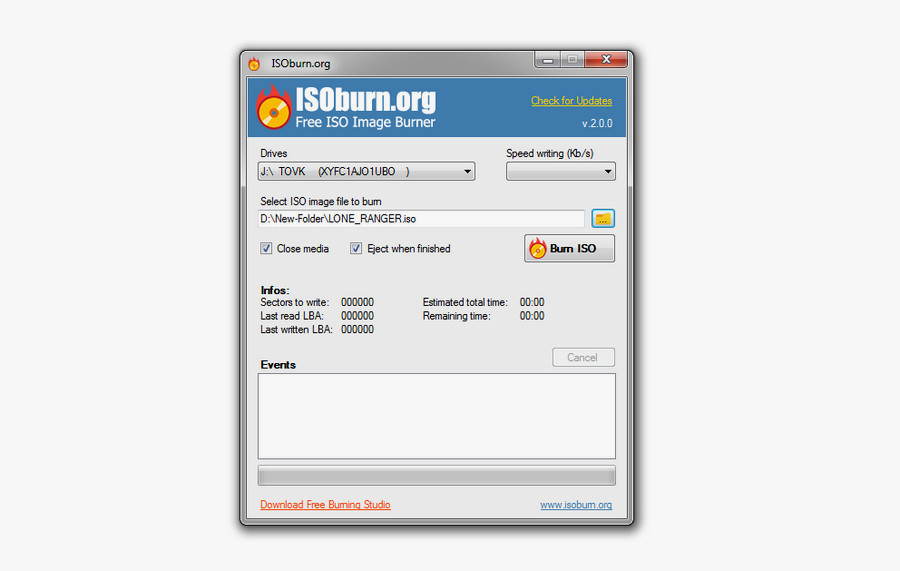 PowerISO is one of the best ISO burners in the industry. One striking point of PowerISO is full-featured, which offers one-stop solutions to deal with disc image files. Even though named as PowerISO, it supports not only ISO, but also BIN, NRG, CDI, DAA and other types of CD / DVD / BD-ROM image file formats and can help you create Audio CD, Data CD, bootable CD, Data DVD, Video DVD or bootable DVD disc using ISO image files. Blu-Ray burning is also supported.
In addition to ISO to DVD burning, this free ISO burner is also capable of extracting digital MP3, FLAC, APE, WMA, and more from CDs, create CDs using audio files, extract files from ISO, etc. It can even function as a virtual drive.
PowerISO is supported on both 32-bit and 64-bit Windows. The unregistered copy version of PowerISO can only process ISO files within 300 MB. A paid registration is required if you want to access its full features, which costs US$39.95 lifetime. Just weigh up whether it's worth based on your demands.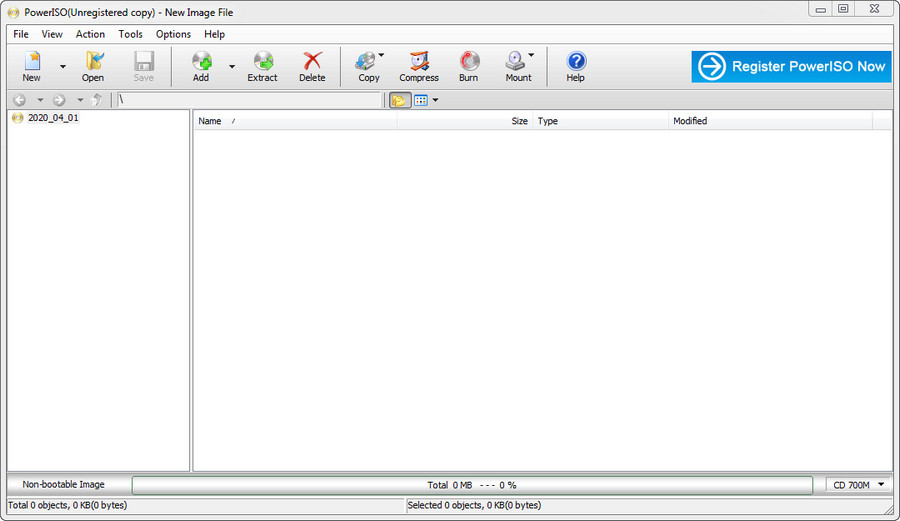 Here comes the another Windows disc burner – CDBurnerXP. Its built-in ISO burner tool will help you burn ISO image files to virtually all types of discs, including CDs, DVDs, HD-DVDs, and Blu-Ray Discs. Contrarily, you're able to create ISO image from a disc by taking the help of CDBurnerXP.  
It seems that most disc burners in the industry are increasingly emphasizing multi-functionality and there is no exception for CDBurnerXP. With CDBurnerXP, you can also convert between two disc image file formats, like BIN to ISO and NRG to ISO, create data disc, video/audio discs, copy files from discs, quickly erase a disc, etc. CDBurnerXP supports multiple-language interface and there are several tools on the main screen with detailed function explanations, which helps users, especially newbies easily find the needed tool to achieve their purposes.  
Compared with its counterparts, such as ISOBurn and Free ISO Burner, CDBurnerXP is relatively more complicated since it involves more options and features. The good side is all the configuration settings are easy to grasp. It will not take much time to master the software.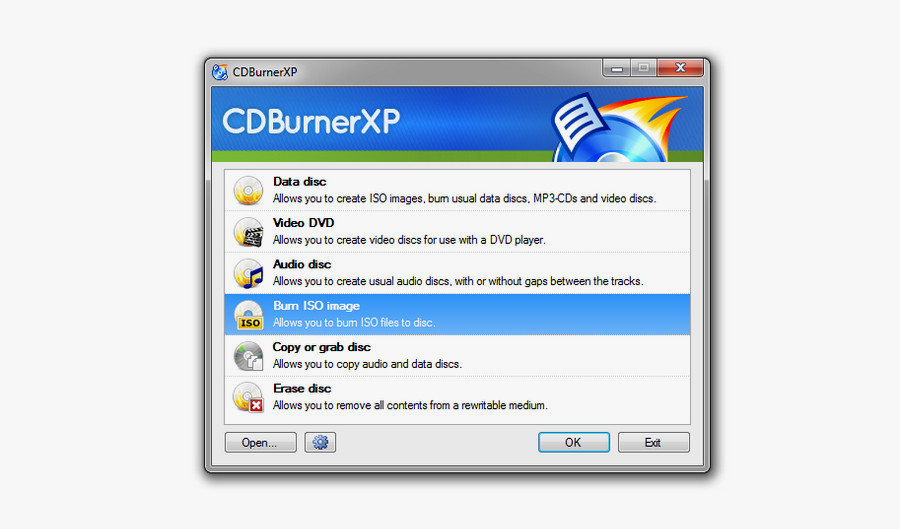 AnyBurn is a lightweight free ISO burning software for Windows users. It empowers you to copy and burn ISO image files, rip and create CDs, copy DVD to DVD, change between two disc image file formats, make bootable USB drive, etc.
Updates of new features and enhancements are made timely and it can handle large data file burning process without a hitch.
AnyBurn supports 21 languages and you can switch the interface language anytime you want through the Options >Language menu. There also are many hidden options and features you can customize to perform a process, such as default action for drag and drop, optimizing file layout when saving image file, specifying a temporary folder, etc.
Small as it is, AnyBurn provides users with a package of solutions to burn, create, convert, edit, rip disc image files. You can give it a shot.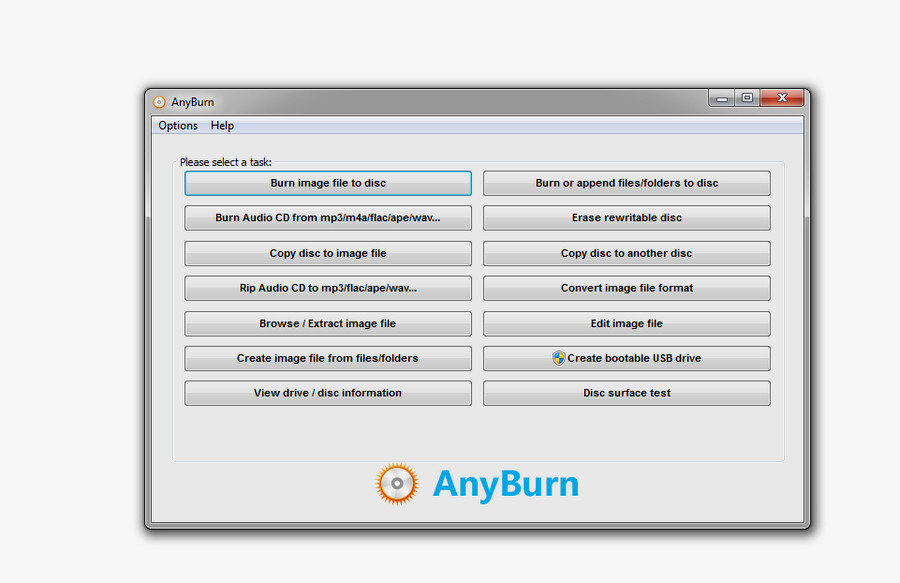 WinISO specializes in handling all kinds of disc image file tasks. You can use it to edit ISO files, extract ISO/BIN/CCD/MDS/NRG files from CD/DVD/Blu-ray Disc, convert between popular disc image file formats, burn ISO image to CD/DVD/Blu-ray Disc promptly, emulate an optical drive for running or playing ISO image files, make bootable CD/DVD/Blu-ray Disc images, and so on.
Its interface is well-organized and fairly easy to understand without any obscure terms. The new user can hit the ground running once they launch this program.
WinISO requires Windows operating system. The same as PowerISO, WinISO provides both unregistered and licensed versions. The former only allows users to save the maximum of 500MB files, and a single-user license costs $19.99.