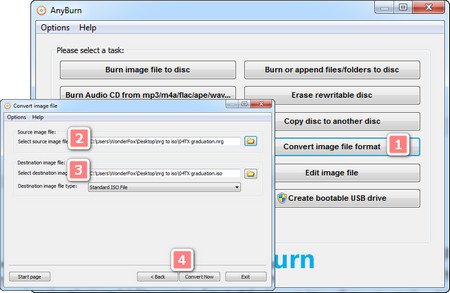 NRG File to ISO
Previously, we have already mentioned that Anyburn is more than CD/DVD/Blu-ray burning software, it can also be used as a tool to extract IMG file and convert IMG to ISO. And today, we will tell you how to use Anyburn as a NRG to ISO converter.
Step 1: For converting NRG to ISO, you need to download and install Anyburn from http://www.anyburn.com/.
Step 2: Launch Anyburn and click on "Convert image file format" on the right.
Step 3: Select the source NRG file, and then select the target image file type to ISO format. Anyburn will create the default target image file name based on the target image type.
Step 4: After the above steps, click "Convert Now" to start the NRG ISO conversion. When the conversion finish, you will see the message "Converting image file finished successfully.".