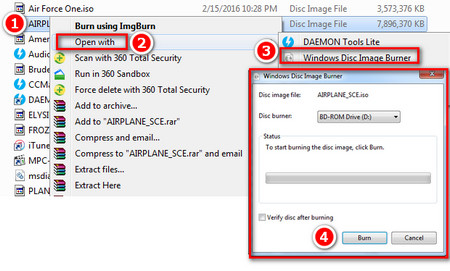 How to Use Windows ISO Burner
Fortunately, the Windows 10/8.1/7 system comes with the Windows Disc Image Burner feature, which is capable of burning ISO file to DVD. Here are the steps on how to burn ISO to DVD:
Step 1. In order to burn ISO to DVD, firstly, insert a blank DVD into the CD/DVD Drive burner.
Step 2. Open the file directory where you store the ISO.
Step 3. Right-click the ISO file you want to burn and select Burn disc image or Open with > Windows Disc Image Burner.
Step 4. The Windows Disc Image Burner window will pop up and automatically select the default DVD Drive. If you have other external DVD drives, select them in the Disc burner drop-down list.
Step 5. Check "Verify disc after burning" if you're not in a hurry.
Step 6. Click the Burn button to start burning.
Also see: How to Mount an ISO | Burn a DVD on Windows 10