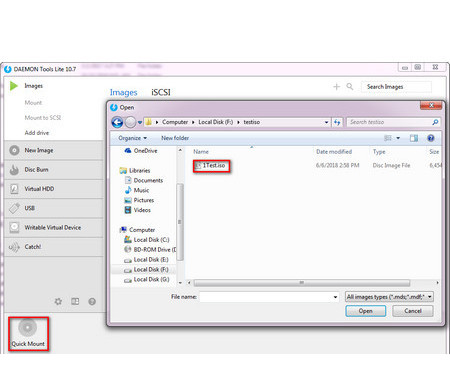 How to Convert Disc Image File to EXE
Obviously, the above method is more troublesome. In fact, you can use a virtual CD/DVD drive to convert ISO to EXE without burning a DVD. Apps such as DAEMON Tools Lite, MagicDisc, and Virtual CloneDrive are perfect for this job. Previously, we used these tools to mount ISO, and next, we'd like to use DAEMON Tools Lite as an example to explain how to convert ISO to EXE.
Step 1. Download and install DAEMON Tools Lite - free license from https://www.daemon-tools.cc/products/dtLite.
Step 2. Run DAEMON Tools Lite, click on the Quick Mount in the lower left corner to import the ISO file.
Step 3. Then the AutoPlay window will pop up automatically, you can run .exe directly here.
Step 4. If AutoPlay does not pop up, open "Computer" or "My Computer", you will find that the ISO file has been mounted as a new drive, double-click to run directly or right click, select Open, and find the .exe file inside.