"Does anybody know how to upscale 360p footage to 1080p? Right now I'm on a very special project and need to know how I can upscale SQ footage to full HD. Help please!"
360P resolution means it has 360 pixels horizontally by 480 or 640 vertically. A 360p video is a low-definition video. Considering that mainstream screens today are made to display HD videos, you can upscale the video quality from 360p to 720p HD or higher to gain better visual enjoyment. In the following, I will introduce a handy video scaler to convert 360p video into 720p with ease. Just read and follow.
WonderFox HD Video Converter Factory Pro is a comprehensive program for handling video and audio. Besides letting you convert video formats, it can change video resolution from low to high and vice versa. It supports maximum 8K resolution export, so it is more than enough to turn a 360p video to 720p, convert 360p to 1080p, and so forth. The cherry on top is that it can convert multiple files concurrently.
The steps to convert 360p resolution to 720p are easy. Without further ado, let me show you how to convert a video from 360p to 720p resolution below.
Launch WonderFox HD Video Converter Factory Pro on your PC and open the Converter program. Click Add Files to add your 360p video to the conversion list. You can use Add Video Folder if you have multiple 360p videos inside a folder.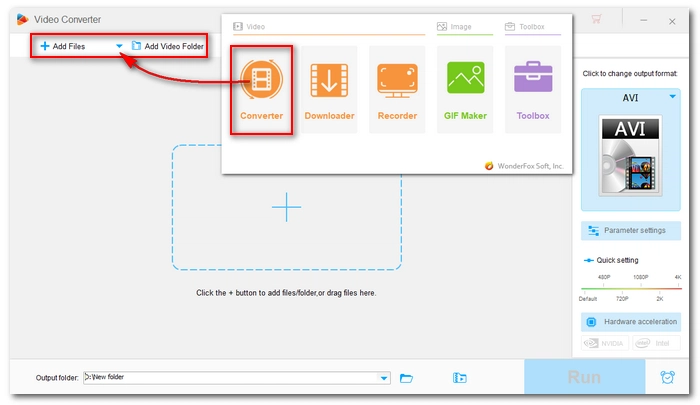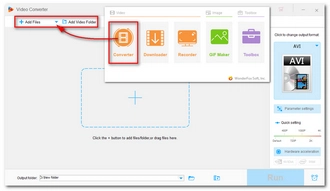 Click on the format image on the right side of the program to open the output format page. Then, under the Video format tab, select your preferred video output format. It is suggested that you keep the original video format.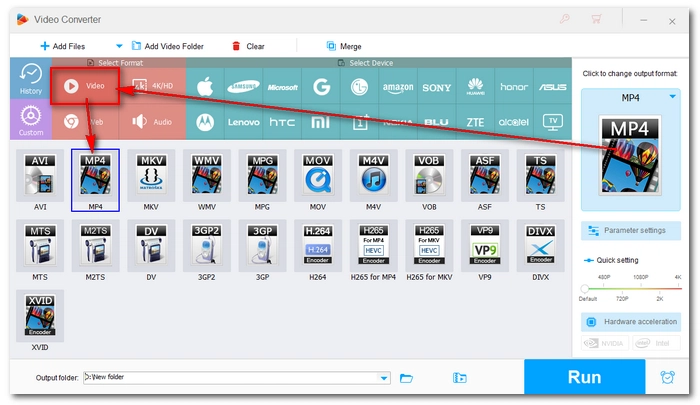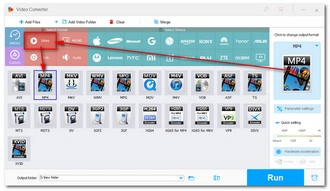 In the Quick setting, drag the slider to 720p. Alternatively, you can open the Parameter settings and change the video resolution to 1280*720 (720p).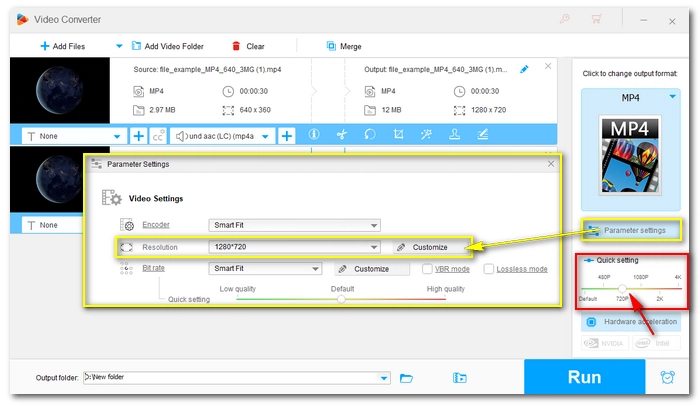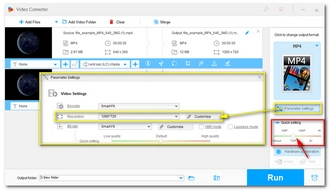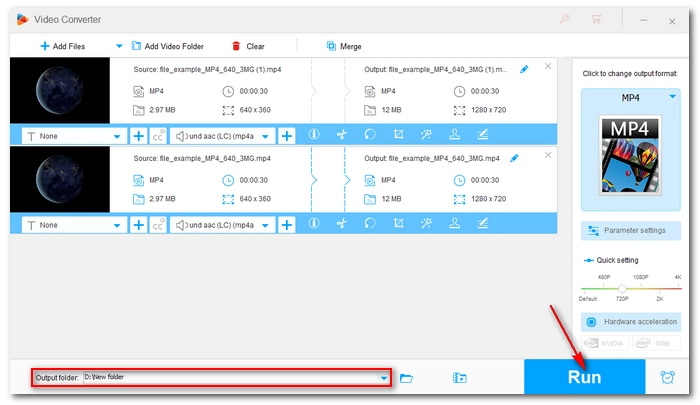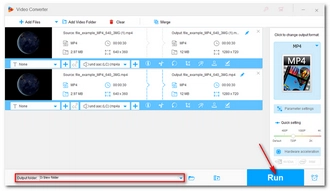 Note. The software does not improve the video quality but enlarges the low-resolution video to fit on higher-definition screens or monitors.
1. Can We Convert Low Quality Video to High Quality?
It is possible to convert video from low quality to high quality. Though many programs allow you to upscale the resolution, some professional software with its optimized algorithm can improve the video quality at the same time. But keep in mind that you will never get a real high-quality video from the low-quality one because you can't create something from nothing.
2. How to Convert Video 360P to 720P Online?
Some online video converters can also work as 360p to 720p converters online to help you adjust video resolution from 360p to 720p handily. Take Aconvert.com as an example. Simply follow the tips it gives to upload your 360p video online. Then choose "Change size, bitrate or frame rate" in the Options. Next, from the Video size drop-down lists, select "1080X720 (720p)" as the target resolution and click Convert Now! to start the conversion. Note that Aconvert accepts files smaller than 200MB only.
That's all I want to share about how to convert 360p to 720p on PC. I hope you'll find this article helpful. Thanks for reading. Have a nice day!