When you try to play MKV, WebM and some other videos on your iPhone device, it is easy to encounter playback errors. This is because iPhone only supports a small number of video formats. To solve the problem of videos not playing on iPhone, it is necessary to know the iPhone video formats so that you can convert videos to iPhone format for smooth playback.
Below, you will learn more about the video formats supported by iPhone and how to convert videos for iPhone. Continue reading.
Tips. Confused about the iPhone video formats? Let's jump directly to #Part 3 to learn easy steps to convert video to an iPhone preset in no time.
The primary video formats supported by iPhone include MOV, MP4, and M4V encoded with H.264 or MPEG-4 with AAC audio. Since iPhone 8, X and 8 Plus, Apple has added support for the high efficiency video codec (HEVC) to play back 4K videos. But iPhone still does not support MKV, WebM, WMV, MPG, and VOB. Here are iPhone supported video formats in detail:
Video container formats: MP4, MOV (QuickTime), M4V, AVI
Video codec formats: MPEG-4, H.264 (AVC), H.265 (HEVC), M-JPEG (for AVI)
Audio codec formats: AAC-LC stereo, PCM stereo (for AVI)
Note that only the latest iPhone models support all the formats listed above. Older models may not work well with some of the formats such as HEVC. The safest way to play a video on iPhone successfully is to convert the video to MOV (H264/AAC) format. In the following, you will know the best iPhone video converter to convert video to iPhone format quickly.
WonderFox HD Video Converter Factory Pro is a fantastic mobi video converter that can convert video to cell phones such as iPhone and Android in a few easy clicks. As a video to iPhone converter, it provides various iPhone device profiles from old iPhone models to the latest ones, making it easy and fast for you to convert video to your target iPhone device. Also, it can convert video to iPad, iPod, Android, smart TV, gaming console, and other devices effortlessly. It supports all video inputs and can output video with high quality. In addition, it features a Downloader module that can convert YouTube videos to MP4 for iPhone.
It is super easy to use this software. Below, let's see how to convert video to iPhone format using this tool. Free download Free download the program to get started.
Note: Video conversion is a resource-intensive task, especially if the video is large or of high resolution such as 4K and 8K. Instead of changing video formats on the phone, it is advisable to transfer the file to a PC and use a desktop video converter program to handle the conversion easily. Follow the tutorial below to learn how to quickly convert large HD videos for iPhone on a Windows machine.
Step 1. Add video to the converter program
Launch the software on your PC and open the Converter program. Next, click Add Files to add your video files to the conversion list. A direct drag-and-drop is also supported.
* Batch video conversion is supported.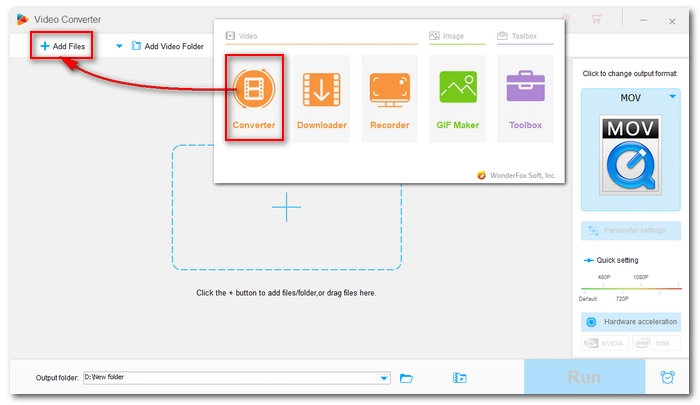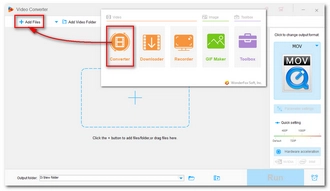 Step 2. Choose an iPhone device profile
Press the format image on the right side of the program to open the output format page. Then head to the Apple device category and select your target iPhone profile.
Alternatively, you can go to the Video section and select MOV as the output format. Then open Parameter settings to change the video encoder to MPEG4 or H264 and the audio settings to AAC stereo.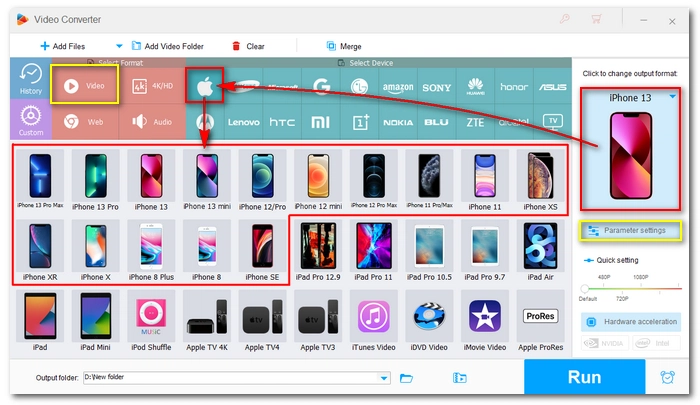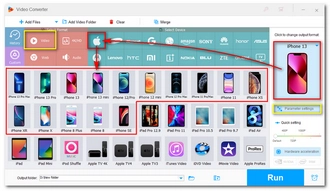 Step 3. Convert video to iPhone video format
Click the ▼ button to set an output folder. At last, press Run to convert the video to iPhone format. If your computer supports hardware acceleration, you can enable GPU acceleration to boost the conversion up to 30x faster.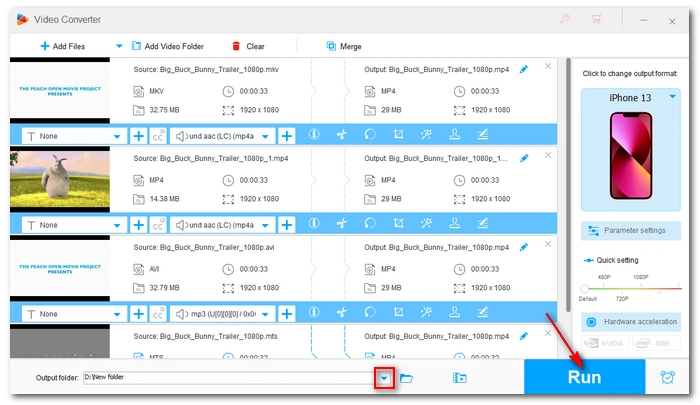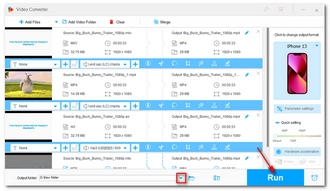 Tips. You can use the Downloader module to convert online videos (e.g. YouTube) to MP4 for your iPhone. But remember that some online videos may use AV1 codec that is not accepted by iPhone, and you need to convert AV1 to H264 (MP4) for easy access. Also, keep in mind that you should not convert any copyrighted materials without the owner's permission.
It is easy and fast to convert video to iPhone format with WonderFox HD Video Converter Factory Pro. But this software offers a free trial which limits you to convert only the first five minutes of a video. If you like this program, you can purchase the full version video converter to unlock all features and functions and enjoy free technical support. However, if you are converting videos occasionally, you are recommended to try the free version of the software, which allows you to convert full-length videos for free but at a slower speed.
Nevertheless, you are suggested to use the professional program if you need to convert videos to iPhone on a daily basis. Currently, the 50% off coupon is still valid.
That's all I want to share about the iPhone video formats and the whole process of how to convert video for iPhone. Follow these steps and you should be able to change your video into an iPhone-compatible format without error. I hope this article is useful. Thank you for reading. Have a nice day!