Any Recommendation for Free AudioBook MP3 Downloads?
When it comes to audiobooks, some big-name subscription-based services may appear in your mind for the first time, such as Amazon Audible, Rakuten OverDrive, Scribd, etc. Despite the fact that most of those services provide xx-day free trial to explore, listen and access a large library of resources, the audiobooks will be saved in different DRM-protected audio formats, which can only be opened in exclusive players. Actually, apart from those paid services, you're able to download free audio book MP3s from a wide array of neglected websites. To save your energy and time, after the time-consuming investigation, I have compiled a curated list of 18 best sites below for free audiobook MP3 downloads.
Also Read: Create Audiobook from MP3 | Convert Audible AA to MP3 | AAX to MP3 Conversion | Transfer Audio Books to iPhone
18 Best Places to Download Free Audiobooks in MP3
1. YouTube
Website: https://www.youtube.com/
I bet most of you guys are not surprised to see YouTube in the free MP3 audiobook download list. The fact is, there are loads of full-length free audiobooks on YouTube for listening without monthly subscriptions. After submitting a search query like "audiobook", you'll find either a long YouTube video or scattered chapters saved in a playlist. The problem is, how to convert YouTube to MP3 longer than 2 hours. No worries, I've got you all set. The free program enables you to download YouTube playlist to MP3, simply copy and paste the URL > analyze > download.
Disclaimer: This guide is limited to personal fair use only. It is illegal to download copyrighted materials without the copyright holder's consent. WonderFox does not approve of copyright infringement in any way.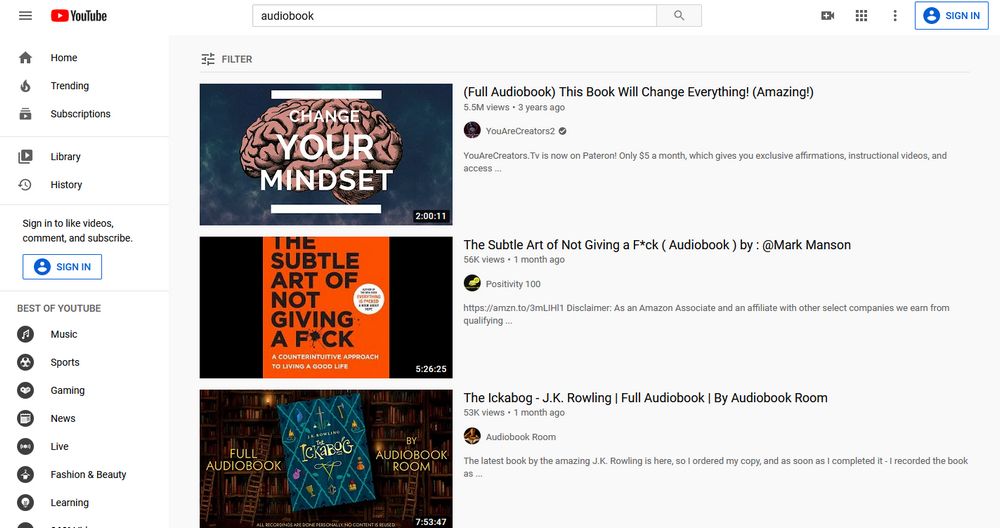 Final Words...
Compared with paper books and E-books, audiobooks definitely offer a novel way to free up your hands and eyes when you're busy doing something else like driving, running, climbing, etc. I hope this handpicked list of 18 websites is of help to you guys. If you have ever bookmarked an awesome website for free audiobook MP3 downloads which is not in the list above, feel free to share with me via Facebook, and I will make an update whenever necessary. Thanks for reading!