"Why can't I play DVDs after upgrading to Windows 10?"
If you just recently upgraded your system to Windows 10, you may find that your DVDs won't play in Windows 10. This is because Windows 10 no longer has DVD playback capability.
In fact, Microsoft dropped support for DVD playback starting with Windows 8.1. When you insert a DVD into a Windows 10 computer, it will not play automatically. Also, you won't be able to manually open DVDs with Windows Media Player.
But don't worry. "DVD won't play on Windows 10" is not a tricky problem. Below, you will find five proven solutions to fix DVD not playing on Windows 10. Continue reading.
Note: If you did not upgrade your system, but DVD suddenly stops playing on Windows 10, it could be due to physical damage to the DVD or DVD-ROM, outdated DVD drivers, or a virus attack.
Since Windows 10 does not have a native DVD player, you can switch to a new DVD player if you want to continue playing DVDs on Windows 10.
Microsoft recommends that you download the Windows DVD Player app for $14.99 from the Microsoft Store. But if you want a free option, you can also try VLC media player, an open source free DVD player for Windows 10. After installing VLC, you can easily watch DVDs by simply opening the app and clicking Media > Open Disc.
Although Windows 10 no longer supports DVD, you can convert DVD to digital formats like MP4, and then you can watch DVD movies on Windows 10 smoothly.
WonderFox DVD Ripper Pro is a powerful DVD decoder and converter for Windows that can help you decode any DVD and then convert DVD to common formats such as MP4, AVI, WMV, etc. for normal playback on Windows 10. Follow the instructions below to convert DVD for Windows 10 in no time.
Download and install Download and install the software to get started:
Step 1. Load a DVD
Insert the DVD into your Windows 10 computer and launch WonderFox DVD Ripper Pro. Click on DVD Disc and select the DVD you just inserted.
The program will start to decode the DVD and load valid DVD titles into the conversion list with the main title/main movie marked.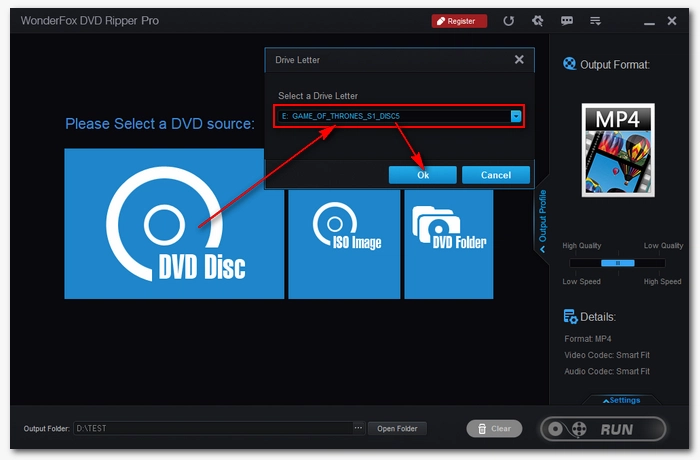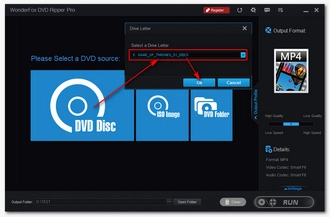 Step 2. Select an Output Format
Click the format image on the right to expand the output format list. Next, open the Video tab and select your preferred output format. If you don't know what format to choose, you can select MP4, the most popular format supported on almost all devices.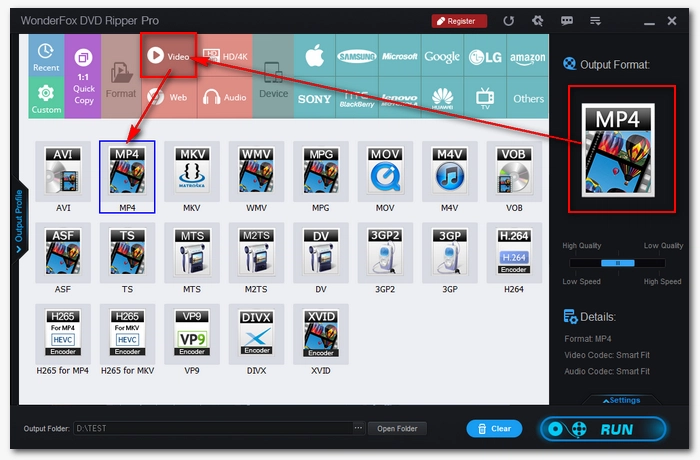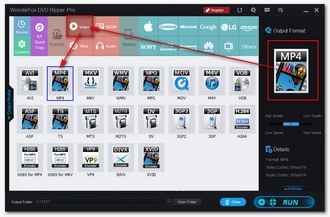 Step 3. Convert DVD to Play on Windows 10
Click the three-dot button at the bottom of the program to choose an output folder, and make sure that there is enough space available. Finally, press Run to start the conversion process.
After conversion, you will be able to play the converted DVD file in Windows Media Player without any problem.
Tips. You can click the Play button on the video thumbnail to start playing the DVD video instantly.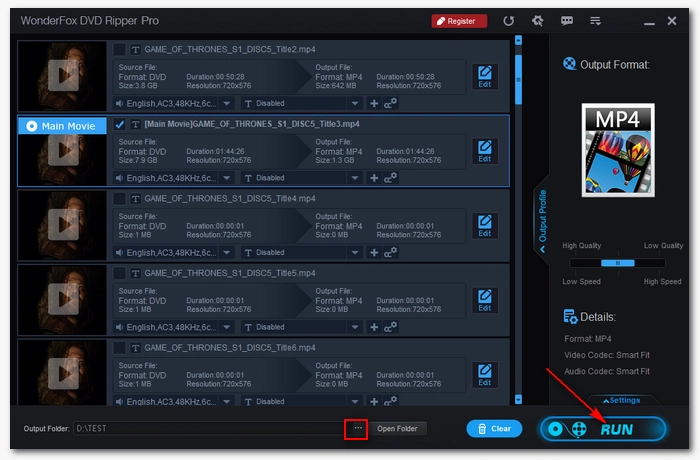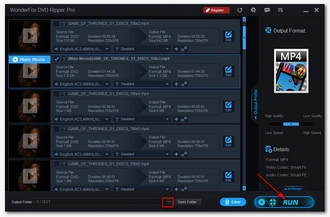 Media players use codecs to decode and play media files. You cannot play DVDs on Windows 10 because Windows 10 lacks DVD codecs. That said, you can install the missing DVD codecs for Windows 10 to bring back DVD playback capability.
K-Lite Codec Pack contains a comprehensive library of codecs for common video and DVD playback. By installing K-Lite you can get the required DVD codec downloaded for Windows 10. Just go to the official K-Lite codec pack website and download the standard version. Then run the installer to complete the installation. You should now be able to play DVDs smoothly in Windows Media Player on Windows 10.
Normally, the three solutions above should fix DVD won't play on Windows. But if the problem persists, continue with the next two methods.
A DVD driver is software to facilitate the DVD playback. If your DVD driver is outdated or corrupted, it could also lead to your Windows 10 not playing DVDs. You can reinstall the DVD driver to the latest version to fix the problem. But first, let's check if there is something wrong with your DVD driver.
• In your Windows 10 search bar, type in Device Manager and select the matching result.
• Find DVD/CD-ROM drives and double-click on it to expand the option.
• If you see a yellow exclamation mark next to your DVD drive, the driver is the problem. Follow the steps below to update or reinstall the driver.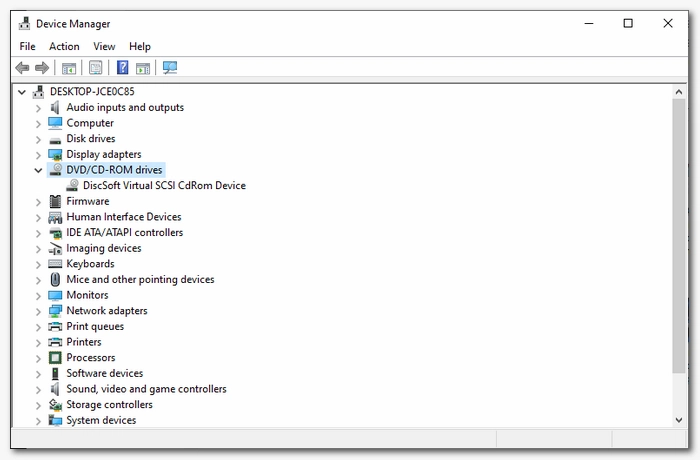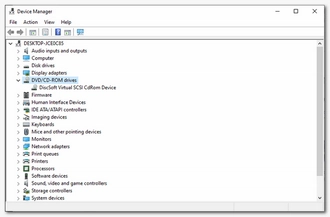 Update DVD driver:
Step 1. Right-click on the driver, then select Update driver.
Step 2. Choose Search automatically for updated driver software.
Step 3. When your computer finds the latest driver, install it.
Step 4. Restart your computer and test if the problem goes away.
Reinstall DVD driver:
Step 1. Right-click on the driver, then select Uninstall device.
Step 2. Follow the on-screen instructions to finish the uninstallation.
Step 3. Restart your computer.
Step 4. Open Device Manager.
Step 5. Click Action > Scan for hardware changes. This will install the latest driver to your Windows 10 automatically.
Step 1. Click the Start menu > Settings.
Step 2. Click Update & Security.
Step 3. Click the Troubleshoot option.
Step 4. Scroll down the options to find Video Playback. Then click Run the troubleshooter.
Step 5. Select I want to continue with this troubleshooter.
Step 6. Follow the on-screen prompts to look for the playback problems your Windows 10 have.
Step 7. Restart the computer and check whether you can play DVDs on your Windows 10 now.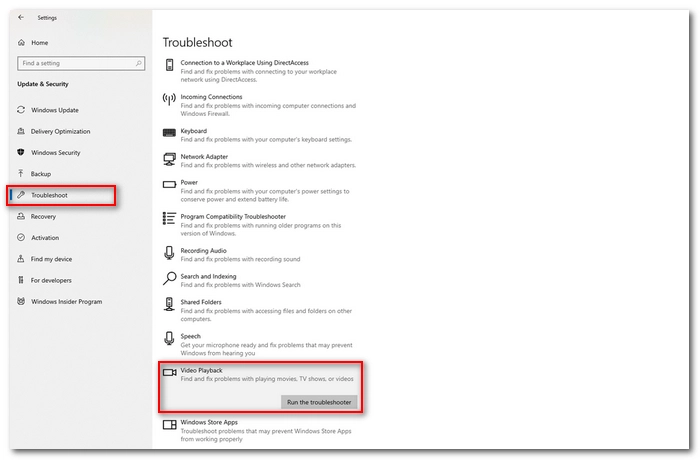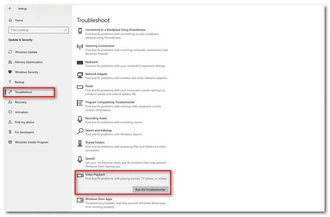 "DVD won't play on Windows 10" is a common problem faced by many Windows users, especially those who have just upgraded their systems to Windows 10. Fortunately, you can easily fix this problem by using a third-party DVD player, converting DVD to digital, and installing DVD codecs. However, if the problem still exists, there may be something wrong with the DVD driver, and you need to get the latest DVD driver installed to try to resolve the issue.
That's all for now. I hope this article was useful. Thanks for reading. Have a nice day!
1. Why can't Windows 10 play DVDs?
Windows 10 has removed the DVD codec required for DVD playback. This is why Windows 10 cannot play DVDs.
2. How do I get my DVD to play on Windows 10?
You need a third party DVD decoder to decode and play DVDs on Windows 10. You can get such a DVD decoder by installing a DVD player such as VLC, using DVD Ripper to decode DVD to digital, or installing the missing DVD codecs, then you can get your DVD to play on Windows 10 smoothly.
3. Why won't my DVD play on VLC media player?
Out of the box, VLC can efficiently play all kinds of DVD files. But if some of your DVDs won't play, it might be due to DVD copyright protection. VLC can only decrypt DVDs encrypted with CSS. For newer encryption types, such as 99 titles, VLC may not be able to recognize and play them. You can check Why and How to Fix VLC Won't Play DVD for more information.
4. How do I get Windows Media Player to play a DVD on Windows 10?
Windows Media Player cannot natively play DVDs on Windows 10 due to missing DVD codecs. You need to install the DVD codec for Windows Media Player or use another DVD player. Alternatively, you can rip DVD to a format supported by Windows Media Player to play DVD movies.