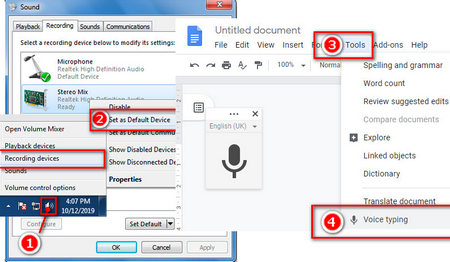 Step 1: Open Google Doc and start a new document.
Step 2: Set Stereo Mix as the Default Recording Device.
Right click the speaker at the right bottom corner of the windows, and choose Recording devices. And then right click the Stereo Mix to set it as the default recording device.
Step 3: Enable the Voice Recorder in Google Doc and Record.
Click Tools in the new document window, and then click the Voice typing. After that you will see a recorder, click the language bar to choose the corresponding language used in the video. Play the video you want to transcribe on PC and click the microphone shaped button immediately.
If you encounter any problem during enabling the speaker, you can find some approaches for fixing them in the following articles: Fixing Facebook Videos No Sound, Fixing MP4 no sound
It is important to mention that this method cannot completely help you finish these tasks, because it cannot achieve complete accuracy, and you may also need to process the converted documents further. Fortunately, this method can also run smoothly on Mac. Now, let's take a look at how to implement this method on Mac.