Free Download
A multi-functional video downloader for downloading from Facebook

X
Why Are Facebook Videos No Sound Suddenly and How to Fix It?

by Cooper
Updated on Feb 9, 2023
Why are Facebook videos no sound suddenly? There are several reasons listed below. Due to different causes, there are solutions to fix these problems simply and fast. Take a look now. BTW, if all the fixes do not work for no reason, try to download the Facebook video for offline playback using the following tool.
When we are watching videos on Facebook, the sound of the videos may disappear. It may due to the speaker of your device, or to the video itself. I have summarized five reasons for the Facebook video no sound problem and introduced corresponding solutions. Let's find out what's wrong with your Facebook.
Situation 1: The Video May Be Muted in Your Browser.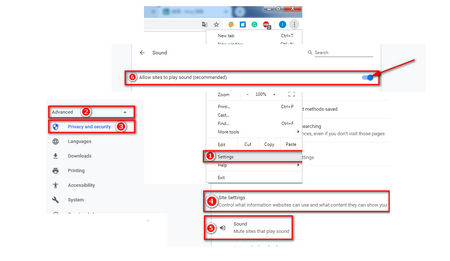 In some browsers, such as Chrome, Firefox and so forth, the Facebook videos no sound issue and other video website sound problems may be caused by the "Mute sites that play sound" feature. If the button is enabled, there will be no sound on Facebook videos on computer, and also on any other websites.
You can fix the problem with a few clicks as shown in the right image or by selecting in the menu: Settings > Privacy and Security > Site Settings > Sound (Depending on the browser version, the steps may vary slightly). Restart your browser and see if the sound plays.
Situation 2: The Audio Track of the Video May Be Tortious
As we all know, Facebook is a video sharing site that places great emphasis on copyright protection. Maybe you have also encountered the situation of being notified to remove the video because of copyright. All users must strictly abide by Facebook's copyright rules. If the background music of a video has infringement problems, then it may be taken off from the shelf, or you can only see the video part while playing, but not hear the audio part. And unfortunately, if you encounter this situation, then your problem will not be solved unless you contact the original author to get the full video source file.
Situation 3: Your Speaker is Disabled or the Realtek Driver Needs to Be Updated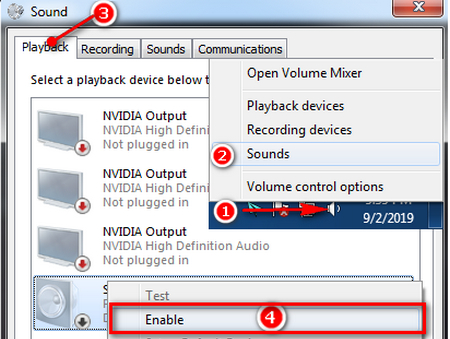 In this situation, you could not hear anything from the speaker of your computer. You may see a red fork on the speaker in the right bottom of the window like this:

. It means that your speaker is disabled. You can enable it by a few clicks as shown in the left image.
After you enable the speaker, yet if it still doesn't work properly, you may need to update Realtek driver. You can download the latest driver from the official website or update the driver via a piece of professional software.
Situation 4: Reboot Your Device
If Facebook audio not working is not solved, reboot your device. In most cases, this can fix most computer problems, including sound issues. After your system is fully running again, verify the sound is working and then go to Facebook and try to watch the video again. If the video still does not have sound, you should try to contact Facebook for technical assistance.
Situation 5: The Speaker of Your Device May Be Down.
If your Facebook videos still have no sound, you should make a simple check on the speaker of your device, maybe it has broken down just seconds ago. Try to play music online or other local media files and make sure your speaker is not accidentally muted by your incorrect operations. If it is not only no sound on Facebook videos Chrome, but also on these local files you've tried, you may need to find a maintenance staff to fix your speaker or replace with another useable speaker if the old one is replaceable.
Once-and-for-all Solution to Fix the Facebook Videos No Sound Issue
Download Facebook Video for Offline Viewing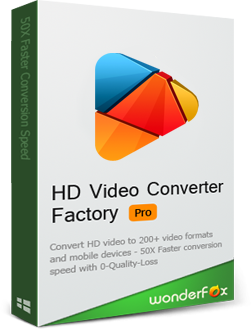 1. Save 720p/1080p/2K/4K/8K video from Facebook & 1000+ sites.
2. Compress large video/audio files with imperceptible quality loss.
3. Upscale or downscale video as you wish with no difficulty.
4. 500+ predefined presets for fast format conversion in batches.
5. Trim, split, merge, crop, rotate, flip, watermark video at will.
6. Record live streams, concerts, gameplay, etc. in any resolution.
7. Make animated GIFs from video or image sequence.
8. Make ringtones, extract subtitle file and more...

Free Download

Free Download

Product Page
Compatible with

Windows, 100% Clean!
Download Facebook Videos within 2 Simple Steps
More function You Should Have a Try in HD Video Converter Factory Pro
Convert Your DVD to Facebook