"What bitrate should I use when encoding my video? How do I optimize my video for the web?"
In modern life today, we can easily upload and share our videos on streaming sites. MP4, the video format compatible with most devices, players, and platforms, is considered the preferred format for streaming videos. However, many are bothered by the poor video quality after uploading. How to optimize the video? The following article gives a solution – change bitrate of MP4. Moreover, the recommended encoding settings for bitrate and video resolution are provided at the end of the post.
A Simple and Efficient MP4 Bitrate Changer
How to Change Bitrate of MP4 Video Easily?
Step 1. Add MP4 File
Run HD Video Converter Factory Pro and select Converter from the five function parts. Click Add Files to import the source MP4 video files. You can also directly drag and drop the files into the MP4 bitrate converter.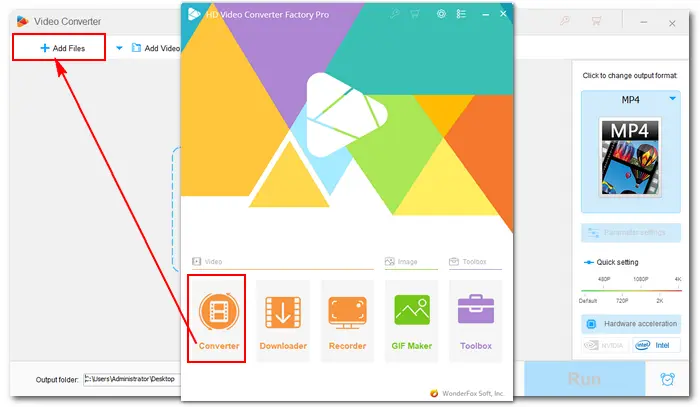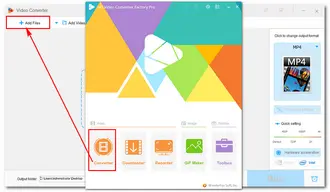 Step 2. Choose Output Format
Go to the output format section in the upper right corner. Pick MP4 under the Video tab as the output format. You can also choose other formats to convert MP4, such as MP4 to AVI, MOV, WMV, MKV, H.264, etc.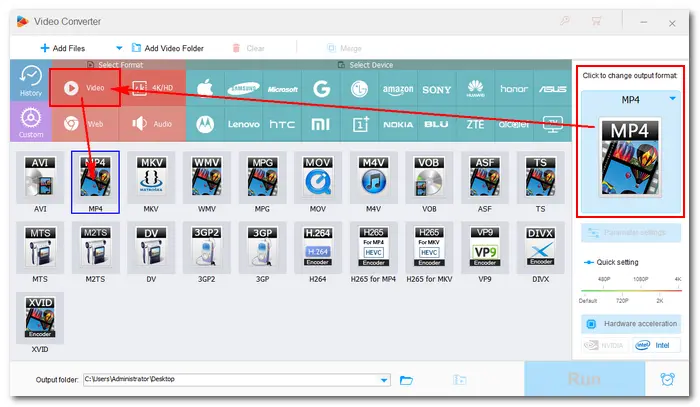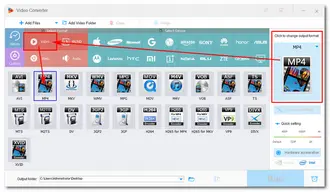 Step 3. Change Bitrate of MP4
Click the Parameter settings button under the format image on the right side. Here provide both video and audio setting options. Navigate to the Bit rate box and select an existing bitrate value from the drop-down list. Or tick on the "pencil" icon to customize a specific bitrate for your video. Then click OK to save the changes.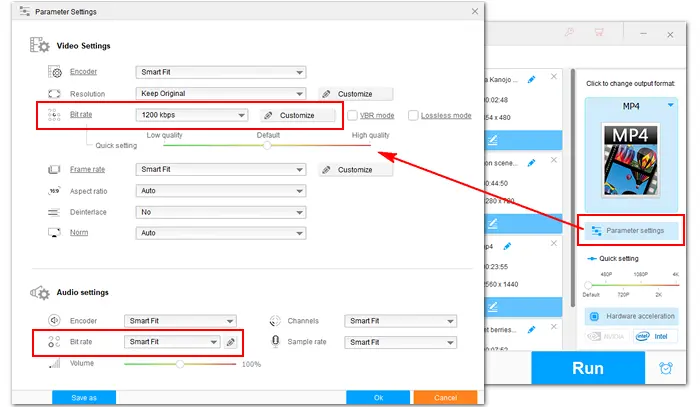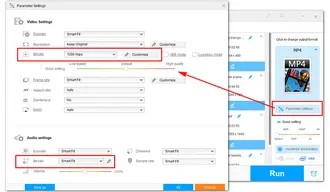 Step 4. Start Bitrate Conversion
Click the inverted triangle button to set an output destination. Finally, press Run to start the conversion and export the final MP4 videos with higher/lower bitrate.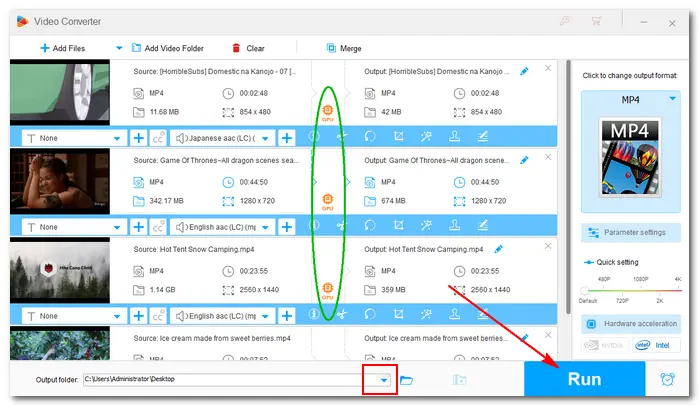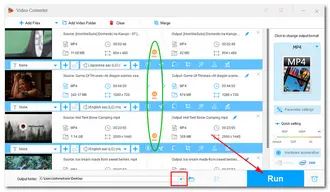 Recommended Bitrate and Resolution for Videos
Resolution: 480x270, video bitrate: 400kbps, audio bitrate: 64kbps
Resolution: 640x360, video bitrate: 800 - 1200kbps, audio bitrate: 96kbps
Resolution: 690x540/854x480, video bitrate: 1200 - 1500kbps, audio bitrate: 96kbps
Resolution: 1280x720 (HD), video bitrate: 1500 - 4000kbps, audio bitrate: 128kbps
Resolution: 1920x1080 (Full HD), video bitrate: 4000 - 8000kbps, audio bitrate: 192kbps
Resolution: 3840x2160 (4K), video bitrate: 8000 - 14000kbps, audio bitrate: 192kbps
At Last...
That's all I want to share with you about how to change bitrate of MP4. HD Video Converter Factory Pro is not just a useful MP4 bitrate changer for Windows users. It's also able to download videos from websites, reduce file size in different ways, record MP4 on Windows, add subtitles and audio track to videos, make GIFs and ringtones, edit videos by cutting, cropping, rotating, watermarking, adding effects, and more. GetGet the full-featured converter now!