Q1: "I've installed AE, but it cannot import my MKV files even when I've installed QuickTime. How to avoid that limitation? Thanks advance."
Q2: "I need to edit some videos but some of them are in .mkv extension, is there any way to import it to AE? The videos are just screen capture with no audio. I've tried mkvToVob in order to try to unpack to another type of file but because there is no audio mkvtovob was unable to work."
Q3: "Hi, I have an MKV file I would like to import into AE. What is the best way to do it in order to keep the highest possible quality?"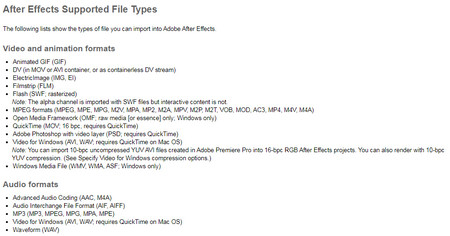 After Effects video/audio formats
A: The picture indicates the types of file you can import into Adobe After Effects. Also, note that despite the QuickTime installation, not only MKV is an AE unsupported container format, you also need to ensure that the media codecs packed within MKV are supported by After Effects. So remuxing and transcoding process are both needed. Meanwhile, there's no MKV codec for After Effects to my knowledge.
Thus the gist here, to properly edit MKV videos in After Effects, is converting MKV to any of those video formats. But which to choose? You might ask.
So, my recommendations here are:
MOV container, H.264 video + AAC audio; Good compatibility and performance in editing.
MP4 container, H.264 video + AAC audio; Best compatibility for any-platform import and export.
Find that too hard to digest? Here's a great video converter program that can help you to easily conduct the task here, even though you have no idea about video transcoding & conversion. A simple click on the ready-made profile in the program – job done.