The New Ad for Moto X Phone, the First Smartphone You Can Design Yourself
Last week, Google released new logo of Motorola Smartphone, and at the same time announced the establishment of hardware department for tablet. However, these are just part of Google's plan to boost innovation on Motorola Smartphone. July 3TH, 2013, Google made a new move, publishing brand new full-page ad on New York Times, the Wall Street Journal, Washington Post, and USA Today to promote its upcoming Moto Smartphone.
The ad makes bold promises about how exciting this new Smartphone will be. "The first Smartphone that you can design yourself", the copy then goes on to say, "Because today you should have the freedom to design things in your life to be as unique as you are." You can see it for yourself below.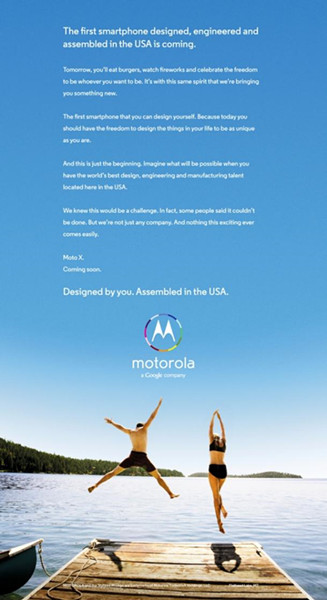 Woodside Dennis revealed at the AllThingsD conference: Moto X, a new flagship Smartphone that will be designed, engineered and assembled in the USA. Not just a handful of units either, every Moto X sold in the USA will be assembled in Fort Worth, Texas, making it the first Smartphone ever assembled domestically. We can see that Google made a smart move to arouse American patriotism.
On a side note, its intentional linking of U.S. Independence Day (July 4) brings up old suggestions that the personalization that users can get from Moto X. Old rumors suggested that users would be able to select processor, screen, and camera components in the same vein that consumers can build PC's on manufacturer websites. Smartphone customization at the component level is questionable, but Motorola's ad suggest that users will at least be able to choose how the design of their phones. There haven't been any details in terms of what exactly will be able to be personalized on the Moto X. Hope the official release of Moto X would not lead to discontentment.