Change Aspect Ratio for Better Display Effect
HD Video Converter Factory changes your video's aspect ratio to get better display effect on portable device, TV, computer, tablet, etc.
Were you encountered with such problem? You spent hours downloading some MP4 video files online and were ready to watch them on your cell phone. But when you put these videos on it. It could not stretch or compress video. Or in other words, the aspect ratio was incorrect for your mobile. What to do next? To deal with the screen size defect of video enjoyment, it is a good choice to change aspect ratio of video to make the display effect better fitted. You can't miss this professional change aspect ratio software. HD Video Converter Factory Pro is a right choice for changing aspect ratio. The powerful video editing function and customizing output video parameter settings can help you change the aspect ratio freely and easily. This article mainly focuses on how to change aspect ratio of video easily with the powerful video converter.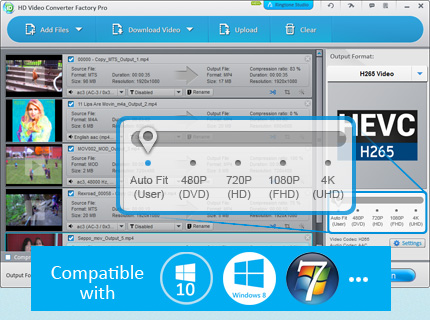 Why We Have to Change Aspect Ratio
The aspect ratio of video is the proportion between the width and the height of an image. It can determine display effect directly when you play video files on computer or mobile devices. It's worth mentioning that, currently the most common aspect ratio for computer monitors or TVs is 16:9. 4:3 is for old TVs or something. The previous ratio is more suitable for wide screen display and the later is applied to full screen. If there is defect of aspect ratio or conflict of screen size, you can see some black bars on both sides or at top and bottom. It will really have a negative effect on enjoying these resources. The black bar seems more like the extra part to the original video. If you want to get better display effect, you do need remove them with better aspect ratio settings. Based on this point, you need a powerful aspect ratio changer to help you adjust the video ratio. If you hold a wide-screen monitor, you had better choose 16:9 ratio. Science has shown that video ratio of 16:9 is more accordant with the golden ratio of pupil.
Recommended Software to Change Aspect Ratio
The powerful related software can help you change aspect ratio of video in almost all formats, such as MKV, MP4, AVI, MOV, WMV and even DV, MTS, H265 video, etc. If you want to improve your video-watching experience, no matter on portable device or TVs, you cannot miss this tip. Basically, the related software can help users change aspect ratio, remaining original high quality. Nobody wants to enjoy image distortion. With the recommended HD Video Converter Factory Pro, you can simply fix the incorrect aspect ratio all by yourself, even if you don't have too much technical experience before. For example, if you want to play a short DVD movie on your mobile, this aspect ratio video converter will convert video format as well as aspect ratio in the most effective way, and without any quality loss.
Steps to Change Aspect Ratio with HD Video Converter Factory
It is pretty handy to change aspect ratio of video with HD Video Converter Factory Pro. You can finish changing aspect ratio within a few clicks. Keep reading.
Before we start, make sure you've perfectly download the HD Video Converter Factory Pro.

Step 1: Run the software and add the target video file at first. Or you can just drag the video files to it.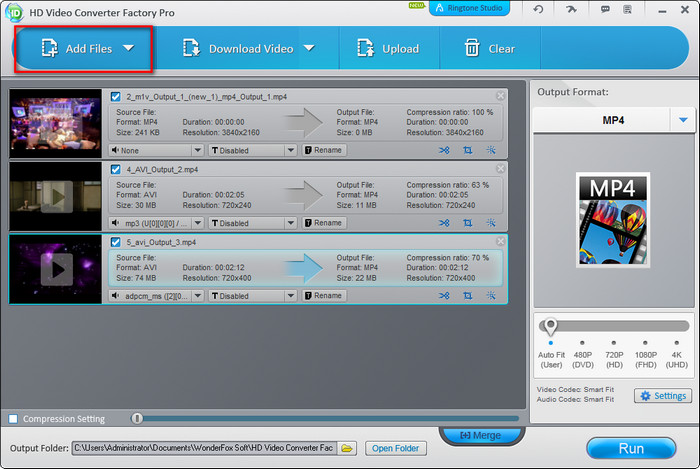 Step 2: Select the wanted output video format and then click settings. The settings panel pops up. Open the drop-down list and choose the correct aspect ratio as you want.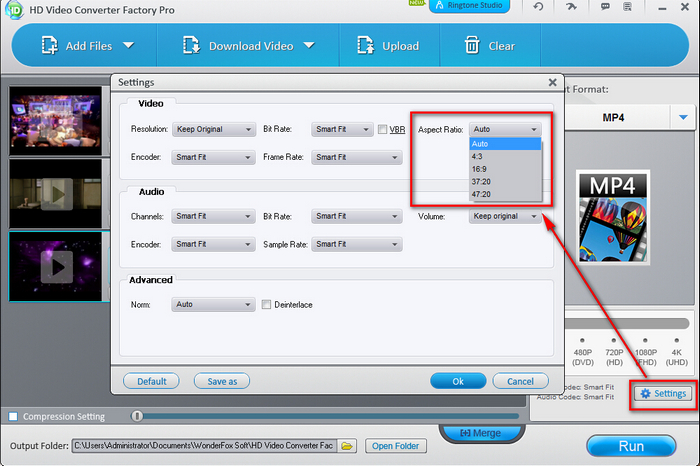 Step 3: Click "Run" to start the whole process. Later you can enjoy the video on the go.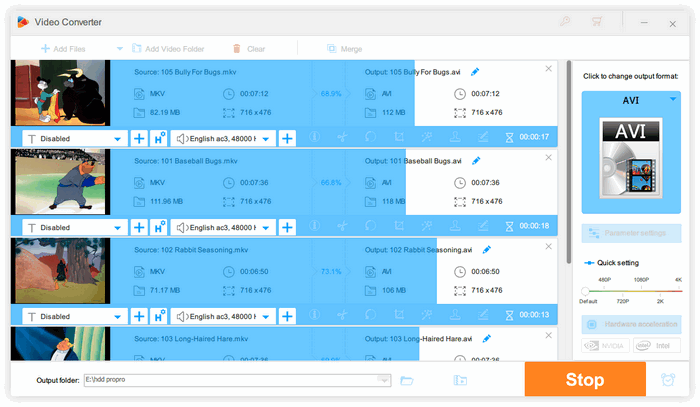 HD Video Converter Factory Pro (for Windows) is shareware in discounting, the price from $39.95 to $29.95 that means now buy it you will save $10. This is a limited-time discount, please seize the opportunity.
The Limits of Free Trial
License benefits
The unregistered edition will limited to converting maximum 5 minutes.

Secure Download

Free upgrade lifetime.
Free technical support.
Get back license key free.
30 day money back.

$29.95 (Save $10)
More Tips and Guides about HD Video Converter Factory Pro
HD Video Converter Factory Pro is an all in one video converterting software. This HD Video Converter builds in 150+ video formats, it can convert nearly all popular videos besides the SD video and HD video.
So, it cannot only help you solve how to convert MP4 to MKV, but also it can help you solve nearly all video conversion problems. For example, if you want to convert SD video to HD video, HD Video Converter Factory Pro will help you do it easily. And, if you want to convert videos from your Camcorders or DV like Sony HD camcorder, Cannon HD Camcorder or some other camcorders, this HD video converter will also help you convert them to your desire video formats without quality loss while in a high converting speed (Featured as Camcorder video converter), for example, it can help you convert MTS video, convert video taken from your DV (Featured as a DV file converter), etc. What's better, with its built-in 150+ video formats, you can convert virtually any video to a wide range of video formats, audio formats and popular digital devices with optimized presets.
If you are a video lover and would like enjoy videos without format limitation, HD Video Converter Factory Pro is one of your best choices.