Frame rates(fps) mean the number of pictures flashing by per second during the play of a video. Normally, 24fps is the minumum requirement for viewer's eyes for less than it the video will not appear as successive so most movies limit their frame rates to 24 or 30 to save cost. While higher standard exists - 60fps video looks far smoother and only after you watch it you will get the gist!

by Michael
The Trend of Higher Frame Rate Demands Nowadays
After stepping into the 21th century, video technology has developed so fast that it is almost beyond men's expectation. along with the prosperity of HD, 4K and HDR technology, higher frame rate is also badly demanded so 60fps movie came out to satisfy the special groups especially for those "sharp eyes".
And today I am going to briefly introduce how to convert video to 60fps with this amazing 60fps video converter - Video Converter Factory Pro. It is just 4 steps as easy as opening your computer and even a newbie could get it.
Directions on FPS Conversion
Free Download: Download HD Video Converter Factory Pro and get it installed.
Smooth Your Video Within 4 Steps
Step 1
Click Add Files to target your video or directly drag your video to the interface and if you want to remove the files you have chosen please click Clear on the top to wipe out them all.(Click Open Folder at the bottom you can choose the file path and directory of the downloaded video)
Add video files
Step 2
Click Output Formats on the right corner to choose your desired one.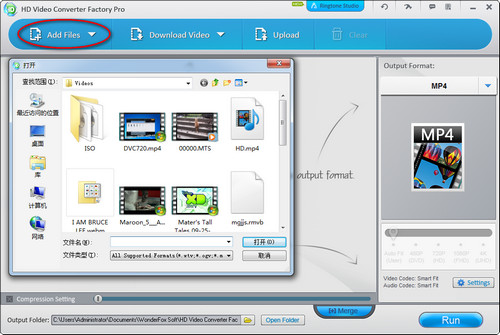 Various formats
Step 3
Click the Settings button and go to the Frame Rate to personalize the figure.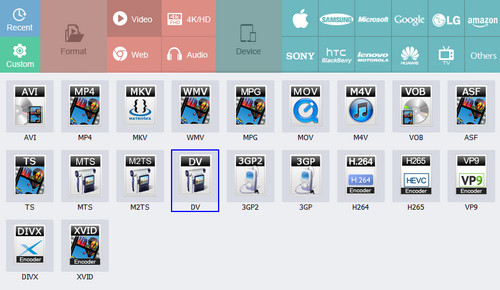 Personlize the fps
Step 4
Click Run to convert videos to 60fps until it is done.(Batch conversion is also supported)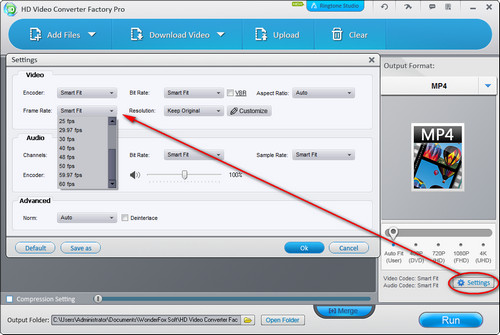 Launch your 60fps conversion
Tips: You can also change video resolution, adjust aspect ratio, increase volume in the setting
Advice Before Using
With HD Video Converter Factory Pro-the most efficient and powerful 60fps converter you can convert video to 60fps or others in terms of your need. But I want to remind you that not everyone could tell the differences between 30fps and 60fps so you should consider your own needs before using this software.
Convert 60fps to 30fps or 24fps
How to convert 60fpst to 24fps? some people may ask HD Video Converter Factory Pro can not only increase the frame rate of a certain video but vice verse, the fps can also be downscaled to satisfy your special demands. For example, if you want to edit your own video to make it look like an old film or a black-white movie, you need to decrease the fps to fit the reality tens of years before. Just repeat the same steps as when increasing the fps, you can low down your fps.
Now, please download the HD Video Converter Factory Pro to complete your jobs.
Some Other Practical Functions
Various media formats, optimized profiles for 220+hot devices.
Convert MP4 to SWF and vice verse.
Download videos from YouTube and freely customize your video image.
Provided with an built-in editor.
High compression rate with lossless or even better quality.
50X faster conversion speed is supported