People have reasons to be in persistent pursuit of a higher level of visual enjoyment, for nowadays 2K, 4K or even higher resolution's screens keep flourishing. Free HD Video Converter Factory - the most practical video enhancement software, is going to make it easy for us to improve video quality.

by Michael
What Factors Contribute to Video Quality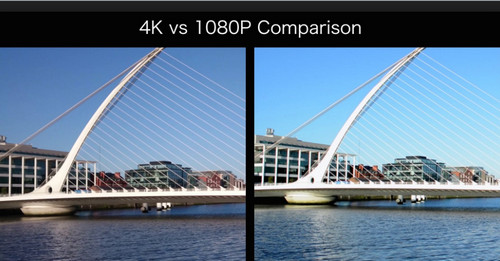 4k vs 1080p
Commonly, people tend to regard resolution as the crucial element that decides whether a video is good or bad because usually in a graphics setting of a computer game or after you download a video from YouTube and check its setting, resolution is a primary parameter you tend to change for better graphic output. Indeed, resolution does influence video quality but also, bit rate and encoder system is still important if you want to increase video quality, especially for the latter one, you can increase your video quality with unchanged or even lower bitrate as long as you have a better encoder such as VP9 encoder and H265 encoder. Therefore, there is a
complete set of Free HD Video Editor in the software to help you modify your video and make it look brighter or more colorful.
There are all kinds of video quality increasers on but none of them has Free HD Video Converter Factory's high efficiency and multi-function. So, what are you waiting for, move on and take it!
Free Download and install the best enhancer here
Attention to the Following Steps to Enhance Your Video
Step 1
Click Add Files button or drag from your folders to stream your video file to the interface.
tip: You can delete the video you chose by clicking the Clear button on the top
Add a file
Step 2
Choose the type of your video resolution you want ( DVD, HD, FHD or UHD ) by dragging the progress bar at the right bottom and stop at the value you need or Click Settings and go to the resolution icon to change the resolution into a higher one in the emerging list meanwhile you can also convert your bit rate and select the newest encoder in the Settings.
tip: Adding special effects into your video to make it brighter or more colorful is also a way to improve video quality. Just follow the guidance on the picture beside.
Improve video quality
Step 3
Click Run to launch the conversion and find the path and location of your video file by clicking Open Folder.
By the way: Besides converting video to higher quality, you can also decrease your video quality for special reasons for example when you want to make a video of old movie effect or just want to speed up conversion and save storage space on your hard drive.
Click run to launch the conversion
What Make Free HD The Best Video Enhancer
Why should we choose HD Video Converter Factory among a variety of video enhancer software. Here are a series of reasons. Firstly, it has a simple and intuitive interface which just includes the necessary parts for its usage without any extra items. Every section is pretty clear and isolated from each other from left to right, bottom to top. Secondly, it has the fastest speed you have never seen before when you convert your video, because usually it only takes tens of seconds or fewer in the course of conversion after you reset video's parameters. Thirdly, the flexible customization, in the Settings, you can set your parameters by changing bit rate and resolution, adjusting aspect ratio, converting frame rate ( This software also acts as a good 60fps converter for smoother visual experience ) and choosing the newest encoders at your own will and each of them has several numerical values for you to choose to increase video quality. These 3 points above make HD Video Converter Factory the best video enhancer software in the world.
Some Related Functions You May Need
1. You can use merge function to connect several videos together after you have increased the quality.
2. Clip your video or crop black bar to get the part you want before conversion.
3. Change video format into the one which contains the newest encoder to increase video quality more efficiently.
Now, please download the Free HD Video Converter Factory to complete your jobs.
Other Main Features of Free HD Video Converter Factory
Various media formats, optimized profiles for 220+hot devices.
Convert MP4 to SWF and vice verse.
Download videos from YouTube and freely customize your video image.
High compression rate with lossless or even better quality.
50X faster conversion speed is supported.
Feel free to set your video or audio parameter such as resolution and volume.