Ordinary Video/Audio Volume Problems
Q: I downloaded a video from YouTube but the sound is very low even if I raise the volume up to maximum. How can I increase video volume?
Q: My friends and I made a film for a school project. When a video is recorded with low volume, is there anyvideo volume booster?
Q: I have a video that's really quiet and I can barely hear it even when I turn the volume up full.
The only problem is that a bunch of music in MP3 format is not as loud as I'd like it to be. Have you heard of any software like video audio boosterthat I can make them louder in a single batch process?
Congratulations, you have come to the right place if you're in trouble with the same or similar experience of barely audible videos. The article below will introduce 3 volume boosterPC to boost video volume.
These 3 video volume boosters are WonderFox HD Video Converter Factory Pro, VLC Player and Windows Movie Maker.
You can have a brief knowledge of the above video volume booster app with clicking the following terms:
1 WonderFox HD Video Converter Factory Pro
2. VLC Player
3. 3. Windows Movie Maker
Method One - WonderFox HD Video Converter Factory Pro
Let's firstly focus on the WonderFox Free HD Video Converter Factory. It is a multi-function software including video/audio format conversion, downloading video from various sites, simple edition of video and audio, video/audio file compression and so on. I have used it to convert video and found it can also boost video volume. So I highly recommend it here today.
Let's free download this video audio booster and follow the below detailed guide.

HD Video Converter Factory Pro
Wanna increase video volume in batches? This video volume booster is right for you. Enjoy the better and more portable playback experience. Learn more >
Step 1 Add Video/Audio File
Add your video files which you want to increase volume video into this program by clicking "Add Files" or a simple drag-and-drop.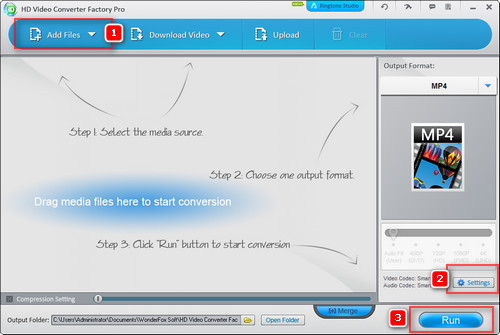 Increase volume with in 3 steps
Step 2 Customize Volume Parameters
A variety of formats and devices will be expanded out for your choices when you click on the format profile. After done, press the "Settings" button below and you'll see a loudspeaker icon in Audio category. Drag the slider up to 200% for boosting the audio volume. Then click OK.
Tips: No matter which method you choose, make sure you don't increase the volume too much as it may damage your speakers. It is better to boost up to 200% of original volume.Except for increasing volume, you can also change aspect ratio, resolution, frame rate, even the encoder and bit rate to reduce video size.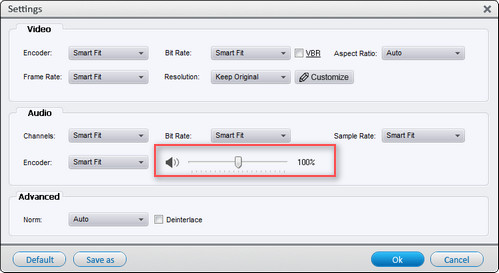 Drag the Slider to Increase Volume (up to 300%)
Step 3 Start to Increase Video Volume
Set your output folder and click the big blue "Run" button to start the work in a single batch process.Actually, it is not only a video volume booster, but also aMP3 volume increaserIt enables you to convert audio, remove audio, split and merge audioetc in batches.
Some people may ask that how to increase video volume with other frequently-used or built-in Windows software. I'd like to share two common used tools to increase video volume below.
Method Two - VLC Player
As a well-known free and open source cross-platform media player, VLC can be used as a video volume booster too. Download and install VLC on your PC if you don't have it. Follow the steps below to increase audio volume to maximum 300%.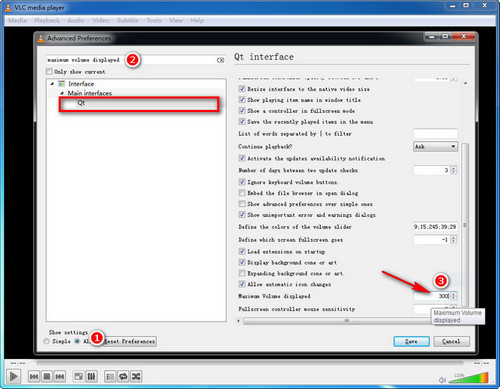 Increase Volume
1. Press "Tools" on menu bar and then "Preferences" to open "Simple Preference" window (or press the shortcut key Ctrl+P).
2. Select "All" under "Show Settings" in the lower left corner. Type "maximum volume displayed" on the top left side. Then click on "Qt", you will see "Maximum Volume displayed" option on the right.
3. Type 300 in the box and re-launch VLC, you will be able to boost audio volume up to 300% of the original volume.
However, it's not a permanent way and has no effect to boost your original video or audio files. In other words, they are still played with low volume using another media player, on another PC or any other portable devices. So you may need a permanent solution.
Method Three - Windows Movie Maker
Windows Movie Maker is a video editing software by Microsoft which offers the ability to create and edit videos. You can easily increase the volume of any part of your video using this editing tool.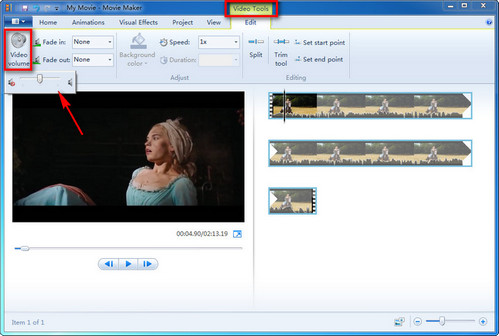 Increase Video Volume in WMM
1. Import your video into Windows Movie Maker.
2. Click the "Video Tools" tab on the ribbon above menu bar.
3. Hit the "Video volume" button, drag the slider to the right to increase sound volume. Then export the video.
That's it! Enjoy your digital life and feel free to leave a comment or join the discussion below.
Overall, the recommended software is HD Video Converter Factory Pro. Free download it below:

HD Video Converter Factory Pro
Wanna increase video volume in batches? This video volume booster is right for you. Enjoy the better and more portable playback experience. Learn more >

Congrats, problem solved now! Why not keep the full-licensed program for
LIFETIME
at lowest price now!
Still got question? Submit it to us and get answer within 24 hours.