How to Reduce Video Size without Losing Quality When Converting a Video (or DVD)
One more possibility: I wanted to upload my video to Facebook. But the file size was too large to upload that finally I had to cut the video into clips. Some will think it's a stupid way. But it was the best way to keep the whole video content as well as original video quality at that time. Cause I tried to reduce video size without losing quality or shrink video file size before uploading with some video compression software, but the output quality was utterly poor. These words come from a user's email.

No.1 Video Compressor and Reducer
Support compressing normal video, 4k video, 1080P video, 720P video to smaller size with a simple click. Make perfect balance between lossless video quality and size.
More >
I believe there're still many people having the kind of problems. Similarly, a lot of people are wondering how to minimize the memory/disk space to be taken by adjusting relevant parameters of the original videos when converting a DVD/ video, or just want to send a video via e-mail but fail. We all hope for getting the output video file in the smaller size while not sacrificing quality. Say, we need to reduce video size without losing quality. The following methods of how to compress video files without losing quality could help you. Before that, let's learn some helpful knowledge about video file size.
What Parameters Affect Video File Size
How to optimize the size of target video? It's probably someone will have such doubts that why the video size gets much bigger than predicted after the video conversion is completed? Here we need to figure out what parameters have an effect on video size. For video size, encoder (Format) and Bit Rate of the video are turned out to be the most crucial factors or reference indexes. In broad terms, the video size is determined by bit rate. Under the same definition, the higher bit rate the video possesses, the bigger the video size is. And remember, the resolution has no influence on video size if we don't change bit rates.
The frame image below shows how the excellent HD video converter namely  "video size reducer software" lets you straightforwardly solve your "how to reduce video file size without losing quality" question.
Video (4k)
Video (1080P)
Video (720P)
DVD (480P)
Duration
120 mins
120 mins
120 mins
120 mins
Original formats & encoder
AVI, MP4, MKV, MOV, TS, MTS, RMVB, WMV, MPG, M4V, FLV...
H264, MPEG4, MPEG2, MPEG1, VP9, WEBM, XviD, DivX, WMV1/2/3/9...
AVI, MP4, MKV, MOV, TS, MTS, RMVB, WMV, MPG, M4V, FLV...
H264, MPEG4, MPEG2, MPEG1, VP9, WEBM, XviD, DivX, WMV1/2/3/9...
AVI, MP4, MKV, MOV, TS, MTS, RMVB, WMV, MPG, M4V, FLV...
H264, MPEG4, MPEG2, MPEG1, VP9, WEBM, XviD, DivX, WMV1/2/3/9...
AVI, MP4, MKV, MOV, TS, MTS, RMVB, WMV, MPG, M4V, FLV...
H264, MPEG4, MPEG2, MPEG1, VP9, WEBM, XviD, DivX, WMV1/2/3/9...
Original bitrate
40,000 kbps
10,000 kbps
3,500 kbps
9,800 kbps
Original size
30 GB
8 GB
3 GB
4.7 ~ 8.5 GB
Recommended output
encoders/formats
H265 (MKV/MP4)
VP9 (MKV)
H264 (MP4/MKV)
H265 (MKV/MP4)
VP9 (MKV)
H264 (MP4/MKV)
H265 (MKV/MP4)
VP9 (MKV)
H264 (MP4/MKV)
H265 (MKV/MP4)
VP9 (MKV)
H264 (MP4/MKV)
Output bitrate (Estimated)
H265=6,500 kbps
VP9=6,500 kbps
H264=14,000 kbps
H265=1,600 kbps
VP9=1,600 kbps
H264=3,200 kbps
H265=900 kbps
VP9=900 kbps
H264=1,800 kbps
H265=600 kbps
VP9=600 kbps
H264=1,200 kbps
Output size (Estimated)
H265=5 GB
VP9=5 GB
H264=10 GB
H265=1.3 GB
VP9=1.3 GB
H264=2.6 GB
H265=900 MB
VP9=900 MB
H264=1.8 GB
H265=500 MB
VP9=500 MB
H264=1 GB
Compression ratio
3X~6X
3X~6X
3X~6X
5X~10X
Quality
Lossless
Lossless
Lossless
Lossless
Batch Compression
Supported
Supported
Supported
None
How to Reduce Video Size And Convert it While Preserving Original Quality?
You may think that it's unbelievable to reduce or compress video without losing quality. That's because you didn't know and use HD Video Converter Factory Pro. Here you can download the professional "video size converter - HD Video Converter Factory Pro" right now to have a try and you'll find it's usable to reduce size of video.

how to compress a video without losing quality
Does your media files take up way too much space? It's time to compress them with the best video compressor without losing quality at your pleasure.
More features >
Method One: Perfectly Regulate the Video Size with WonderFox HD Video Converter Factory Pro
WonderFox HD Video Converter is an leading video converter, which supports us to compress 4K or UHD video as well as convert SD video to HD video. Just with three simple steps, you'll get optimized video size with lossless quality.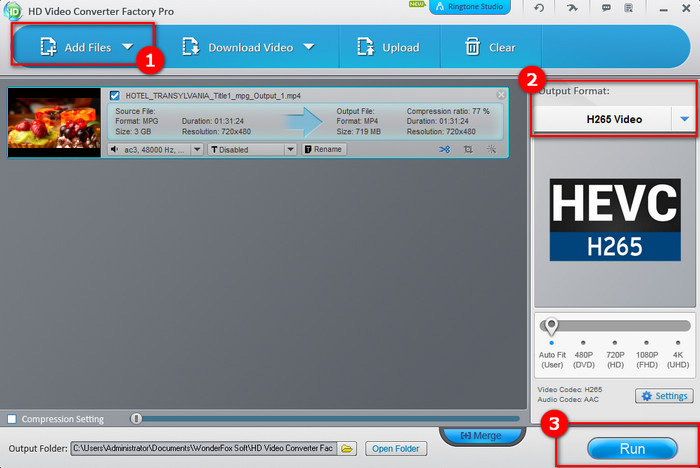 1. First you can download HD Video Converter Factory Pro here. Launch the program. Click "Add Files" to import video(s) or simply just drag and drop your video(s).
2. Select H.265 as the output format, to give an instance. The program presets "Smart Fit" option (on the right side of the user interface) for each format and device. So you don't need to know suitable parameters to get the best size and quality. And it offers optimal profiles for web video compatible formats, so you don't have to search online what's the best specs for YouTube video, when you try to upload your video?
3. Click "Run" to start the process to convert video to smaller size.
Tips: Here's a suggestion: select output format in this order: H265(HEVC) > VP9 > H264/AVC(1) > DivX > MPEG4 > MPEG2/1 > XviD. For the same video file, compression ratio for H.265 is better than other encoders (formats). Besides, this file size converter can compress videos without losing quality in batch, which will save a lot of time.
Method Two: Reduce Multiple Video Files with Advanced Compressor Bar Dragging
If you want to convert and reduce multiple videos at once, you're provided with excellent "Compression ratio" mode. It's a straightforward way to decrease video size with the video file size reducer.
Just drag different videos to the program > Select "Compression Setting" and then drag the control-item to your wanted file size. You can see the compression ratio of all video files is changing.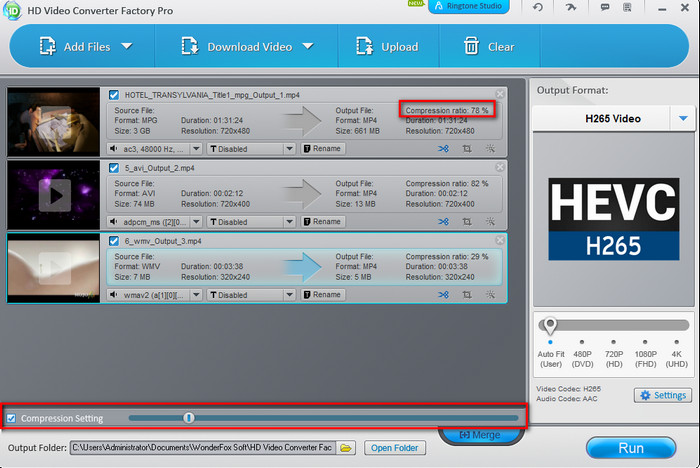 Method Three: Cut Off Unwanted Part
Use the built-in crop tool to cut off unnecessary parts of the video. You can preview the output video at the same time.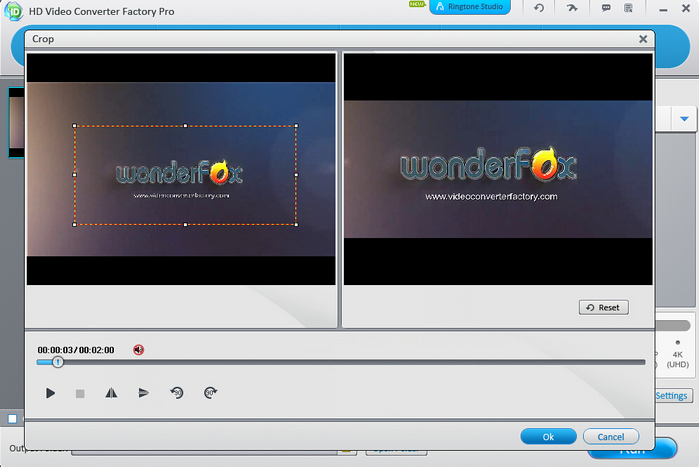 HD Video Converter Factory Pro Can Help You More
Besides reducing video file size, you can use the converter to download hot YouTube video (YouTube HD video included, that is, you can download 4K video, download new VR resources and download 360 degree video from YouTube with ease.
Add subtitles or remove subtitles from video.
Make iPhone/Android ringtone all by yourself.
Method Four: An Online Video Size Reducer Which Gets Both Praise and Blame
If you stick to video size reducer online service, I tried my best to find an capable online compressor and it goes to Clipchamp. I used it to compress several videos. Personally I think as an online tool, its using interface is pretty good and is also easy to do with file reduction. But to me, it took too much time just importing and analyzing a video file. For example, I added a video which was about 90 MB and 6-minute long with several minutes, while I could add the same video into HD Video Converter Factory Pro within seconds. Maybe it depended on the network connection speed. One more thing: you can only free reduce 5 videos a month and the service only supports 1080p max resolution.
DVD Compression
By the way, if you happens to be DVD movie lover and have DVD ripping and converting needs, you'd better try DVD Video Converter to rip any protected DVDs and remove region codes with ease.
New DVD Films Tips: Rip FOCUS T25 DVD, Copy 21 Day Fix DVD and Successfully Make Copies of P90X DVD Series
Still have any question? Have some feedback?
Related Resource
Free Download WonderFox DVD Video Converter to Reduce your Video size
Want to enjoy a complete movie night with your family instead of waiting long time for conversion? WonderFox DVD Video Converter is the best choice, which provides one-stop total solution to Rip DVDs (Disney, Paramount, Sony Included), Convert videos, Download online videos, Edit and Play movies/video with excellent performance.
Join the Disscussion on Reducing Video Size