YouTube Green Videos Frequently Appear When Watching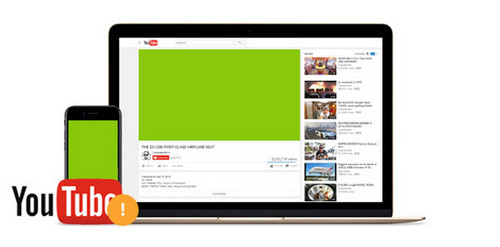 YouTube green video
As the most famous and popular video website, YouTube offers a great platform for us to watch and share videos online. However, some YouTube play errors such as green YouTube video screen problem often cause us unpleasant viewing experience. Basically, when we are watching a video on YouTube, suddenly it stops showing videos; the sound is fine but the video is only a green screen. Or we can't play YouTube video from the beginning as the green screen is being displayed all the time. This is so annoying and we desperately want to get rid of this nettlesome matter. Just take it easy and this article will recommend some useful tips on this problem.
Part 1: The Most Effective Method to Fix Green Screen YouTube Problem
In view of the fact that many of you YouTube fans are not technical experts on the internet or computer, many online methods on green YouTube screen problem may drive you insane. So I just want to recommend you the simplest and effortless way to put an end to this troublesome issue. That is to download the videos with YouTube green screen problem to the computer for offline playback via this freeware – Free HD Video Converter Factory. Within three steps, you can get the YouTube green screen fix.
Preparation: Download this freeware and launch it.
Fix Green YouTube Screen Problem within Three Steps
Step 1
Launch Free HD Video Converter Factory and press the "Downloader" option on the interface. After that, visit YouTube and find your desired video, copy the URL from the address bar. Then go back to the program and click on + New Download button to create your first download task.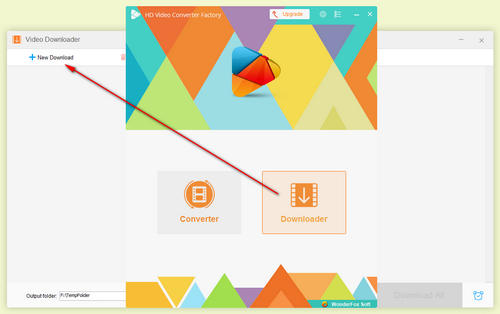 Copy YouTube Video URL
Step 2
Press "Paste and Analyze" button and wait several seconds. When the analysis is over, you can select one preferred output resolution and format in the list below. Click OK to add the download task. With the same steps, you're able to create multiple download task.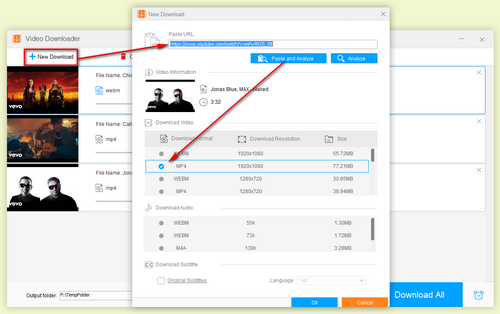 Choose Wanted Output Resolution and Format
Step 3
Set up a destination folder to save the downloaded YouTube video files via the inverted triangle icon on the bottom, finally, hit the Download All button to start the downloading process.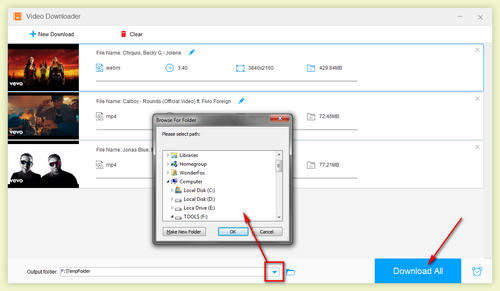 Download the YouTube Video
This method can greatly and effortlessly fix the woes with the green YouTube screen, so now we can enjoy your favorite YouTube videos on computer comfortably. Moreover, this freeware can download various video sources from sites, for instance, download recipe video, download Easter movies, download Christmas videos, or download Yoga videos and so forth. Besides this, this freeware can also download HD videos, like download 4K YouTube videos, download 1080P Youtube videos and more.
Disclaimer: WonderFox does not approve of copyright infringement in any way. All information provided in this article is presented for general informational purposes and personal fair use only. Please check the copyright law in your country/region before downloading.
Part 2: Other Tips on This Troublesome Issue
Tip 1: Change the Browser
No matter what web browser you are using when you meet the green YouTube screen problem, you can take the following steps to solve this: refresh the previous video tab > reopen the video in a new tab > restart your browser. If these steps don't work, try watching the video in a different browser.
Tip 2: Disable Hardware Acceleration
Some YouTube videos are streamed through Adobe Flash and hardware acceleration is a feature in Adobe Flash Player that usually delivers a better video playing experience. If YouTube gives you green screens, black screen video, you can close the hardware acceleration to fix it.
Steps to disable hardware acceleration: Right-click on the on the video you're having issues with > Click Settings > Uncheck Enable hardware acceleration > Click Close > Refresh the page and check whether the video is working. Once you disable hardware acceleration, the setting will be applied on all browsers on your computer.
Tip 3: Update Graphics Driver
For those who are using Internet Explorer as default web browser, one thing you can do to solve YouTube video green screen problem or YouTube Fullscreen Problem is to update graphics driver. Since a lot of problems in playing videos can be triggered from outdated drivers, update your computer's graphics driver may correct the green YouTube screen matter. And Windows users need to visit the website of your computer manufacturer to download the latest driver.
These are some common ways to get rid of the annoying green YouTube screen. In the light of many complicated technology factors that related to the internet, different operating system and browser or some other kinds of YouTube play errors may arise, the solution in part one can save you much time and energy since you don't bother to think too much about fixing YouTube play errors. What's more, you can share your experience in the discussion below.
Now, please download the Free HD Video Converter Factory to complete your jobs.
More Special Features of Free HD Video Converter Factory
Download videos from various sites
Various media output formats, optimized profiles for 500+ hot formats and devices
Making ringtone for Apple devices or Android devices
Unique editing function: clip, crop videos, add special effects to videos, or merge files easily
Add subtitles to videos or remove subtitles from videos
Batch compress video files with smaller output size to free up storage space on device