Have You Encountered the Similar YouTube Black Screen Issues?
For many YouTube loyal fans, you may come across the following situations: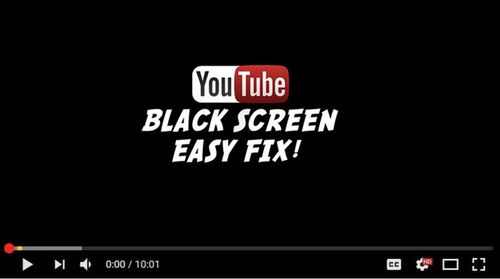 Fix YouTube Videos Black Screen Issue
1. When you watch YouTube videos on Chrome, some of the videos are black boxes (even the play button / volume / time stamp bar is blacked out), but the audio works perfectly fine;
2. You click on a YouTube video and the only thing you can see is a black screen where a video should be and it is the same thing when you click on other YouTube videos;
3. All of a sudden, YouTube repeatedly gives you the message that "YouTube an error occurred. Please try again later" with a black screen when you try to watch YouTube videos.
You don't know what triggers the YouTube video black problem. In fact, this is a very common issue which could be caused by a number of things. You are eager to fix this nettlesome problem. Don't get flurried, just keep reading.
Part 1 - Download Videos with YouTube Black Screen Fix
To fix YouTube screen black cases and reawaken your black screen YouTube videos, here are some simple and quick troubleshooting tips below to try. Considering that some unknown reasons in different operating conditions, you may make a futile effort while still get confused by taking some online methods to fix black screen YouTube videos. In this case, you are highly recommended to download YouTube video to avoid all unnecessary troubles by using Free HD Video Converter Factory. Within three easy steps, you can get the YouTube black screen problems solved with ease. Just follow the guides to do this.
Firstly, Free download this software and open it.
More Special Features of Free HD Video Converter Factory
Converting video and audio files to 500+ formats, codec and hot devices
Compressing videos without quality damage with the smart fit settings
Extracting audio from movie with high quality
Making personalized ringtone for your own smart phone
No embedded software, no time limit and no watermark on your output file
Improves video quality and creates perfect balance between quality and file size