Part 1. Basic Information on Vudu Disc to Digital
Since the introduction of the disc to digital conversion service, Vudu has updated and altered it for several times. It initially rolled out the Disc to Digital (D2D) service on desktop, by which users could install a Vudu To Go application to scan DVDs and Blu-ray via a computer's optical disc drive. Later Vudu extended the service on mobile devices, which was called Mobile-To-Disc (M2D).
However, Vudu ended support for the desktop program starting January 1, 2020. The Vudu Disc to Digital service still works on mobile devices and now Vudu Disc to Digital, M2D, and D2D all refer to the Mobile service.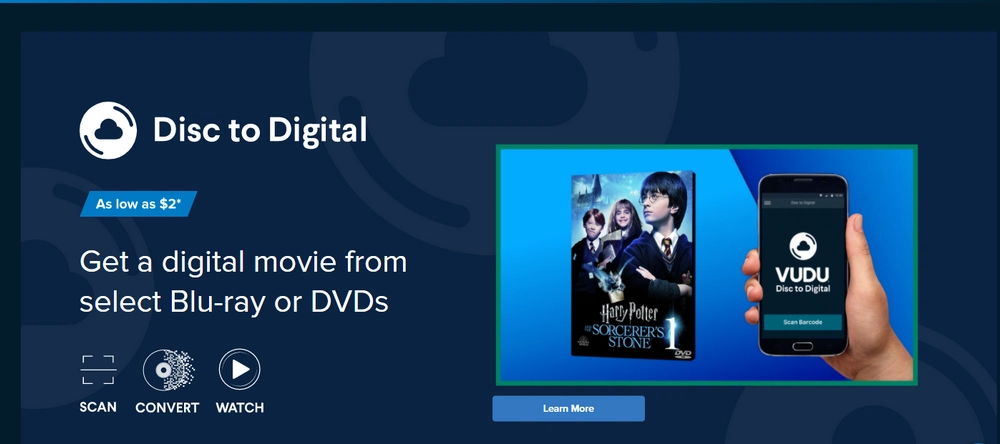 At present, Vudu Disc to Digital service allows users to get digital version of eligible DVDs and Blu-rays using disc barcodes on mobile devices only. Android users can convert their discs through the Vudu app, and iOS users need to visit vudu.com/disc on a mobile browser for this purpose.
When it comes to price, there are three selections, $2 per DVD to convert to SD, $5 per DVD to HDX, as well as $2 per Blu-ray to HDX.
Vudu serves as a digital content delivery platform. With its various features, users are able to purchase, rent, stream and organize movies at hand and the Disc to Digital tool greatly contributes to that. The way to get digital version of a movie through Vudu Disc to digital is with just a few taps away. However, there are some limits.
Can't wait to rip your DVDs without any restriction? Free downloadFree download this dedicated DVD ripper and follow the simple steps in #Part 3.
1. You can only convert up to 100 discs per calendar year
You may have known, Vudu D2D service has maximum 100 movies per year restriction. If you try to convert more discs, a message will appear saying you have reached the limit and you won't be able to carry out the conversion until January 1 next year.
2. The right UPC barcode is required
The Vudu Disc to Digital will ask to scan UPC barcode to authenticate the disc and perform the conversion. The barcode is typically printed on the back of a DVD case. So please do not throw away your DVD and Blu-ray cases as there are some information on it, which you may need in the near future.
3. Not all movies available for digitization on Vudu
Based upon the participating studio partners, including Paramount, Sony, Fox, Universal and Warner Bros, etc., there are a massive number of titles eligible for conversion, but which doesn't mean it covers all titles from these studios. Many people have reported that they can't convert some of their movies on Disc to Digital due to ineligibility. The best part is, Vudu offers a search tool on its website to search for the availability quickly.
4. Your location must match your billing address
When using the Disc to Digital service, make sure you have enabled your GPS and your current location need to match the address listed on the payment method, otherwise, you will receive an error message. This requirement is for preventing fraudulent practices. However, there are some scenarios where people are not able to finish the barcode scanning due to mismatching locations, even if they are actually use the service from the billing address.
5. A purchase on Vudu is necessary before your first conversion
Only when you make a purchase on Vudu using your Walmart.com account, Vudu can verify your user's billing address. Therefore, you need to make a purchase before you start to use the Vudu Disc to Digital service.
6. Internet connection is an essential to watch converted movies
After you get the digital movie files, you need to connect to the Internet to stream the movies. This conversion, essentially, is a process of purchasing a license of DVD movies you have owned from Vudu, to watch the movies on the cloud, but you can't transfer them to other devices or watch them offline.
Importance: WonderFox doesn't advocate any unauthorized duplication and distribution and all information provided in this article is presented for general informational purposes and personal fair use only.
Step 1. Load DVD Source
Insert the DVD into your computer disc drive. Open this program, click DVD Disc, select the right drive letter which is usually named the same as the movie.
Step 2. Choose Output Format
Click the format icon on the right side, select a video format under Video tab or specific device under Device tab. WonderFox DVD Ripper Pro supports over 500 formats, codecs and devices.
Step 3. Convert Disc to Digital
Click the three dots icon on the bottom and designate an output folder for saving the converted file. Click Run.