Common Questions When Using VLC to Play MOV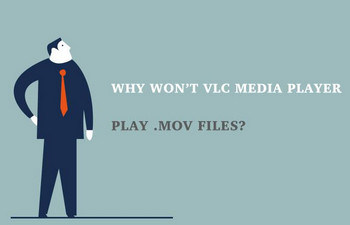 Why Won't VLC Play MOV
Q: "I download a VLC player but when I stream my MOV file to it, there is only video image but no sound."
Q: MOV files with Apple's QuickTime codec included will not play on Windows VLC player, how could this happen?"
Q: I have a bunch of .MOV files that every time I try to play with VLC, I get this message over and over: No suitable decoder module: VLC does not support the audio or video format "m2v1".
So, you must be wondering does VLC play MOV files. The answer is definitely "sure". But how do these MOV VLC playback issue happen? Keep reading and you'll find the answers soon.
.MOV Is Not Playing in VLC, Why?
1. MOV Videos Are Damaged or Corrupted
MOV file is much likely to be damaged when it is suddenly disrupted while downloading or copying in the course of the process. But you can still fix it by using some effective video repair tools, or cover the damaged file with a newly downloaded one.
2. MOV Video Is Encrypted
An encrypted (like DRM) MOV file cannot be played in VLC player. But you can download DRM removal software or play the MOV file in some specific programs.
3. Codec Issues
MOV container uses many kinds of video & audio coding formats. A .MOV file encoded by H.264/AAC is compatible with most of the players, editors and devices on market. However, the MOV file with other codecs may be not so lucky. Like MOV Apple's QuickTime codec that is not compatible with Windows system while VLC player also uses its own set of video codec. In this case, a failed .MOV VLC playback is inevitable.
To settle down this codec problem, besides downloading a codec pack for VLC, converting MOV to VLC supported formats is also a good choice.
How to Transcode MOV for Playback in VLC
Luckily, you will not need to worry about a complex video conversion process with WonderFox HD Video Converter Pro, an easy-to-use video conversion application. You will be able to convert your video to over 300 codecs and formats simply within 3 steps - the best tool that lets you convert MOV to AVI, MP4or other common formats for a smooth playback.
Free download the best video converter for VLC MOV codec.
Convert MOV to VLC Supported Formats within 3 Steps
Step 1
Launch HD Video Converter Factory Pro. Firstly, preset an output folder for the MOV file you want to convert at the bottom of the interface. Then, click on "Add Files" to select the MOV video from a certain folder or directly drag it to the interface. Meanwhile you can simultaneously add several videos because batch conversion is also supported.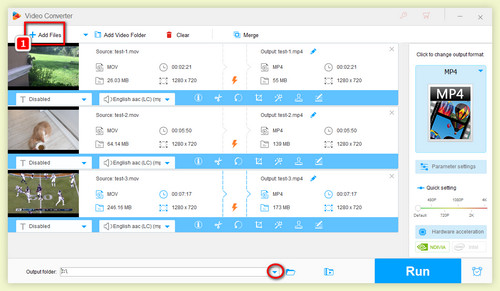 Add a video file
Step 2
Go to the right side and click below "Output Format". In the opened list, go to the video tag and you can choose to convert MOV to MP4 or AVI, for these two have the best compatibility with third-party media players. But if you stick to MOV as the output, you should set the video and audio codec to H264 and AAC.
Tips: If you have a basic knowledge of video terminologies, you can click on "Settings" to preset parameters to change your video quality.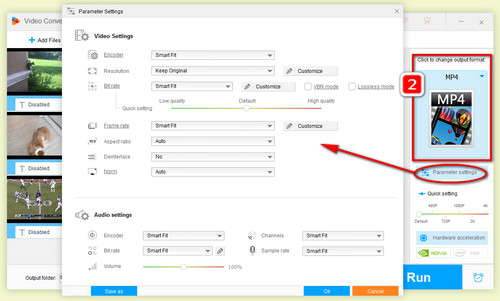 Preset video formats and parameters
Step 3
Click on "Run" to start conversion process. Within a few seconds, you should find the output video in the folder you preset before. Lastly, you can move the output video to VLC and check whether it works.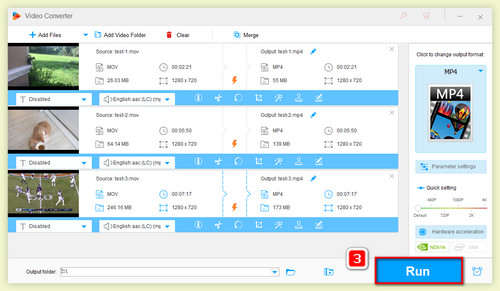 Start conversion
Now, you have already known how to solve VLC MOV file playback issues in different cases with different methods? To fix MOV is pretty easy once you do as what I have mentioned above.
Now, please download the HD Video Converter Factory Pro to complete your jobs.