I also tried lots of methods of converting VGZ audio files to MP3 yet most of them are too complicated to operate or already invalid. Fortunately, Foobar2000 is a good VGZ converter for converting VGZ to MP3 in an easy way. Follow the steps to achieve the conversion: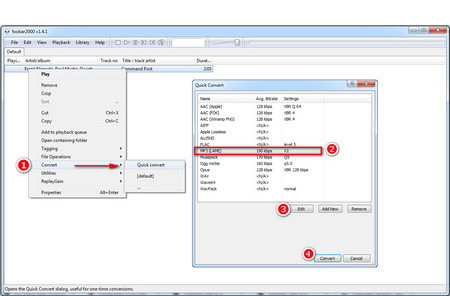 Convert VGZ or VGM to MP3 with VGZ File Converter
Step 1. Install the Foobar2000 plugin: https://www.foobar2000.org/encoderpack
Please close Foobar2000 first before you download and install this plugin.
Step 2. Run Foobar2000 and add VGZ files into the software.
Step 3. Click on Ctrl+A, right click and choose Convert > Quick convert.
Strep 4. Choose MP3 as the output format. You can also click on Edit button to change the output quality.
Step 5. Click on the Convert button, choose an output folder and start the process to convert VGZ to MP3.
Tips. It not only works as a VGZ to MP3 converter, but can also help you convert APE to FLAC, split CUE files from a single audio file and convert IMG to MP3.