The old-school 3GPP file was commonly used on the obsolete 3G mobile phones, which can save either audio and video content. If you have a collection of 3GPP files and only want to extract just the audio portion for use on more devices, converting 3GPP to MP3 can be a decent idea. In this article, we'll show you 3 handy ways to convert 3GPP to MP3, so you can choose the method that works best for you.
Way 1 - Using Free HD Video Converter Factory
Free HD Video Converter Factory is an easy-to-use video and audio processor capable of converting 3GPP files to MP3 free. It supports various other audio and video formats, enabling users to convert files between different formats as needed. This versatility makes it a must-have for managing and converting audiovisual content.
The software is user-friendly, featuring a simple and intuitive interface, making it accessible for both novice and experienced users. Get the 3GPP to MP3 converter free download, let's see how it works easily.
Step 1. Install and runInstall and run Free HD Video Converter Factory.
Step 2. Open "Converter", drag and drop 3GPP files into the window.
Step 3. Expand the output library, go to "Audio" category, and choose "MP3" profile.
Optional. Click "Parameter settings" to change MP3 bit rate, sample rate, volume increase or decrease, etc.
Step 4. Specify an output folder, and click "Run" to convert 3GPP to MP3.
That's it! The converter ensures a high-quality conversion process, preserving the audio fidelity and delivering excellent sound output.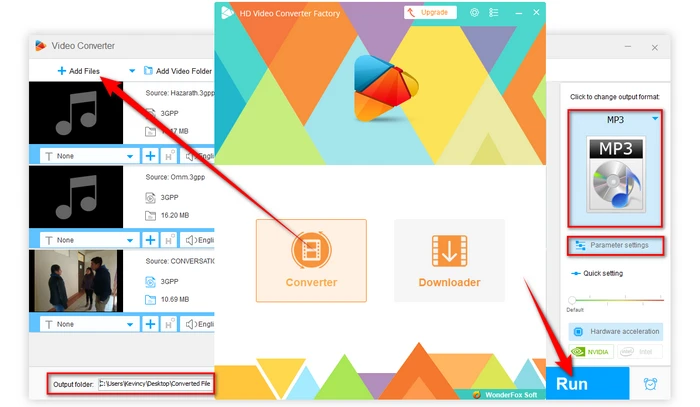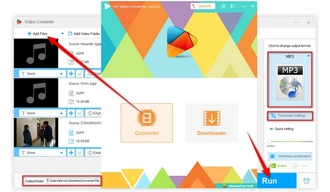 Way 2 - Using VLC Media Player
The advantage of using VLC is that it's free, open source and provides features for video and audio format conversion. If you have VLC installed on your computer, it functions as a 3GPP to MP3 converter. Here's the walkthrough.
Step 1. Open VLC, click "Media" menu and select "Convert / Save".
Step 2. Click "+ Add" to add your 3GPP file. Then click "Convert / Save" to proceed.
Step 3. Select "Audio - MP3" in the "Profile" drop-down menu.
Optional. Click "Wrench" icon to configure the parameters, such as changing MP3 128kbps to 320kbps.
Step 4. Click "Browse" to choose a destination location.
Step 5. Finally, click "Start" to convert 3GPP to MP3 with VLC.
The conversion may take some time depending on the length and size of 3GPP file.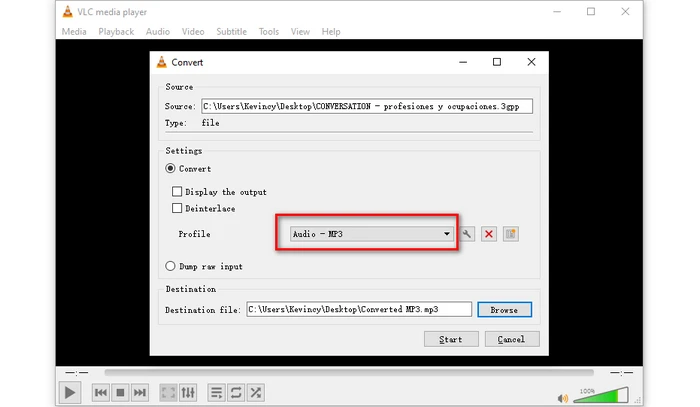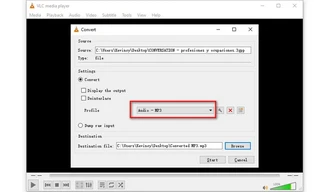 Way 3 - Using Online 3GPP to MP3 Converter
If you don't want to download and install software on your computer, the quickest and easiest way is to use one of many online services, which allows you to convert 3GPP to MP3 online. Here are some recommended samples: Convertio, Zamzar, CloudConvert, Online-Audio-Converter, etc.
Step 1. Open any 3GPP to MP3 converter online from your browser.
Step 2. Add your 3GPP files by clicking Select/Choose/Open Files.
Step 3. Choose "MP3" as the output format.
Optional. Modify audio settings like normalizing audio, converting stereo to mono, etc.
Step 4. Click "Convert" or "Start" to upload and convert 3GPP to MP3 online.
Step 5. Once the conversion is complete, click "Download" to save your new MP3 files.
The limitations vary on different sites, such as the limit of tasks within 24 hours, upload file size, and the like.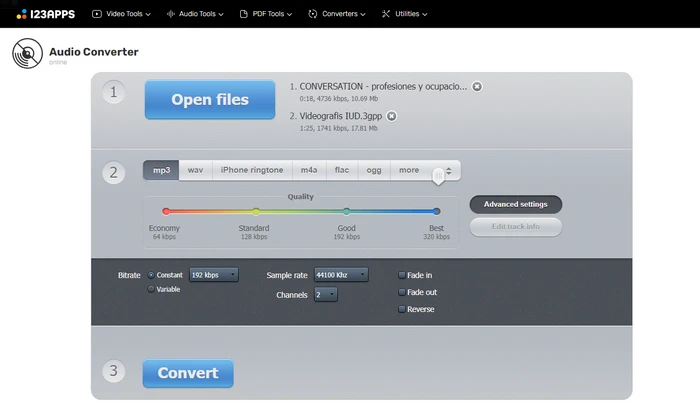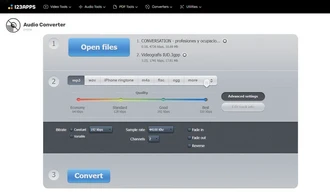 When converting from 3GPP to MP3, the resulting audio quality depends on:
Original 3GPP audio codec - AAC gives better results than AMR narrowband (AMR-NB).
MP3 quality settings - Higher bitrates preserve more detail but increase file size. Aim for 192kbps or 320kbps MP3.
Sample rate and channels - Match the original 3GPP for best results.
Optimization method - Advanced encoders like LAME give better quality than basic methods.
To check audio quality, listen to the MP3 and original 3GPP side-by-side with high-quality headphones. Quality loss may be noticeable at lower bitrates or simple converters.
Final Thoughts
In this article, we've discussed how to convert 3GPP to MP3 using various methods and tools without paying a penny. Converting 3GPP multimedia files to the standard MP3 audio format allows you to extract just the audio for better compatibility with more devices, apps, and sharing platforms, so that you can also enjoy your audio anywhere and easily share it with friends and colleagues. I hope the article is of great help to you guys. Thanks for reading!