Before starting the tutorial, please note that the mix file type - MPDP file is a part of the MixPad projects. Beside MPDP files, there should be a .mpdp.ProjectData folder that contains all project data. To convert MPDP files to MP3, both the MPDP file and .mpdp.ProjectData are essential.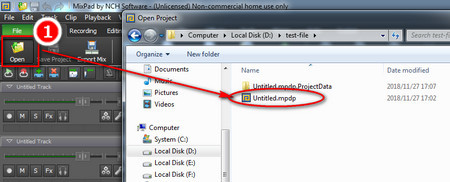 Import MPDP Files
Step 1. Run MixPad Multitrack Recording Software. Click on the Open button on the upper-left, select and import the MPDP file you want to convert.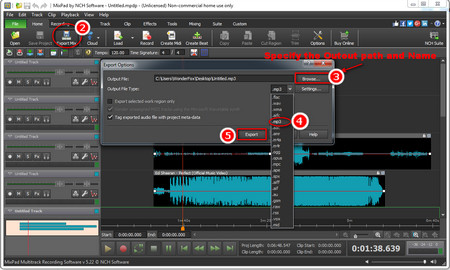 Choose MP3 as the Output Format
Step 2. The tracks you have edited and saved will be loaded. You can continue editing or move to the next step.
Step 3. Go to the menu bar, click on Export Mix to open the Export Options window.
Step 4. Specify the output path and file name, choose .mp3 under Output File Type drop-down list to convert the MPDP file with the built-in MPDP to MP3 converter of MixPad. You can also convert MPDP to WAV, FLAC, WMA, ALAC, etc. Various output audio formats are available.
Step 5. Click on Export to start converting MPDP to MP3. Once the process is finished, you're able to play and share the MP3 audio files as you wish.
If you're an experienced user, you can click on Settings for more other modifications, such as changing MP3 bitrate and downmix 5.1 audio channel to Stereo.
Now follow the steps to convert MPDP to MP3 by yourself. As you can see, only MixPad can convert its audio project files. However, if you have the demands of converting the output MP3 audio to more other formats, like MP3 to M4R, you can try this application: