For normal music fans, you probably seldom used the APE before; but if you're experienced music fans, then you probably known this very well. That's right, as one of the lossless audio formats like wav, AIFF and FLAC, the APE is different. Though APE is popular but there're pretty of devices don't support it, if you want to know more about this special audio format, just moves on.
Into the Lossless: Hello, APE
APE, also known as Monkey's Audio, is an algorithm and file format used for lossless audio data compression. Since it's highly compressed, so you can save lots of space. Compared to FLAC and WAV, the APE provides a bit higher compression rates. For example, when compress CD file into APE format, the output APE audio quality is the same with original one; if you restore APE file, the quality is exactly identical with the files before compressed.
Note: To get APE file, you can use Monkey's Audio to compress big size WAV audio. That's why the MA was well known as "lossless audio compress software".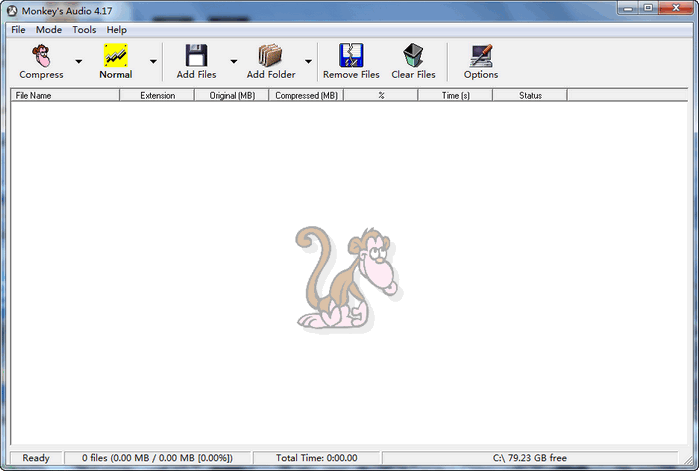 Monkey's Audio interface
To Use Lossless: More info about APE
With the development of broadband technologies and portable devices, the APE is liked by more and more music and CD lovers. The hi-fi, earphone and player have already proved the advantages of this format. But every coin has two sides, the major problem of APE is its lack of cross-platform support, it means these situations could happen if you have some APE files:
1 I've downloaded some musical materials, some of them are APE format, I don't know how to open it in my iPhone right now.
2 How to convert APE to MP3 and add them to my iTunes?
3 Google Music doesn't support this awesome audio format at all; I guess I need an APE converter to change it anyway.
4 My foobar2000 can't play APE smoothly, what should I do?
Instead of waiting some devices or brands to add APE support, you can try another way to solve this problem: to change high quality APE file to MP3, APE to FLAC in 320 kbps bit rate to ensure high audio quality.
Enjoy the Lossless: Transfer APE to MP3
Of course, we need tools like "APE to MP3 converter" or simply "APE converter"; with so many free audio converter available right now, it's easy to choose a so-called APE file converter but it's hard to find one truly support APE files remaining original high quality.Although converting APE format to MP3 is piece of cake for most software, but with various digital products today, the tool we look for shall cater our multiple needs for audio format and output devices.That's why I recommend the HD Video Converter Factory Pro, a powerful APE to MP3 converter and also a handy audio merger and music splitter.
Just download this tool and following this tutorial below:

HD Video Converter Factory Pro
The best tool to batch convert your APE audio into MP3, FLAC and other format with fastest speed. HD Video Converter Factory Pro, a powerful audio manage tool for your music life. Learn more >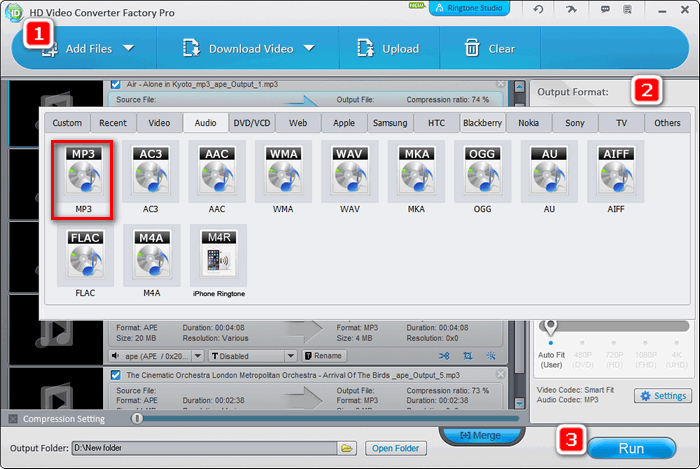 Easy three steps operation
1 Add Files
Click "Add files" icon or simply drag-and-drop your APE files to this tool.
2 Set Output Parameters
Press "Output Format" item and choose output audio format, here we choose MP3.
As you can see the picture above, expecting change APE to FLAC, this tool also enables you to change APE to WAV, WMA, so you can play them in Windows Media Player and Windows Movie Maker, etc. And change to AC3, AAC makes sure APE files can be played on iTunes, Apple products.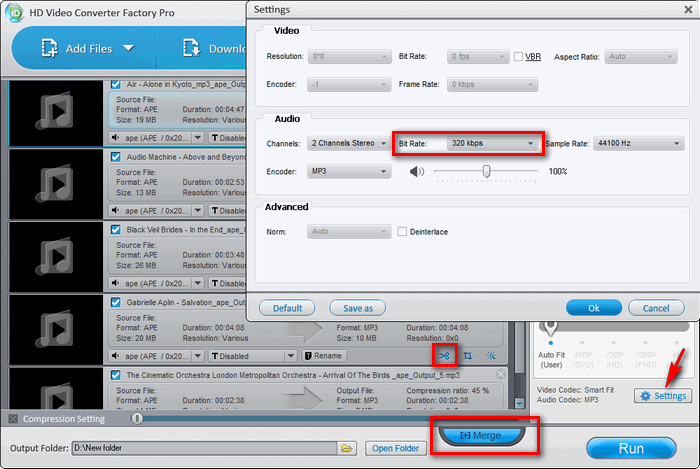 Flexible settings
Note: Click "Settings" icon to open a pop-up window, here you should adjust the audio bit rate to 320 kbps; this operation could help you get an audio file with better quality. You can try "cutting" and "Merge" features based on your own needs.
3 Starts to Convert APE Files to MP3
This tool supporting batch conversion mode, you can enjoy the fastest speed and less time wasted simultaneously. Just click "Run" to feel! This simple guide of audio converting is suitable for other audio files, like music extracted from video or downloaded YouTube music.
What Else can This Tool Do for You
As mentioned before, this HD Video Converter Factory Pro can meet multiple needs of digital fans, apart from converting ape to mp3 or other audio format. This tool is also a powerful video converting tool, featuring useful function like converting video to 4k, HD video editing and downloading videos from YouTube.

Congrats, problem solved now! Why not keep the full-licensed program for
LIFETIME
at lowest price of the year now!
Still got question? Submit it to us and get answer within 24 hours.