Converting FLAC to MP3 can significantly improve file compatibility and reduce file size. It is a common conversion need when we want to enjoy and store audio files better. Today, we have many tools to convert FLAC to MP3. In this article, I will share the best free FLAC to MP3 converter to help you make the conversion easy and efficient. Just read and follow.
WonderFox Free HD Video Converter Factory is a dedicated converter program for video and audio. It can work as an excellent FLAC converter to quickly convert FLAC audio to MP3 and other pop audio formats in just a few clicks. And you can convert unlimited FLAC files in this converter completely for free.
The output audio quality is good compared to other similar software. You can adjust the audio quality with the customizable bitrate options (e.g. convert MP3 bitrate to 320kbps). You can also edit the audio channel, sample rate, and volume. Moreover, this program can do some light audio editing, such as cutting and splitting the audio files, merging audio clips, and editing audio metadata.
It is very easy to use the program. Now, you can download and install download and install the free program to convert FLAC to MP3 with the tutorial below.
Run Free HD Video Converter Factory on your PC and open the "Converter" program. Next, click the center + button or the upper-left "Add Files" to import your FLAC files into the converter. Drag-and-drop is supported.
Click the ▼ button at the bottom of the interface to specify an output path or leave it as default.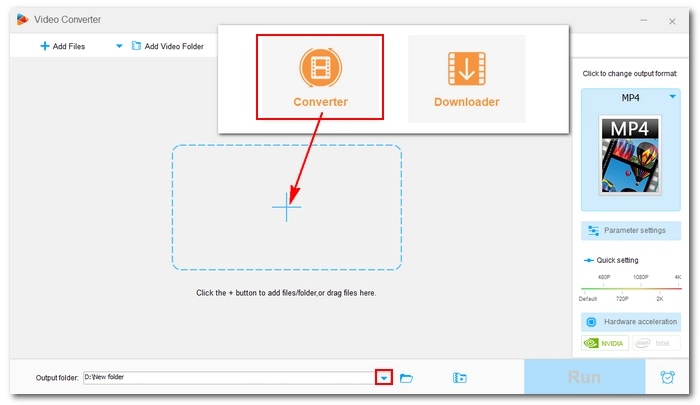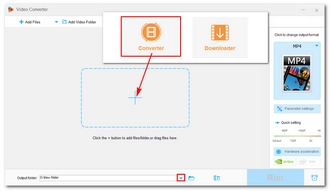 On the right side of the converter, click the format image to unfold the output format list. Head to the "Audio" section and select "MP3" as the output format.
If you want to change audio settings, you can open the "Parameter settings" below to modify the audio bitrate, frequency, channel, and volume.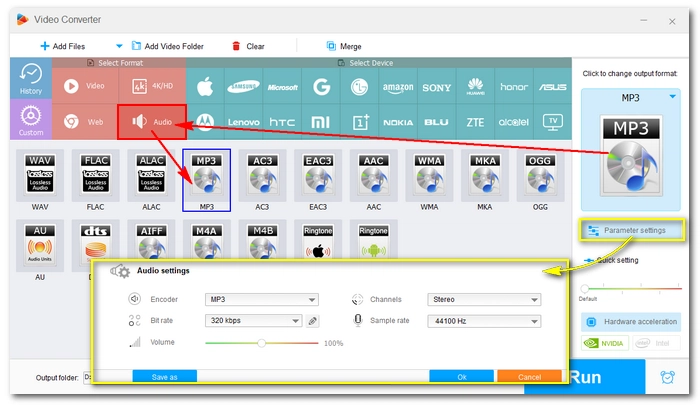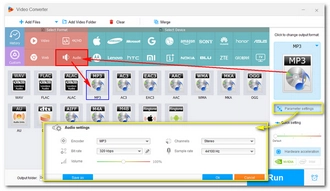 Finally, click "Run" to start the conversion at once.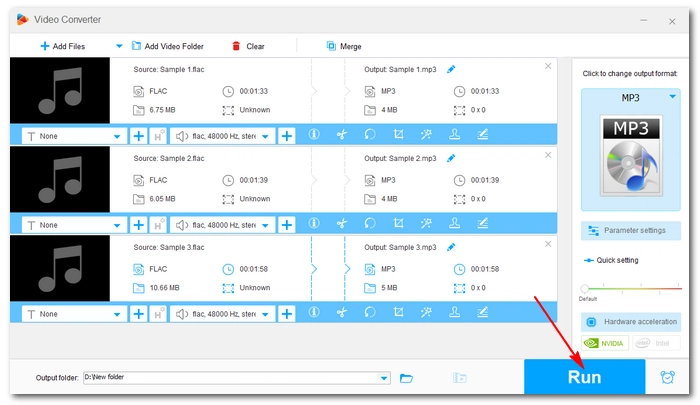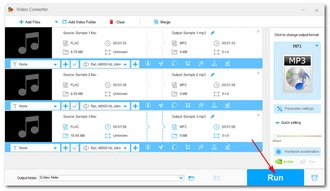 1. Can You Convert FLAC to MP3 without Losing Quality?
No, you can't change the FLAC file to MP3 without losing quality. Because MP3 is a lossy audio format, any audio conversion to MP3 is a lossy process that will lead to quality loss inevitably. The lossless conversion can only be achieved between lossless formats like FLAC, WAV, and ALAC.
2. Can I Convert a FLAC File to MP3 Online?
You can try some FLAC to MP3 converters online free to help with the conversion. Simply upload your FLAC, select the MP3 output profile, then convert and download. But note that most online converters restrict the upload file size and the conversion times, so be sure to check the limits before you use any of the online services.
3. How to Mass Convert FLAC Files to MP3?
If you have hundreds of FLAC files to convert to MP3, you can use the Pro version of the Free HD Video Converter to batch convert FLAC to MP3 at once. The speed will be super-fast that you can enjoy MP3 files in seconds. Download Download the Pro program to have a try.
4. How to Convert FLAC to MP3 320kbps?
320kbps is the highest bitrate for an MP3, and MP3 320kbps usually has better audio quality than MP3 with a lower bitrate. You can easily convert FLAC to MP3 320kbps with the Free HD Video Converter Factory mentioned in this article. The conversion is fast and the output quality is good.
At Last…