Today, learning how to screen record with microphone can be useful when you need to explain a new product to customers, give a lecture to students, comment on a game to the audience, and so on. And a decent screen and mic recorder will help you greatly.
This post is going to share one of the best screen recording software with microphone and the simple steps to record screen and microphone in Windows 10/11. Just read and follow.
WonderFox HD Video Converter Factory Pro is an all-in-one application with a variety of video and audio tools, one among which is a powerful screen recorder that can easily record computer screen, gameplay, system sound, and microphone audio. Now, it can work as an excellent screen recorder with mic to help you record the screen and microphone together. Moreover, this program is a high-quality screen recorder that allows you to record screen with high resolution and high frame rate. You also have control over the recording format. And you can record the screen in MP4, MKV, MOV, or AVI. After recording, it enables you to cut, join, crop, compress, and convert the recorded files with its built-in video editor.
The software has a simple and intuitive user interface, and there are no confusing steps to interfere with your workflow. You can now free download free download the software and follow the tutorial below to start your first recording.
Step 1. Open the PC Screen Recorder with Mic
Launch HD Video Converter Factory on your PC and open the "Recorder". Next, select a recording mode from the four options presented – Custom, Full Screen, Game, and Audio-only (from left to right).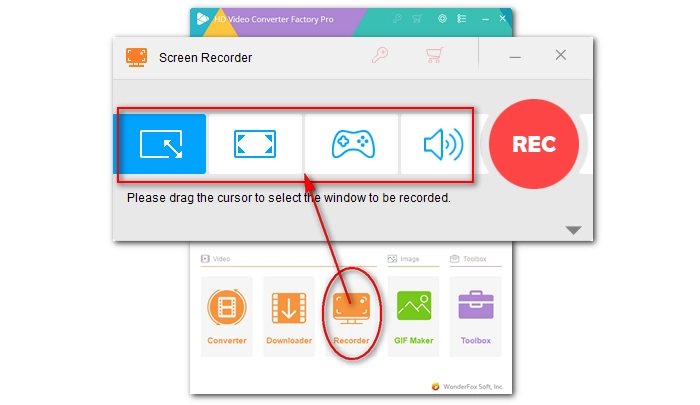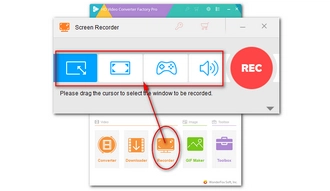 Step 2. Adjust the Recording Settings
In the recording settings below, choose the recording format, quality, frame rate, and GPU acceleration based on your needs. You can check how to make screen recording quality better if you are not familiar with the said parameters.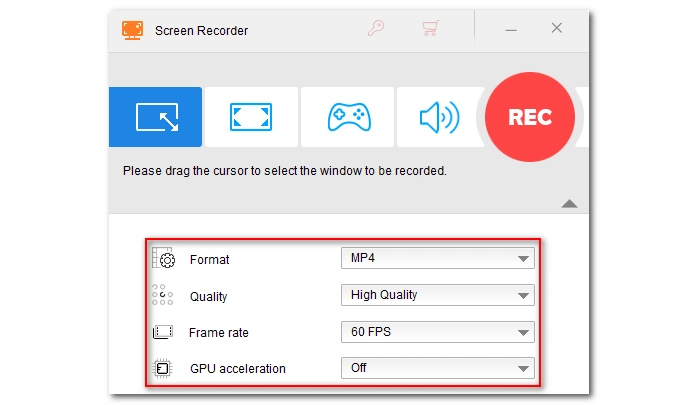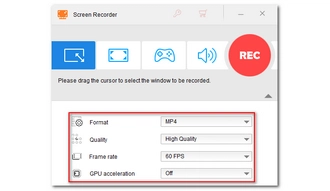 Step 3. Choose the Microphone Audio Source
Now, go to the audio source and select the "Microphone" source only if you want to record the screen with just the mic audio. At the bottom of the interface, you can also set an output folder or leave it as default.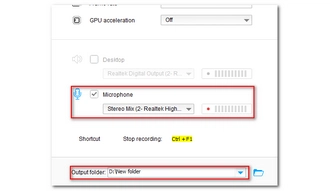 Step 4. Screen Record with Microphone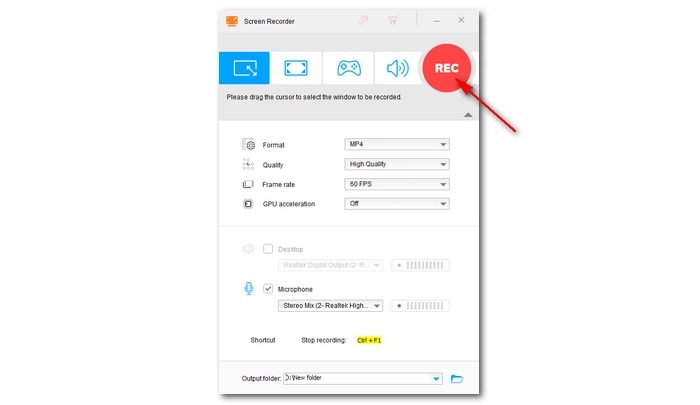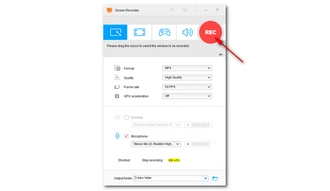 1. How to Turn on Microphone for Screen Recording on iPhone/iPad/iPod?
For iPhone, iPad, or iPod running iOS 11 or later, it's easy to do screen recording with microphone using the built-in screen recorder. First, you need to add the feature to the Control Center. On your iOS device, just go to Settings > Control Center > Customize Controls, and then select Screen Recording. Next, long-press the Screen Recording button. Tap on the Microphone Audio option on the new menu to turn the mic on for your screen recording. Finally, just select Start Recording to record your screen and microphone at the same time.
2. How to Record Both Mic and System Audio while Screen Recording?
The recommended HD Video Converter software can also help you record both the system and mic sound when you record the screen simultaneously. The steps are the same with screen recording with mic, only that you need to check the "Desktop" audio source as well. Download Download this versatile software and try it now!
Wrap-up
Screen recording with microphone is a very important skill in this digital world today. Luckily, with a proper screen recording app with microphone, like the one introduced here, you can record screen and microphone simultaneously with no effort. I hope you like this method. And that's pretty much all I want to share about how to screen record with microphone audio in Windows 10/11. Thanks for reading. Have a nice day!