You can now listen to live music, news, stories… basically anything from radio stations online. But if you don't want to miss out your favorite radio broadcasts or you have discovered new music from a radio station, you can easily save them to your computer by recording the streaming radio.
In the following, you can get a dedicated web radio recorder and learn how to record internet radio with four easy steps. In addition, you will know some extra tips to record live radio with better quality. Read on.
WonderFox HD Video Converter Factory Pro is the highly-recommended app to record internet radio on Windows 10/11. It is a flexible but simple program suitable for both beginners and professionals. It can record audio from any website, and when you use it to record the internet radio stream, it can record it to MP3 by default. But you can choose to record radio in WAV format to capture the original audio quality. The software comes with a built-in audio editor that allows you to easily trim and join the recorded files after the recording. The cherry on top is that the recorder has no time limit, and it can also be used to record computer screen and capture PC gameplay.
With the simple tutorial below, let's free download free download the audio recorder to start our radio recording now.
Step 1. Open the Recorder Program
Launch HD Video Converter Factory Pro on your Windows desktop and open the "Recorder" program.
Step 2. Choose the Audio-only Recording Mode
You can see four recording modes. To record radio, choose the last "Audio-only" recording mode.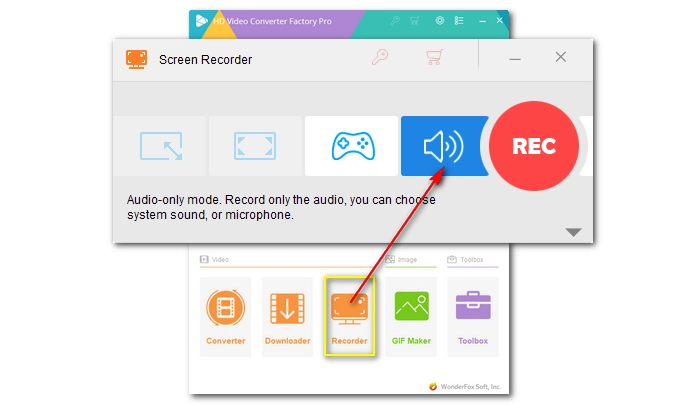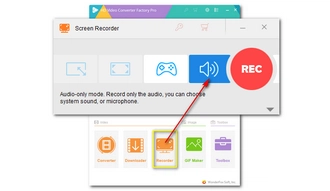 Step 3. Adjust the Recording Settings
In the settings below, you can first choose a recording format among MP3, AC3, AAC, and WAV. Next, check "Desktop" as the audio source so that it will capture the radio coming from your computer. Then, at the bottom of the interface, set an output folder for the recordings.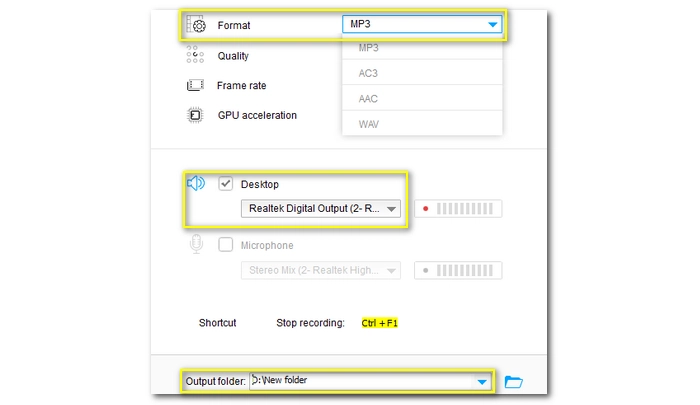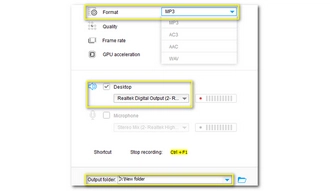 Step 4. Start Recording Internet Radio Stream
Finally, click the "REC" button to record the radio stream. The recording will start after a five-second countdown, during which you can get your radio ready to play. When the recording is complete, press hotkeys "Ctrl + F1" to stop the recording. The recorded file will automatically pop up in the output folder. Now, you can do whatever you want with the recording freely.
Hot Search: Record Mic and System Audio | Record Audio from DVD | Record Sound from Computer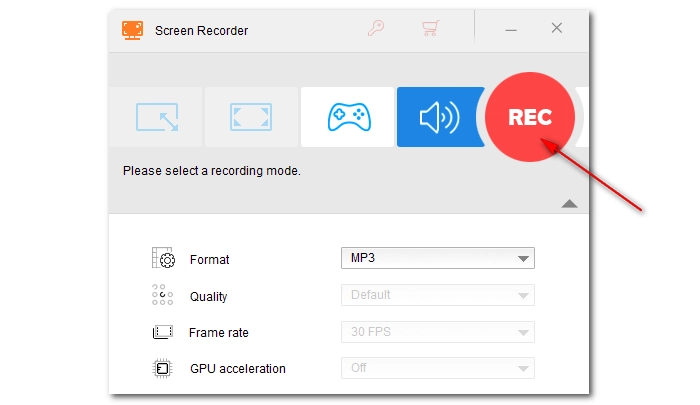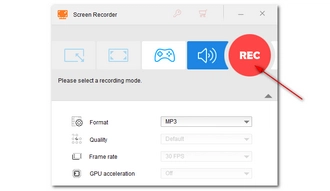 If you want to record music from internet radio stations with good quality, you may find the following tips useful.
1. Record streaming radio in lossless WAV format to get the best quality;
2. Kill any unnecessary background app for the optimal recording environment;
3. Use higher audio bitrate for higher audio fidelity;
4. Choose the right radio recording program.
The screen and audio recorder provided in this article can be the perfect app to record internet radio with absolute high quality as it provides WAV recorder and automatically records audio in higher bitrate. Have a try at this internet radio recorder software: https://www.videoconverterfactory.com/download/hd-video-converter.exe https://www.videoconverterfactory.com/download/hd-video-converter.exe
Wrap-up
That's all I want to share about how to record internet radio on Windows 10/11 with good quality. I hope you would find this article helpful. Thanks for reading!