Whether Samsung TV support HEVC/x265 depends on the TV model. According to media specifications provided by Samsung developers, older Samsung TVs do not offer HEVC playback capabilities. Samsung smart TVs produced in 2015 and later come with a HEVC decoder that can decode 4K/8K HEVC videos within the acceptable bitrate range in MKV, MP4, and TS containers. You can check your user manual for information about your TV's video specifications.
If you find that your Samsung TV does not support HEVC, you must convert HEVC to a format compatible with your Samsung TV before it can be played. Below, I will introduce two methods to convert HEVC format. Please read on.
You need to convert HEVC to a format supported by your Samsung TV to play it. Now there are two methods to choose from. If you play media over USB, you can use a video converter to convert HEVC ahead of time. Additionally, you can set up a Plex server that helps you transcode HEVC while streaming it to your Samsung TV. Here are the details.
In this method, we need a professional video converter such as WonderFox HD Video Converter Factory Pro. It can help us easily convert HEVC to Samsung TV-friendly format with one click. Please follow the steps below to start the conversion:
Step 1. Open WonderFox HD Video Converter Factory Pro. [Quick Download Quick Download]
Step 2. Enter the "Converter" module.
Step 3. Click "+ Add Files" to add or drag HEVC files into the program.
Step 4. Open the output format page on the right side of the converter. Then navigate to the "Samsung" category and select the target Samsung TV profile.
Step 5. Finally, set an output folder below and click "Run" to start the conversion.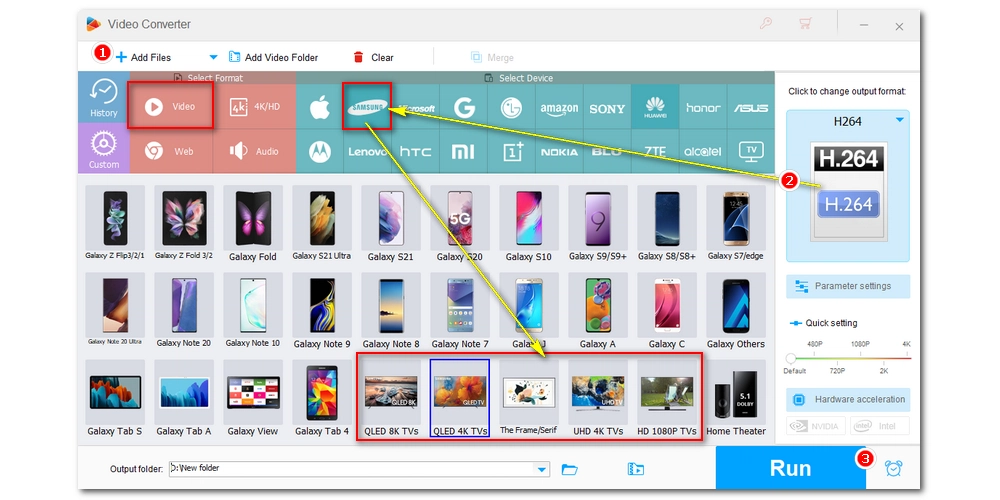 Once the conversion is complete, transfer the converted files to USB and plug it into your TV. You should now be able to watch the video without any issues.
By setting up a Plex server, you can stream any video to your TV, even if it's not supported. This is because Plex transcodes the video to a supported format in real time as it streams. Please note that using Plex for the first time requires some time and effort. If you're new to this, check out How to Use Plex.
However, if you are already a Plex user, make sure to enable the transcoding option so that HEVC files are automatically transcoded to a format supported by your Samsung TV.
By default, the transcoder is activated. But if you have disabled it before, you can enable it by going to Plex Server > Settings > Transcoder > uncheck "Disable video stream transcoding option" > Save Changes. But please note that if the video quality is too high, the transcoder may not work properly. You can continue to enable hardware acceleration in Show Advanced settings (accessible when you get a Plex Pass) and then save the changes.
Now, open the Plex app on your Samsung TV and play the HEVC file.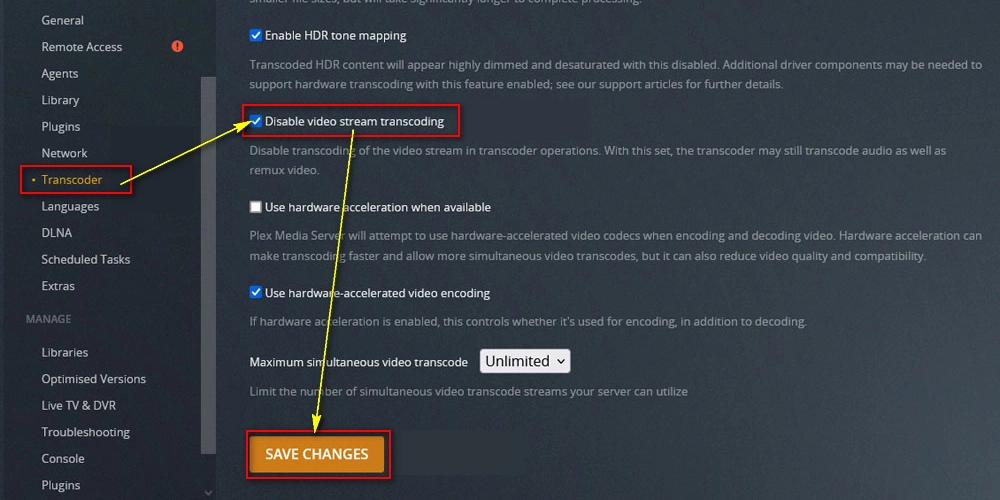 Of the two solutions for playing HEVC on Samsung TVs, the first one is suitable for everyone. You can easily convert HEVC to target format for playback. The second method is best for Plex users, but since transcoding while streaming requires a lot of CPU resources, your video may look choppy or laggy on your TV. However, these two methods can help you solve the HEVC not playing issue on Samsung TV.
That's all I want to share in this article. Thanks for reading. Have a nice day!