MKV is a popular video format commonly used for multi-track movies. It is compatible with many media player software, such as VLC. However, no DVD player would play MKV files at present. Traditional DVD players accept only standard DVD discs. And, though modern DVD players that come with a USB port have added support for digital media, MKV isn't on the supported list.
But there are workarounds to get MKV files to play on DVD players. One is by converting MKV files to DVD format to play on a DVD player via USB, and the other is by burning MKV files into DVD to play on standard DVD players. The following part will elaborate more on these two methods separately. Just read and follow.
If your DVD player has a USB port, you can play MKV files on the DVD player from USB. But a format conversion is required as your DVD player cannot decode MKV directly.
Firstly, you should check the formats supported by your DVD player. The majority of DVD players support MPEG-2 VOB format, aka. DVD video format. But a few other DVD players can also play DivX AVI, MPEG-4, and MP4. You can seek the information on your DVD player manual or the official website.
After knowing what format is supported, you can use a professional video converter like WonderFox HD Video Converter Factory Pro to fast convert MKV files to that format to make MKV playable on a DVD player. Here are the steps.
Tips. This software can batch convert MKV files to DVD VOB, DivX AVI, MPEG-4, MP4, and other mainstream formats.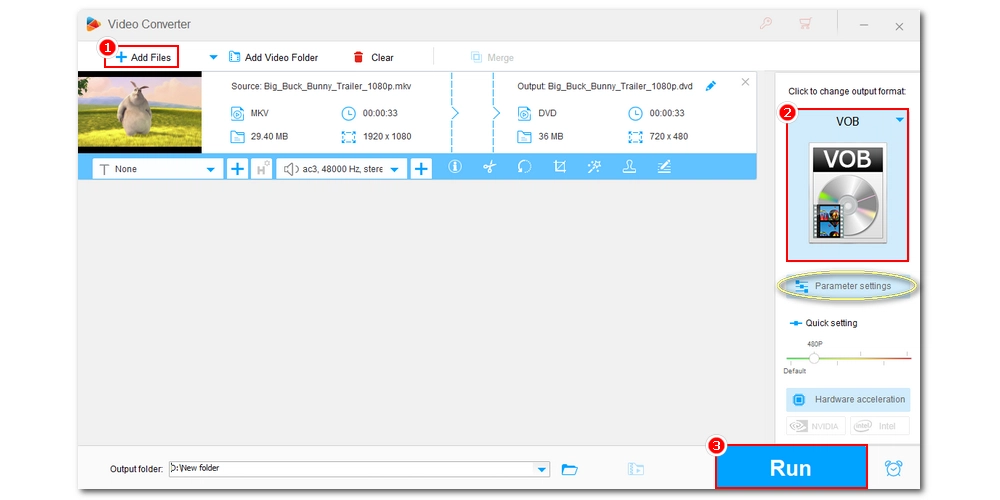 Step 1. Install and open WonderFox HD Video Converter Factory Pro [Quick Download Quick Download].
Step 2. Enter the "Converter" module and drag your MKV files into the program.
Step 3. Click to open the right-side output format page and head to the "Video" section. Choose "VOB" or any other format your DVD player supports as the output format.
(Optional) Open "Parameter settings" to edit the resolution, frame rate, norm, etc., if your DVD player has specific requirements.
Step 4. Click "Run" to convert MKV to DVD format.
Now, transfer the converted files to your USB and put the USB into your DVD player. You should be able to watch the movie without any issues.
You can also play MKV on a DVD player without a USB port once you made the MKV file into a DVD. To do it, you will need a blank DVD and a reliable DVD burner. The cross-platform open-source DVDStyler is a good DVD-burning program that can help you easily burn MKV to DVD in a standard DVD structure with interactive menus. You can free download DVDStyler and learn how to burn MKV files for the DVD player with it below.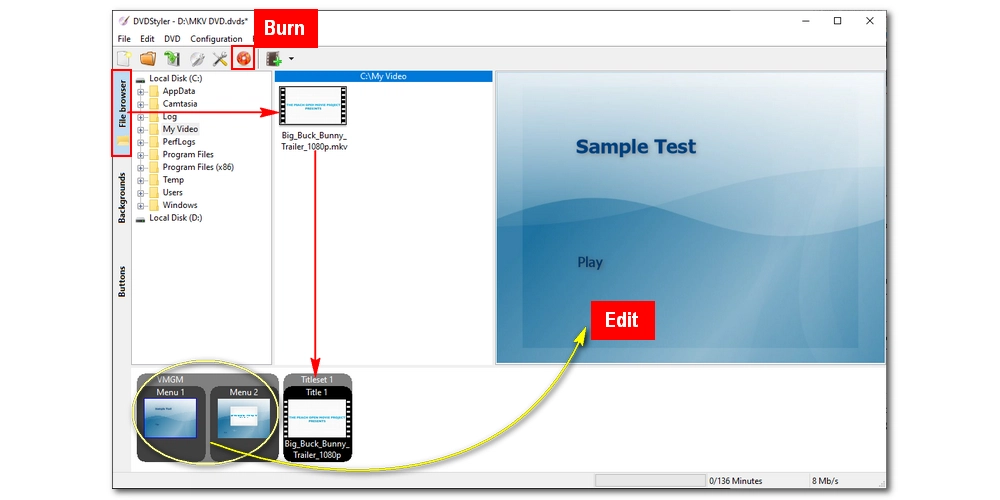 Step 1. Insert a blank DVD into your computer's DVD drive.
Step 2. Open DVDStyler and follow the prompts to create a new project, including the disc specs and the template. Or you can close the dialog to start from scratch.
Step 3. Next, navigate to the "File browser" on the left-side panel and locate the folder that stores your MKV files. Then, drag the MKV into the "Titleset Manager" below. The progress bar at the bottom of the interface will show you how much DVD space is occupied.
Step 4. Now, on the upper-right window, you can edit the VMGM templates – the menus to customize your DVD as you wish. You can see more details about how to make a professional DVD at https://www.dvdstyler.org/en/documents?id=70.
Step 5. When you are done with the editing, click the red "Burn" button (a burning disc) to burn MKV to DVD.
After the DVD is made, insert the DVD into your DVD player and enjoy the movies.
As mentioned earlier, there is no MKV DVD player exists. But you can switch to an MKV Blu-ray Player like Sony UBP-X800M2 to play MKV videos directly. It is the costlier plan but gives the easiest result. If you are tight on budget, the above two cost-effective methods are still your options to make MKV play on a DVD player smoothly. Choose either the MKV to DVD player format converter (click to download download) or the DVD burner (click to download) to start your work.
That's all I want to share about how to play MKV files on DVD player. Thanks for reading till the end. Have a nice day!