Method 1: Burn BIN into a Disc
You can use DVD burning software to burn BIN into a DVD or CD disc. Then you can directly open BIN files with DVD players. A cue file is necessary in this case, which can tell the burning software how to write the data file into a blank disk. In other words, BIN contains the data of an image file and CUE stores the information of disc and tracks. If you don't have the CUE file, just create one as follows: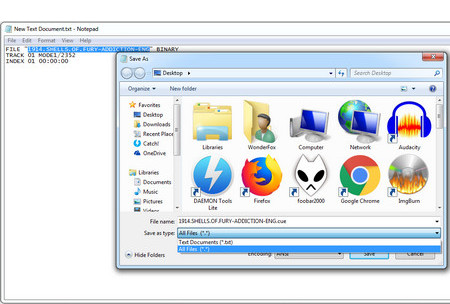 Create CUE Files
Step 1. Open Notepad, enter the following content:
FILE "filename.bin" BINARY
TRACK 01 MODE1/2352
INDEX 01 00:00:00
Change filename to the name of the BIN file you want to burn.
Step 2. Rename the file as the same with the BIN file, save the file type as All Files and change the extension of the file from .txt to .cue, and then save cue file and BIN file in the same folder.
You don't need to pay for commercial CD/DVD burning software. With the simple yet powerful freeware, AnyBurn, you're able to burn BIN to CD and DVD easily. The following steps show you how to open BIN files by burning them to CD/DVD disc with AnyBurn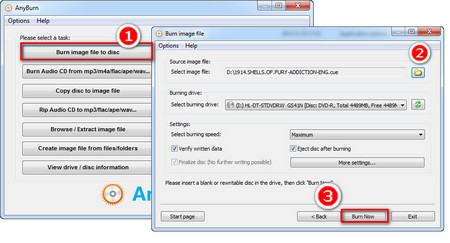 How to Open a BIN File with AnyBurn
Step 1. Install AnyBurn: http://www.anyburn.com/index.htm
Step 2. Insert a blank disc into the DVD-ROM drive of your computer, and open AnyBurn.
Step 3. Click on "Burn image file to disc" button.
Step 4. Select the CUE file from your computer, and choose the DVD drive letter of the blank disc you want to burn a file to. You can also choose the burning speeds.  
Step 5. Click on Burn Now to start the burning process. Please be patient as it would take a few minutes. Once the process is complete, you can open the CD/DVD you have burned BIN files into, and run or play the CD/DVD content. 
How to Open .bin Files
Method 2: Mount BIN Files with Virtual Drive
Good Virtual Drive software can mount BIN files to create a virtual disc. But it still needs CUE files. Moreover, we have introduced the 5 best virtual drive software before. DAEMON Tools Lite is obviously one of the best BIN file openers. Let's have a look at how to mount a BIN file with the software.
Step 1. Install DAEMON Tools Lite here: https://filehippo.com/download_daemon_tools/
Step 2. Launch and open DAEMON Tools Lite.
Step 3. Press the Quick Mount button in the lower-left corner, browse and select the CUE file.
Step 4. You will find the virtual drive on Computer or My PC. Double-click the drive to open BIN files.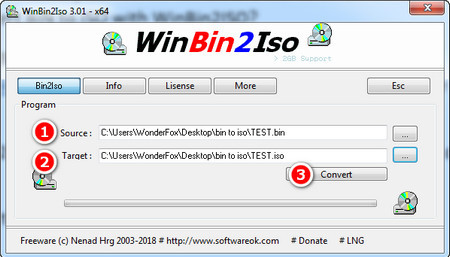 Convert BIN to ISO with WinBin2Iso
Method 3: Convert BIN to ISO  
Since ISO is the most common type of image file supported by more applications, you can convert BIN to ISO for better compatibility. WinBin2Iso is designed to convert BIN to ISO. It's small with only 47KB, completely free and has no ads.
Step 1. Download WinBin2Iso here: http://www.softwareok.com/?Download=WinBin2Iso
Step 2. Launch the software. Click on the button on the left of Source to browse and choose BIN files.
Step 3. Click on the button next to Target and choose an output folder.
Step 4. Press the Convert button to start the conversion.
Method 4: Extract BIN Files
PowerISO is a great choice to extract BIN files and solve how to read a BIN file. It offers an unregistered free copy version, and you can buy its registration code, which costs US$29.95. Personally speaking, the copy version is useful enough if you only need to extract BIN files. PowerISO is a versatile CD/DVD/BD image file processing tool. Its full version allows you to open, extract, burn, and convert ISO and some other types of image files easily.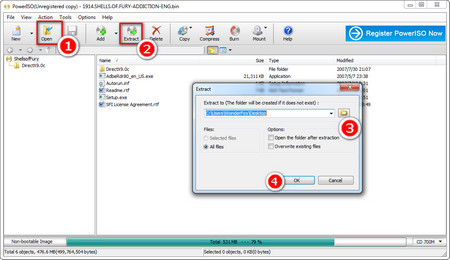 Extract Files from BIN Image
Step 1. Download the copy version of PoweISO here:
http://www.poweriso.com/download.php
Step 2. Open the software. Click on the Open button on the top menu bar and add the BIN file.
Step 3. Press the Extract to button, choose an output path for placing the extracted files, and click on Ok.
Step 4. It will finish the extraction process quickly. Find the executable file with the .exe extension and double-click to open it.
This article has introduced four methods on how to open BIN files. Hope the methods will be helpful to you. In addition, if you want to play ISO files or convert ISO to MP4, AVI, MKV or other digital formats, I recommend you to use WonderFox DVD Ripper Pro. It's a top-rated DVD ripping program designed to deal with ISO image and video DVD to digital files conversion.