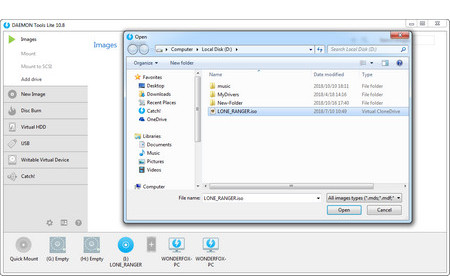 Virtual DVD Drive
1. DAEMON Tools Lite 10
https://www.daemon-tools.cc/downloads
DAEMON Tools Lite 10 is a popular software that enables to emulate up all popular image types of CD, DVD and Blu-ray Discs to drives. You can use it free but the free version is provided with aggressive adware. Four virtual drives can be created simultaneously with the free version. Of course, you can buy the personal license with lifetime updates, which allows you to create ISO image from DVD and other optical disks, and emulate up to 32 virtual drives. To mount ISO, just click on Quick Mount in the lower-right corner, select ISO image file from your computer, and then you can find the virtual DVD drive or virtual CD drive on your computer. This software supports Windows system.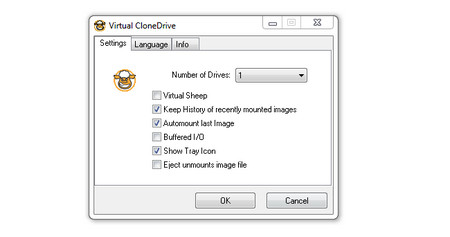 Virtual CloneDrive
2. Virtual CloneDrive
https://www.chip.de/downloads/Virtual-CloneDrive_13012545.html
Virtual CloneDrive is an easy and free virtual disk drive software that supports all common image formats including ISO, BIN, IMG, UDF, DVD, and CCD and emulates them as CD, DVD, and Blu-ray drive. Its interface is quite simple and clean. But during setup, it will ask you to install another adware. Just uninstall them. After the installation, you need to restart your computer and open Virtual CloneDrive. This free virtual drive software is a specialized tool for emulating physical drivers and there has no any other miscellaneous features like many other software do. So far, it supports 15 virtual drives at the same time. And this tool is for Windows only.
Mount Disc Image as Virtual DVD Drive
3. Alcohol 120%
https://www.alcohol-soft.com/
Alcohol 120% is versatile software that combines disk image emulator and DVD burner into one. With it you can create exact backup from DVDs, burn image files to CD and DVD, and mount disc image. Alcohol 120% supports 31 virtual drives and it claims to mount virtually any image files created and run them at up to 200 times faster than some CD drives. But Alcohol 120% is not freeware. You need to buy its full features or you can only access to limited virtual drives and features. Like the two programs above, Alcohol 120% is available on Windows system.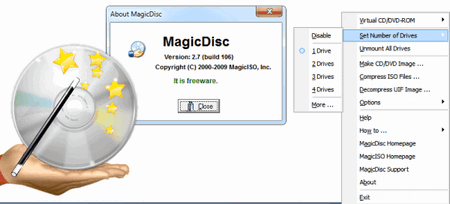 Virtual Drive Windows 10
4. MagicDisc
(Down)
http://www.magiciso.com/download.htm
MagicDisc is a useful, easy and free software. It is designed for free creating and managing virtual CD drives and CD/DVD discs. It allows you to create 15 virtual discs in total. If you have disc image files, you can use the utility to mount the image files and make them behave like real discs. So you're able to run programs, play games, or listen to music without burning them onto CD or DVD. Besides, you can use it to make ISO image from disc. The software works on Windows.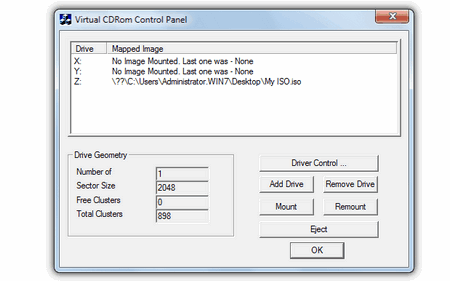 Virtual CD Drives
5. Microsoft Virtual CD-ROM Control Panel
https://www.majorgeeks.com/files/details/virtual_cd_rom_control_panel.html
You can also take use of Microsoft Virtual CD-ROM Control Panel to mount ISO image files as virtual CD drives. The disc image mounting tool is available on Windows 7/XP/Vista. And it is more useful if you want to read disc image for installing software or recovering backup files. Although this tool doesn't require users to install any aided software for mounting ISO image yet the process is a bit cumbersome when compared with other third-party software. Besides, this tool is not supported by Microsoft. Of course, if you're using Windows 8 or Windows 10, you only need to open an ISO file and your computer will automatically read it as a virtual drive since both of the two versions offer natively supports for ISO image.