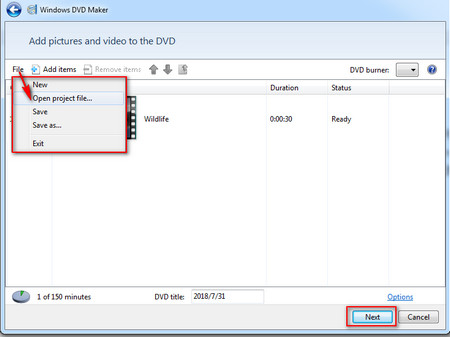 Windows DVD Maker file format
MSDVD can only be directly opened by Windows DVD Maker. And the entry-level DVD burning software is only available on some versions of Windows Vista and Windows 7. Follow the steps to open MSDVD files.
Step 1. Launch Windows DVD Maker. If this is the first time you use Windows DVD maker, click on Choose Photos and Videos button.
Step 2. Move to the menu bar and hit File > Open project file to import your MSDVD file.
Step 3. You can edit the file and change DVD options.
Step 4. Now click on Next to customize DVD menu style.
Step 5. Finally click on Burn button to burn DVD.
For backup and sharing purpose, you can convert the homemade DVD disc to digital video, ISO and even Video_TS folder.
Usually people doesn't open such project file, yet if you do have to do that, the two approaches will do the trick. Specially, to fix the MSDVD windows 10 playback issue, method 1 should be the best option.