During the latter half of 1990s, MP3 files started its online journey and conquered thousands of music lovers' hearts. And until now, it still plays an very important part of audio encoders' family . Most of people stored mp3 files, whether a song or an audio book, on the portable playback device. But these scattered mp3 files have become a troublemaker of their owners. Now, it is high time deal with them.
1) Following Cases Attach Importance to Merge MP3 Files
1.Merge multiple chapters of an audio book. Sometimes, it is difficult for listeners to find the right chapter to continue to enjoy their audio, therefore, an MP3 combiner can actually improve this situation.
2. Combine mp3 files extracted from music videos into a playlist. You may have collected a lot of nice songs but they all scattered everywhere.
3. Join audio classes online in order. For students who are afraid of missing important contents of their lessons, they can record them and make a audio album for review.
Even more situations relat to the necessity for MP3 combing, we look forward to your opinions.
2) The Free and Useful Program to Merge MP3
Free HD Video Converter Factory, is a rising star among numerous similar programs. It is characterized by its super intuitive interface and fast merge speed. The most attractive feature is that it is totally free. Moreover, unlike some other programs that can do this task but leave users so much trouble in operating the whole process owing to built-in complex interfaces with so many descriptive words. Now, I will show you a tutorial step by step.

Free HD Video Converter Factory
Free HD Video Converter Factory, a real free application. Free and easy to join mp3 files, including sorts of audio books, songs and downloaded online files, and convert formats so as to be compatible with your already owned devices. Learn more >
First step: Download Free HD Video Converter Factory by hitting the link offered above and install it.
Second step: Now start the program, enter "Converter" and click "Add Files" button to select your MP3 files. Then, tap "Merge" button on the top of the interface.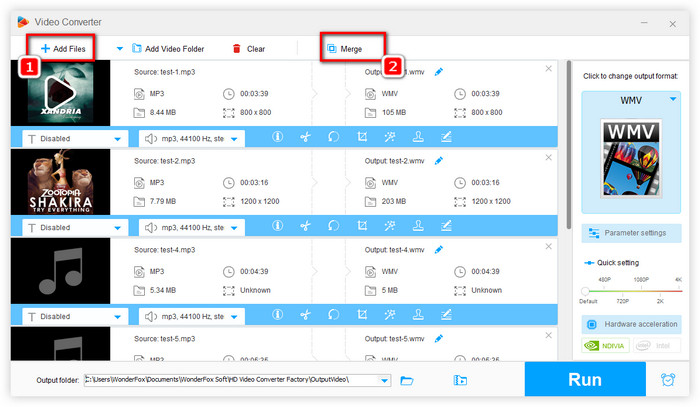 Add MP3 Files
Third step: Select MP3 Files Simultaneously, and hit "Merge" as marked below, then click the other "Merge" button. Finally, hit "Run".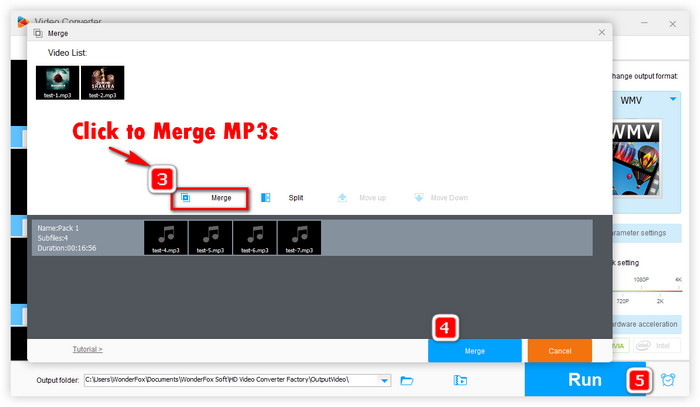 Click Merge and OK
Tips for advanced users: As for users who would like to set parameters by themselves, they can adjust output format/folder, and choose preferable parameters, such as bit rate, encoder, channels and adjust output files' volume in order to perfectly combine your MP3 files into whatever formats you like.
Then, you can enjoy your music or audio book at anywhere anytime in you desired way.
3) Other Functions for You to Try
1.Split video files: it allows you to trim any audio and video files.
2.Add special effects into your videos:  To create a new personalized video clips and upload on the internet.
3.Convert DVD to video files: Piles of DVDs are hard to store and preserve.
4.Extract audio from video: Some parts of a movie or TV program are funny and worth collected.
5.convert video/audio into any kind of formats: Some old-fashioned formats may not be compatible with your advanced digital devices, yet you want to play them instead of buying a compatible device.
NOTE: For more useful functions you can turn to the professional version of it.
Still got question? Submit it to us and get an answer within 24 hours.