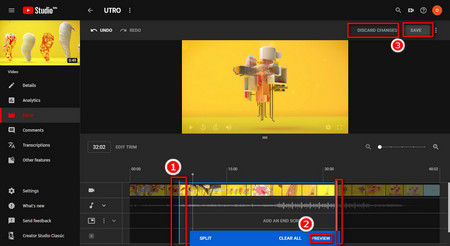 How to Cut Videos on YouTube
* Note that the method only applies to your own uploaded videos.
If you haven't known of the built-in YouTube video editor within YouTube Studio, that job could be pretty bothersome as you must download YouTube Videos > Edit > Re-upload videos to YouTube. Now, let's take a look at how to cut videos on YouTube.
Step 1. Navigate to YouTube.com and login to your own channel. Then go to YouTube Studio.
Step 2. Select your video from the "Videos" category.
Step 3. Click "Editor" on the left side.
Step 4. Click the "Trim" button and drag the two ends of the handles to shorten a video. Then click "Preview" to make sure it's good.
Step 5. Click "Save" on the upper-right side of the page to save the changes and let YouTube process your video, check back later! Or click "Discard Changes" to start over.