1.MX Player - The Best Video Player for Android
Score: 4.4/5 rated by 9M people
Download: https://play.google.com/store/apps/details?id=com.mxtech.videoplayer.ad&hl=en_US
As one of the earliest to open and lead the Android universal player market, MX Player is presumably the most popular media player for Android users. It supports nearly all video formats, like MP4, MKV, 3GP, AVI, FLV, RMVB, WMV, etc. In addition, it also supports hardware acceleration and multi-core decoding (device required) which allows you to open any video in no time and then watch smoothly, especially for the high-quality MKV file. What makes it more tempting is that this app will automatically choose the most suitable decoding package for your device. In the video playback interface, it has a large array of gesture controls to suit your viewing habits, like slide to backward/fast forward, zoom in/out... It also enables you to change the parameters of the currently playing video without leaving for the main setting. For example, you can slide up and down on the left and right sides to increase/decrease the brightness and volume respectively. Click on the floating menu bar, you can choose to change playback speed, modify equalizer, set for pop-up window play and background play. On the top right corner where the three-dots is, you can find more useful functions to improve your viewing experience, like changing the aspect ratio, getting online subtitles, and whatnot. Kids lock and network streaming are also available. The MX Share service that is used to fast share music/video/files without mobile data usage just adds more fun in its usage. All are convenient and very accessible.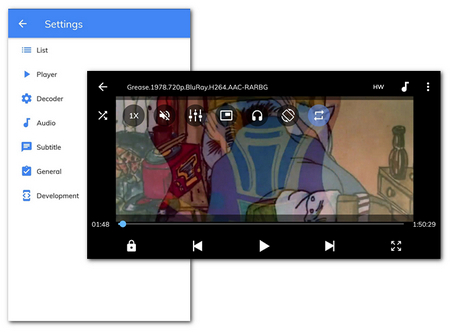 MX Player
Pros:
Completely free
Supports nearly all video formats, even 4K, UHD...
Hardware acceleration and multi-core decoding
Powerful playback features and quick-buttons
Supports multi-track/subtitles, like SRT, TXT, SUB, SSA, SMI, MPL, and AAS
Fast file-sharing and Network streaming
Cons:
Contains ads
DTS and AC3 unsupported
Slightly unstable in syncing function
2.VLC Media Player (For Android) - The Best Media Player for Android
Score: 4.4/5 rated by 1.4M people
Download: https://play.google.com/store/apps/details?id=org.videolan.vlc&hl=en_US
A sibling of VLC for PC, this renowned multimedia player has pretty much everything a good player should have. Most importantly, it's free and void of ads. Just like its PC version, this app could claim to be one of the best Android media players for its versatile features. It can play just any video and audio file, even DVD ISO. Besides, it has access to the local network and internet streaming. As a video player, it has the neatest main view screen where all the features are hidden in the bottom area. Apart from the regular sleep timer, aspect ratio resize, playback speed, equalizer, background and pop-up play, the audio delay function allows you to sync audio track perfectly. The flexible gesture controls are also available to access volume, brightness, and seek. Furthermore, it has support for Chromecast, playlists, and the audio control widget. As a music player, it has dazzling features like audio headsets and cover art. You gonna love it if you are a fan of PC VLC.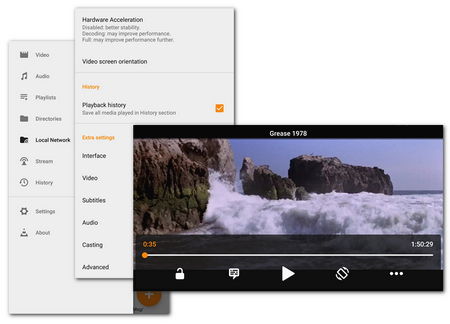 VLC Media Player (For Android)
Pros:
Totally free without ads
Multi-core decoding and hardware acceleration
Plays almost all video/audio files, even 360 video, 3D audio, 4K, and 8K
Support for internet streaming, local network streaming
Powerful playback features
Multi audio or subtitles tracks selection
Powerful playback features
Cons:
Slightly unstable in detecting files in SD card
3.XPlayer(Video Player All Format) - An Excellent MX Player Alternative
Score: 4.7/5 rated by 636K people
Download: https://play.google.com/store/apps/details?id=video.player.videoplayer&hl=en_US
This is yet another full-fledged video/audio player. It plays just any video/audio formats you throw at it, including UHD, 4K, H.265(device required), without any lag. You are granted permission to create your own playlist if you like. This function can be closed in the setting if you just want a pure video player. You also have the privilege to set a PIN for the private folder to protect the videos from being mistakenly deleted or seen by others. A bit like MX Player, this is equipped with hardware acceleration and multi-core decoding. Furthermore, it is supplied with a large list of quick-buttons that allow you to change the regular parameters of the video in the display interface. Also, the playlist can be dragged out from the right side, which is more convenient for playing any video on the list. The ability to sync the audio track is another highlight of this player. What makes it even more fascinating is that it can cast videos to TV with Chromecast. No wonder it's regarded by tons of Android users to be the best Android video player. Impressive indeed!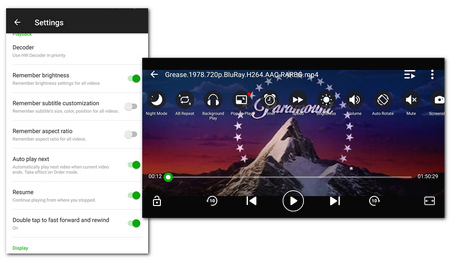 XPlayer(Video Player All Format)
Pros:
Free for everyone
HW/SW decoder and hardware acceleration
Supports nearly all video/audio formats, extremely powerful in playing HD videos
Multi-track and multi-subtitles are supported
A wide range of quick-buttons
Network stream
Cast videos to TV with Chromecast
Cons:
Contains ads and in-app purchases
4.KMPlayer - A Decent Android Media Player
Score: 4.4/5 rated by 330K people
Download: https://play.google.com/store/apps/details?id=com.kmplayer&hl=en_US
KMPlayer is another splendid video/music player for Android developed by a South Korean group, the one who has brought out the well-known Potplayer. This media player is still equipped with hardware acceleration. It supports a wide range of formats and codecs (external codecs could be added) and capable of adding and adjusting subtitle, syncing audio, and one-finger gesture. Just like other video/music players, you are allowed to create your own playlist and set a private folder. The advanced cloud service allows you to play music and content within Google Drive. On the playback interface, many quick-buttons are displayed on the screen enabling you to repeat section, set play rate, amplify audio, screenshot, invert(mirror), flip, and rotate video. It also has timer and equalizer accessible which are of many conveniences. The color adjustment is just awesome in that it makes it possible to change brightness, contrast, hue, saturation, and gamma of the playing video. Children lock, as well as background and pop-up play, is also presented. In all, it's a well-performed media player.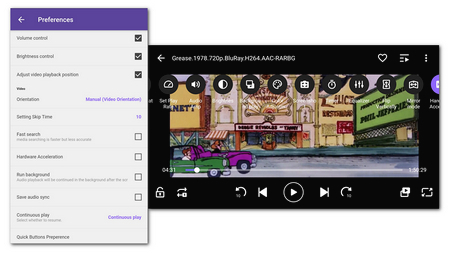 KM Player
5.BS Player - Unbeatable in Its Unique Features
Score: 4.0/5 rated by 142K people
Download: https://play.google.com/store/apps/details?id=com.bsplayer.bspandroid.free&hl=en
BSPlayer is an overall media container for video, audio, and even images. Like MX Player, it also supports hardware acceleration and multi-core (dual and quad-core) decoding. Though it has a simple and crude main interface, it contains a complete set of functions including various gesture controls and quick-buttons, multi-track and multi-subtitles support, background and pop-up play. The biggest highlight of BSPlayer is that it provides a subtitle search function, which will automatically search for matching subtitles on the network for users. On top of that, the ability to directly play media files from uncompressed RAR files is another dashing feature of BS Player. It also ships with other advanced features like network streaming. This app has great potential to be the best media player for Android!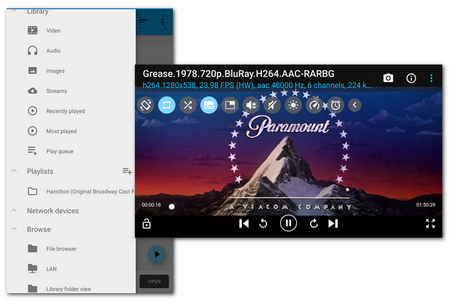 BS Player
6.FX Player - A Rising Star in the Android Media Player Market
Score: 4.2/5 rated by 33K people
Download: https://play.google.com/store/apps/details?id=tv.fipe.fplayer
FX Player is another feature-rich video player that has its eye on the best video player app for Android. It can play all popular video/audio formats (external codecs are allowed) and its hardware acceleration allows you to open them smoothly. It has support for Chromecast and network streams, too. And it is praised for the function to cast video with external subtitles in. The secret folder is again provided to protect your privacy. During playback, you can use gestures to fast forward/backward video, and control brightness, volume, playback, and speed. The subtitles are equally at your disposal to realize color, position, and size modification without leaving the playback interface. Mirror mode is available to flip your video. And the floating window is easy to use when you are browsing other contents. Definitely a worthy media app!
FX Player
7.Video Player HD - More than Enough to Deliver A Solid Performance
Score: 4.6/5 rated by 320K people
Download: https://play.google.com/store/apps/details?id=videoplayer.mediaplayer.hdplayer
Yet another video/audio player, this app is based on VLC for Android Beta and has inherited many functions of VLC, such as support for internet streams, local network streaming, powerful playback features, and so forth. Multi-audio and subtitles are also supported. The audio/subtitle delay allowing you to sync audio and subtitles is another plus. You can also play video on background or initiate a secondary pop-up play to give consideration to other activities. Other flashy features like audio equalizer, time sleeper, etc. are provided without doubt. In short, it could be seen as a lite version of VLC.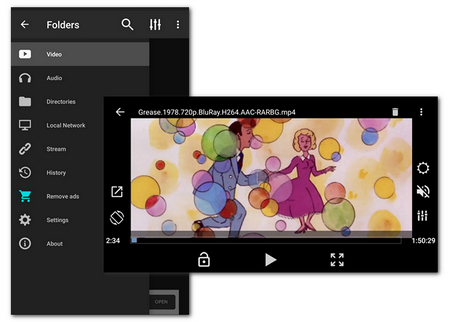 Video Player HD
Pros:
Completely free
Supports all popular video/audio formats
Local network and internet streaming
Multi audio and subtitles supported
Powerful playback features
Cons:
Contains ads and in-app purchases
Misplaced functions in setting interface