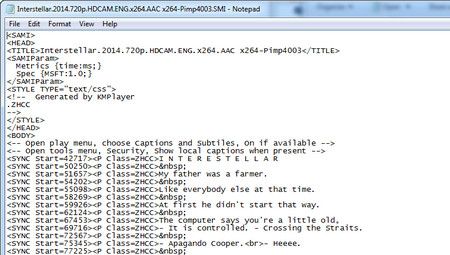 SMI subtitles sample
The snapshot on the right side indicates an SMI subtitle files of mine, opened with Notepad. If you cross out the HTML codes, you'll find it similar to SRT by sight; cross out the caption texts, it looks just like HTML and CSS.
You're very likely to access SMI/SAMI subtitles when watching Korean movies, a SAMI file provides closed caption support for multimedia formats. Generally, a multimedia file (such as a video or a sound file) is played by a media player such as Windows Media Player. Media players that support closed captioning and SAMI format may display the contents of the included SAMI file. A SAMI file is a plain text file and therefore can be created or modified in any text editor. Its structure is very similar to HTML. The files may have either .smi or .sami as the extension.
Now, let's cut to the chase.
Related posts: SUP to SRT, SUB to SRT, MKS to SRT