Every day, we listen to our favorite songs on our phones, tablets or computers. But sometimes, when we transfer a song to another device, we find that the audio cannot be played due to the unsupported format. Changing the audio to MP3, the most popular audio file type, will resolve this incompatibility at once. Then you can enjoy the audio easily. Also, by converting audio to MP3, you can reduce the audio file size for better storage and sharing.
In this article, you are going to find five easy and free ways to convert audio to MP3 on Windows, Mac, iPhone/iPad, Android and online. Please read for more details.
Note: The following methods do not work with audio and video with Digital Rights Management (DRM).
Sadly, Windows does not come with an MP3 converter pre-installed. But many third-party programs can help you convert music to MP3 effectively.
WonderFox Free HD Video Converter Factory is one of the best free MP3 converters for Windows that can convert everything to MP3. With it, you can convert not only various audio but also video into MP3 format in just a couple of clicks. Moreover, Its Downloader tool allows you to easily download online audio from many websites. Simply free download free download this tool to quickly convert your audio or audio folder to MP3.
Step 1. Add an Audio File (or Folder)
After installation, launch the WonderFox software on your PC. Then enter the Converter module.
Next, click Add Files to add your audio or press Add Video Folder to import all your audio files from a folder. A direct drag-and-drop is also supported.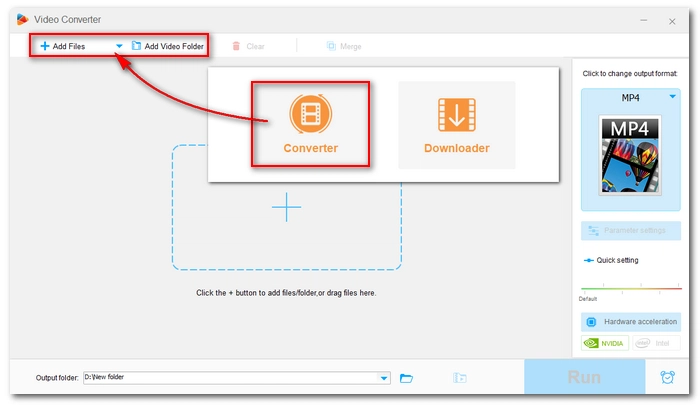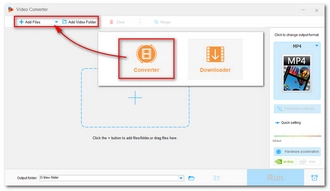 Step 2. Choose MP3 Format
Click the format image on the right side of the program to expand the output format page. Next, open the Audio tab and select MP3 as the output format.
Tips. If you want to change the MP3 settings, such as bitrate (convert audio to MP3 320 kbps), channel, sample rate and volume, you can open Parameter settings and modify these settings as you see fit.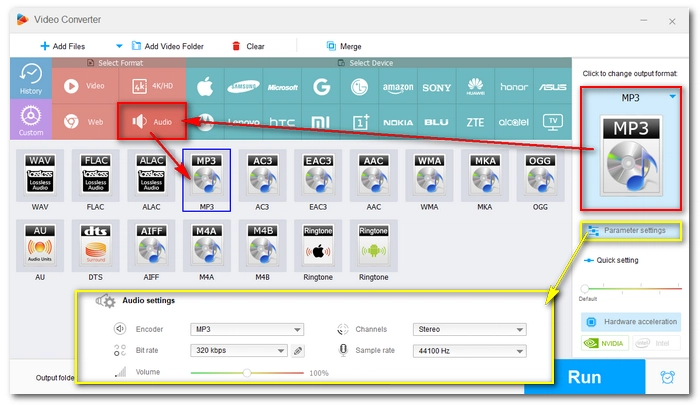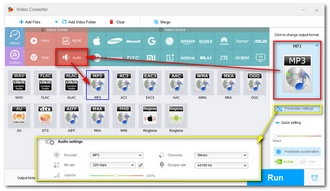 Step 3. Convert to MP3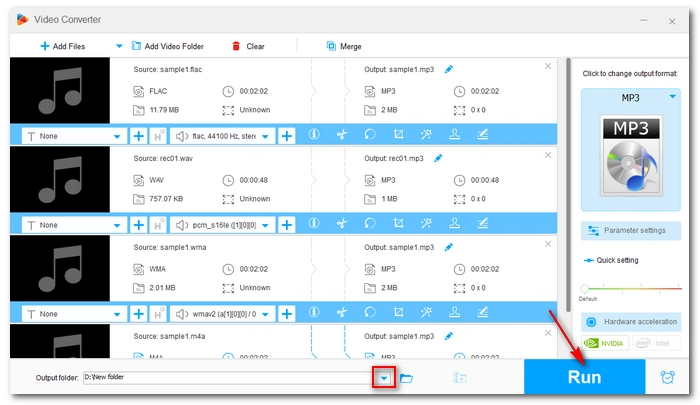 Apple Music (formerly iTunes) is the native music app on Mac that not only organizes and plays songs, but also converts the format of audio. It can quickly convert audio into a new encoding format, such as MP3, and keep a copy of the original.
In Apple Music, you can convert songs from your music library, a folder, or a disk. Now, let's learn how to convert a song to MP3 with Apple Music.
Step 1. Open the Apple Music app on your Mac.
Step 2. In the top menu bar, choose Music > Preferences.
Step 3. Click the Files tab, then click Import Settings…
Step 4. Expand the Import Using drop-down box, then choose MP3 Encoder.
Step 5. You can also select a quality in the Setting box below. Then click OK.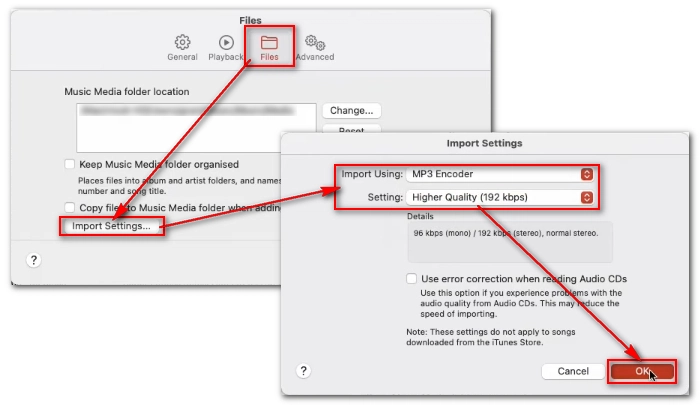 Step 6. Now, select the song in your music library you want to convert.
Step 7. Choose the top File > Convert > Create MP3 Version.
Now you just created an MP3 copy of your song next to the original file.
If you want to convert audio into MP3 on your iPhone or iPad, don't worry, you can find a relevant utility – The Audio Converter in the App Store to help you with this.
The Audio Converter is a top-ranking app to convert files to MP3, WAV, M4A, AAC and other formats. Simply select the input file, choose the output format, then you can complete the conversion in a few seconds. Follow the steps below to see how to convert audio to MP3 on your iPhone or iPad.
Step 1. Search for The Audio Converter in the App Store and download the app.
Step 2. Open the app.
Step 3. Input the audio you want to convert into the app.
Step 4. Choose the MP3 output format. Then the conversion will start immediately.
Step 5. When the conversion is complete, open the audio or share it if you like.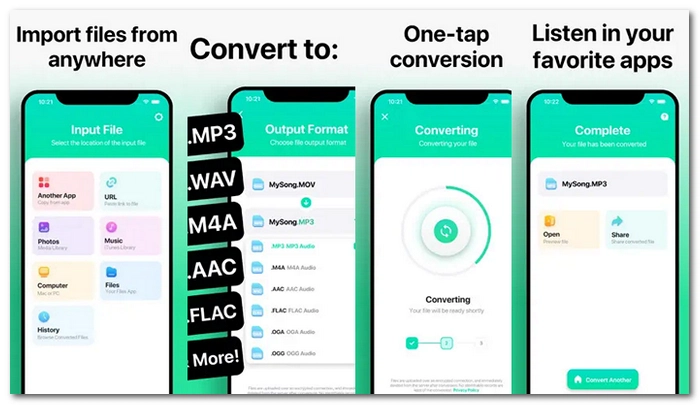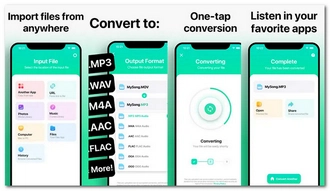 Android users can easily convert audio in any format to MP3 with Audio Converter (MP3 AAC OPUS), an award-winning conversion tool on Android. Also, it lets you cut your audio before conversion to save the preferred clips. The entire app is simple and free to use. In addition to using the app on Android phones, you can also use it on Android tablets and Chromebook. Here are the steps to convert audio to MP3 with this Android app.
Step 1. Search for Audio Converter (MP2 AAC OPUS) in your Google Play Store and download the app.
Step 2. Open the app and click the center Convert button.
Step 3. The app auto-scans your audio library and lists all the available audio files. You should navigate to the audio file you want to convert and select the three-dot option on the right. Then choose Convert.
Tips. You can also tap and hold to select multiple songs for bulk conversion.
Step 4. MP3 is the default output option. If you want to change the output format, click the pencil icon next to it to change the format.
Step 5. Click the upper-right save button to start the audio to MP3 conversion process.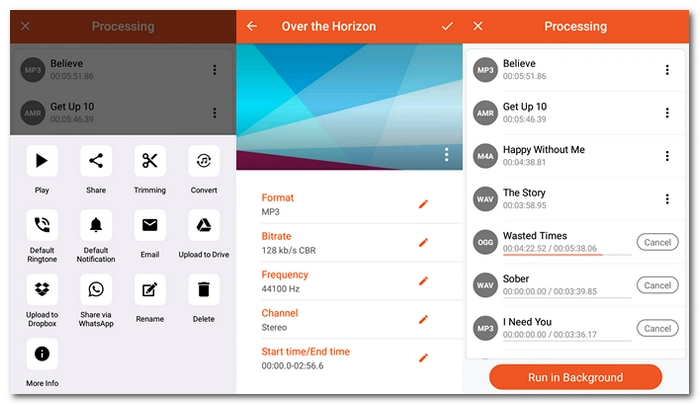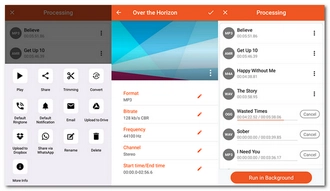 Besides using offline audio converter apps, you can try online services as well.
There are a variety of good audio converters online that can convert the format of audio into MP3. One of the best is Online Audio Converter, a free and simple conversion tool that can help you easily convert any format to MP3. In addition, it can help you convert audio from cloud drives and URLs as well. As the cherry on top, such an MP3 converter online enables you to conveniently convert a song to MP3 on your computer, mobile phone, tablet and other devices. Follow the instructions below to learn how to convert audio to MP3 with Online Audio Converter.
Step 1. Visit Online Audio Converter.
Step 2. Click Open files to upload the audio you want to convert. Or you can import audio from Google Drive, Dropbox, or URL.
Step 3. Choose mp3 as the output format.
Step 4. Select a quality according to your preferences. If you want more control over the audio output, you can click Advanced settings to adjust the audio parameters.
Step 5. Click Convert to start the conversion at once.
Step 6. Download the converted file to your device.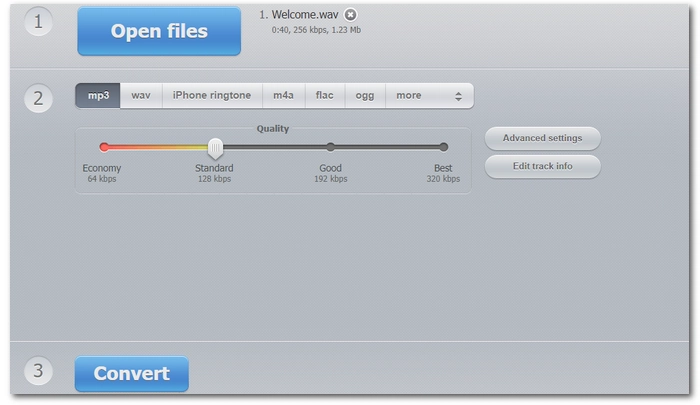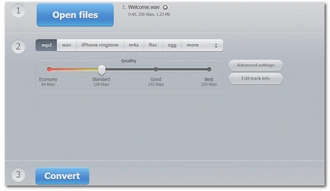 Wrap-up
We've shared five different tools for converting audio to MP3 on different devices and platforms. Following these methods, you should have no problem converting the audio to the target format. That's it for now. We hope this article was helpful to you. Thanks for reading. Have a great day today!
1. How do I convert video to MP3 audio?
As long as you have the right MP3 converter, you can easily and quickly convert video to MP3 audio. Fortunately, the audio converters provided in this article can help you do this conversion easily.
2. How do I convert files to MP3 on Windows 10?
By installing WonderFox Free HD Video Converter Factory on Windows 10, you can quickly and smoothly convert video, audio or URL to MP3 format.
3. How do I convert to MP3 with Windows Media Player?
Windows Media Player can only convert CD audio tracks to MP3. You'll need to insert the CD into your computer, then rip the audio from the CD and save it as MP3 files.