Free MP4 to FLV - Standing on the Internet Stage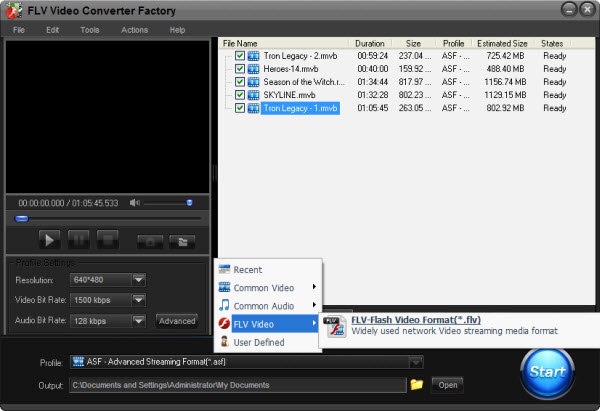 MP4 and FLV are different video format, each of them has their own features and both of them are popular. Sometimes, for some reason, we have to convert one format to the other, such as when our MP4 videos or movies need to be uploaded to the internet. Free MP4 to FLV - Just for standing on the internet stage.
MP4 - Popular with the Portable Digital Devices
MP4 is one of the most widely video formats that we often heard, as we know, it is mainly used by our portable digital devices. You can see MP4 that is used in Apple series like iPhone, iPod, iPad, Apple TV and so on. You can see MP4 that is used in PSP series like PSP 2000, PSP 3000, PSP Go and so on. You can see MP4 that is used in BlackBerry series like BlackBerry Curve 8900, BlackBerry Curve 8310, BlackBerry Bold 9000 and so on.
Whatever your portable digital device is, nearly all of them can be supported by MP4. However, when we want to upload our videos to the internet, especially our favorite MP4 videos that is on our portable digital devices, FLV is necessary and maybe you need a Free MP4 to FLV software at that special moment.
FLV - Born For the Internet Stage
FLV is a container file format used to deliver video over the Internet using Adobe Flash Player versions 6-10, the format has quickly established itself as the format of choice for embedded video on the web. Notable users of the Flash Video format include YouTube, Hulu, Google Video, Yahoo! Video, metacafe, Reuters.com, and many other news providers.
As we can see that FLV has been popular among the popular video sharing websites, so if you want to upload your videos to the internet and share them with others, FLV is just what you need! A free MP4 to FLV software is also what you just need!
Related Software
After introducing both MP4 and FLV, some people may concern about what kind of free MP4 to FLV converter they should choose. Actually speaking, there are so many related video converters in the market, some of them are not bad, while some of them can not work as it advertised.
Here I suggest a good free MP4 to FLV converter to you - Free FLV Video Converter Factory, it is easy for you to use and it is tested by its company before it is launched, so you can use it without worrying about the quality and security of the product. What's more, its fast converting speed is also popular with the consumers.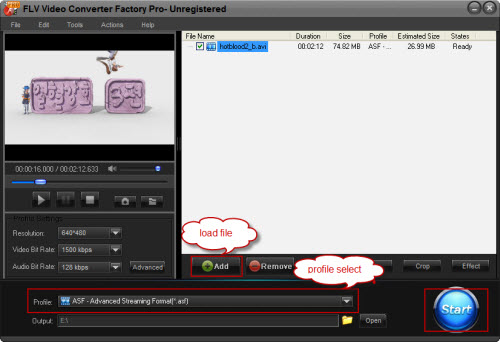 How to Convert MP4 to FLV with the FLV Video Converter: 1. Download and install the software > 2. Click "Add" to import videos > 3. Select output format in "Profile" setting > 4. Click "Start" to begin converting process > 5. Open output profile to get the output video
Free FLV Video Converter - Enjoy more, Pay less.
Screenshot of Free FLV Video Converter