Songs Download - A Gaana+ Feature on Gaana APP

"How can I download songs from Gaana on PC?" I bet most of people, at one time or another, have been struck with the thought. You may know that, the download feature is only available for Gaana APP on Android or iOS device, meanwhile, you have to subscribe to Gaana+ premium service. In other words, you're not allowed to download songs on Gaana website even if you're a Premium member.
Much similar to Saavn songs download, you can download unlimited songs from Gaana APP and listen to them offline till the subscription is expired. But the songs are restricted to play within the APP and cannot be transferred to any other device as they are exclusively provided by the labels.
So most people wonder if it's possible to download songs from Gaana on PC. Now I can tell you "YES!" with two simple solutions provided below.
Also Read: Indian Music Download | Download Bollywood Songs | Hindi Songs Download | Free MP3 Download Sites
Disclaimer: WonderFox will never endorse downloading copyrighted music for any illegal distribution and action. This guide is demonstrated for personal fair use ONLY. You should be responsible for your own behaviors. Actually, Gaana's subscription is really affordable, consider to join Ganna+ and enjoy more.
Method 1: How to Download Songs from Gaana Using HLS Downloader?
Gaana seems to adopt HTTP Live Streaming (HLS) or MPEG-DASH protocol for music streaming so that you CANNOT find a workable Gaana downloader online that is able to analyze the song URL. The well-known browser video downloader - Video Downloadhelper can detect the HLS/DASH streaming but it needs an external companion application installed to proceed. Instead, I found that HLS Downloader did a great work to download songs from Gaana. This extension is available on Chrome, Firefox, Edge and can be installed from the GitHub page: https://github.com/puemos/hls-downloader-web-extension.
After the installation, a blue "hls" icon will appear at the top-left corner of your browser. Go to play a song on Gaana website, you'll see a red dot that overlays the extension icon, which means it successfully detect the HLS streams. Click the icon and select a playlist that contains several fragmented clips. Press the arrow icon and select any resolution option, then hit the download icon to download songs from Gaana. It will prompt you to rename the downloaded song and select a directory to save it once the download is complete. The only drawback is that the song will be downloaded in a .ts extension, to convert Gaana songs to MP3, you can try some free audio converters.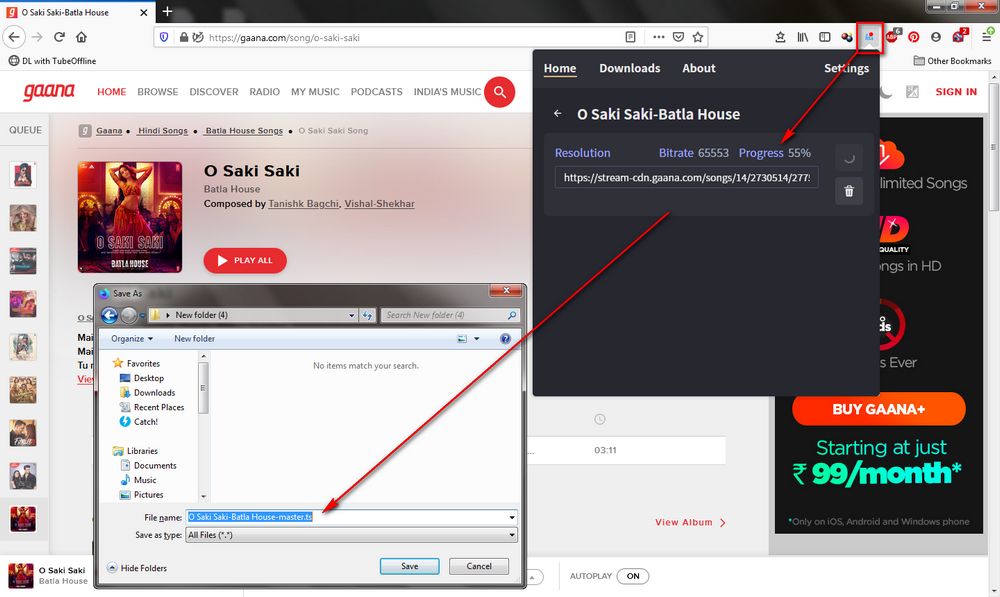 Method 2: How to Download Songs from Gaana Using XDM?
If you're a subscriber of Internet Download Manager (IDM), lucky you, it can help detect and download Gaana songs in TS format when you play the music. You still need an audio converter to change the format. However, there is a simpler alternative to directly download Gaana MP3, most importantly, it's completely FREE, that is, Xtreme Download Manager (also known as XDM), a free, safe and open-source download manager that supports multiple protocols to download and save streaming video and audio from web.
Step 1 - Install XDM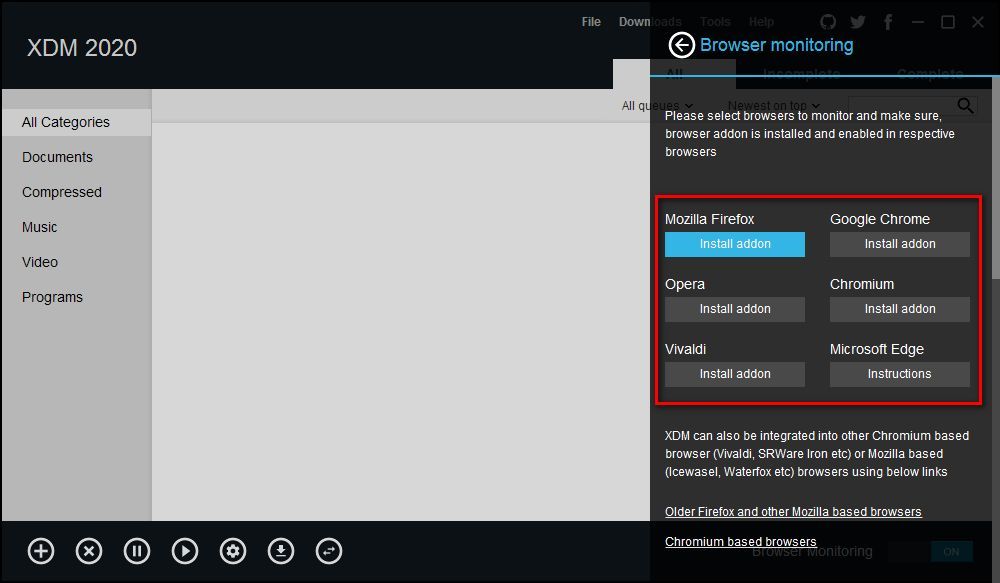 Step 2 - Monitor Gaana Songs
Go to Gaana and play a song that you want to download, when it starts loading and buffering, the XDM Browser Monitor will remind you there is a song available to download. Meanwhile, a transparent "DOWNLOAD VIDEO" button will appear in the bottom right corner of the webpage. Click on the add-on OR download button, select the stream, then a dialog box shows up that allows you to name the song and select a directory to save the downloaded file.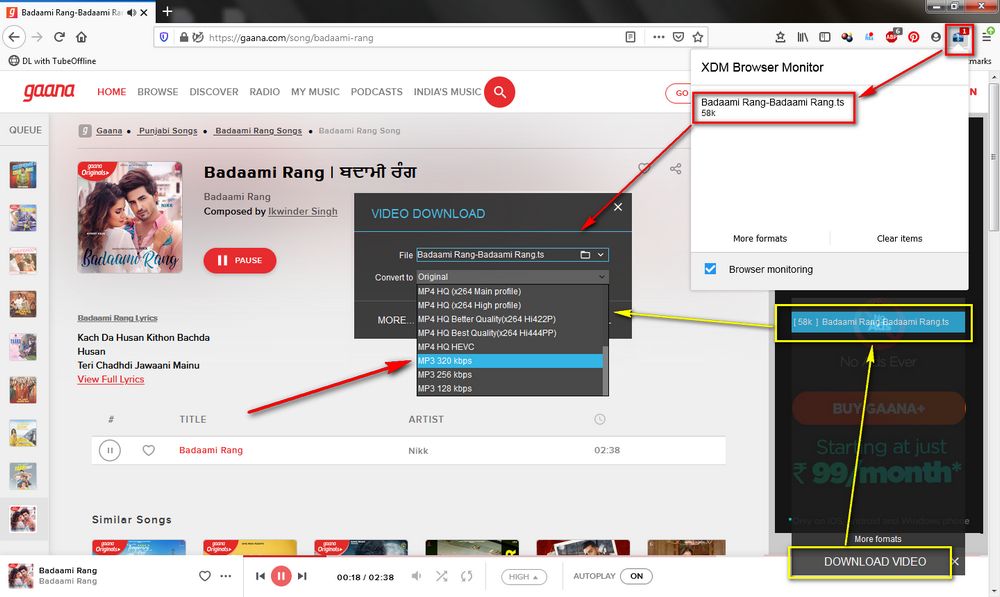 Step 3 - Download Songs from Gaana
Thanks to the built-in Media Converter, in the drop-down list of "Convert to", you can directly download and convert Gaana songs to MP3. Lastly, hit "DOWNLOAD NOW" button to start the process of Gaana MP3 download.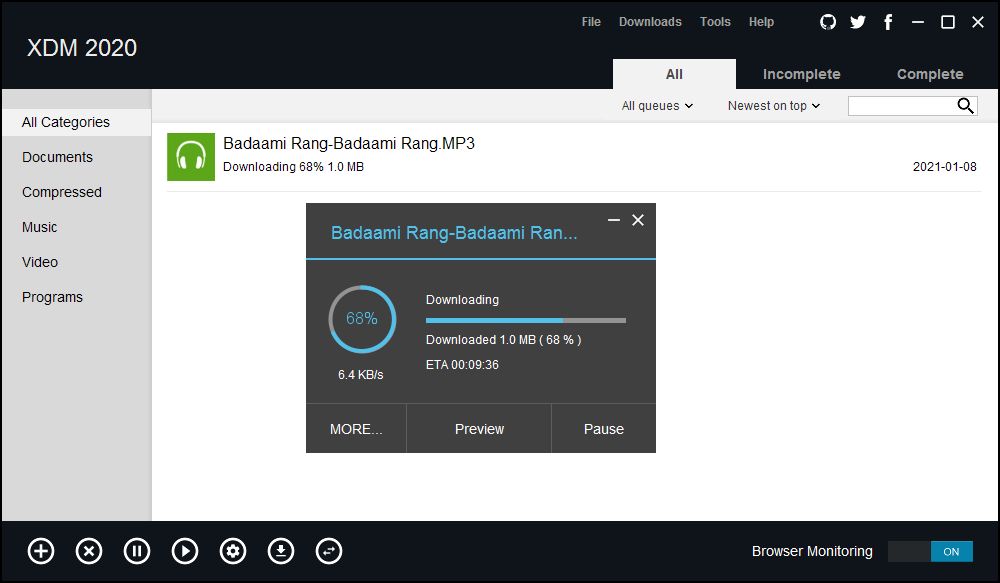 Final Words...
That's all about how to download Gaana songs free on PC. Pretty simple, right? Lo and behold, without paying a penny, elusive command lines and complicated operation, even a green hand can get this done. I would like to hear your good news. If this post deserves a thumbs-up, please share it via your social media. Thanks for reading.