What's the Best Video File Format for Website?
Before learning the best video format for the web, we should know what a video format is and what video formats are there. A video format is a container for storing video, audio, subtitles, and other elements that make up a video file. For general use, the best video formats include MP4, MKV, MOV, WebM, AVI, and AVCHD. But for web streaming, some of the commonly used video formats are not the best option. So what's the best video format for web pages?
In fact, a web video format can be a progressive or adaptive bitrate (ABR) format, depending on how the video file is delivered.
• Progressive download formats: MPEG-4 Part 14 (MP4); HTML5 (WebM); Adobe TRMP Flash (Adobe's Real-Time Streaming Protocol)
• Adaptive Bitrate Formats: Low-Latency Apple HLS (LL-HLS); MPEG-DASH (MPEG-Dynamic Adaptive Streaming Over HTTP)
Related Post: How to Download HTTP Live Streaming (HLS) Videos?
However, RTMP is not scalable and only works on Adobe Flash Player, Adobe AIR, and RTMP-compatible players. LL-HLS is also not widely supported and scalable. And MPEG-DASH doesn't work on Apple's Safari browser, which means you have to access web videos of this format on other browsers. Therefore, the best video formats for the web are MP4 (with H264 codec) and WebM (with VP8 or VP9 codec) because of their high compatibility and video quality.
Did you know? Currently, MP4 works in all common browsers, including Chrome, Internet Explorer, Edge, Firefox, Opera, Safari, and Android; only Firefox on Linux requires the FFmpeg plugin. All universal browsers support WebM; the only exceptions are Internet Explorer and Safari. Further, plugins aren't needed for WebM in HTML5, which has replaced the delivery formats Flash and 3GP.
Now, we can conclude that MP4 and WebM are the perfect video formats for website use. Thus, you can convert videos to the best video format for the web before streaming online. How to achieve that? Here comes the best video converter for websites for you – HD Video Converter Factory Pro. Free downloadFree download it on your PC and see how to perform the conversion with simple steps below.
How to Convert Videos to Web-friendly Video Formats Easily?
I recommend you use WonderFox HD Video Converter Factory Pro. It can help you convert videos to MP4 with H264 codec and WebM with VP8/VP9 codec just in 3 steps! It offers multiple web-friendly video formats, and you can convert your video to H.264, WebM/MP4 compatible with HTML5, WebM/MP4 compatible with YouTube, etc. Also, this software supports batch mode to convert multiple video files simultaneously. The intuitive interface and simple process make it easy to operate for everyone.
Now, installinstall the software and follow the steps to change videos to the best video format for the web.
Step 1. Import Video Files
Run HD Video Converter Factory Pro on your desktop and click Converter. Hit the Add Files button to import your video files. Or you can directly drag and drop them into the software.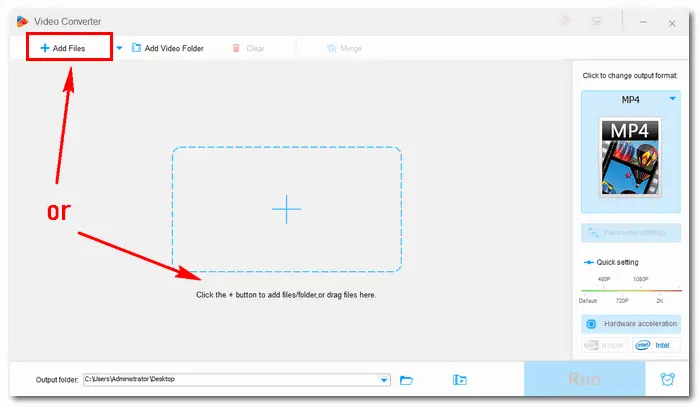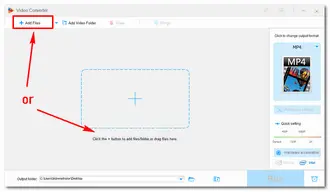 Step 2. Select the Best Video Format for Website
Go to the Output Format section on the upper right side. Then click Format > Video > H.264 (or Web > HTML5 WEBM).
Tips. You can click the Parameter settings button to select the video codec VP8 or VP9.
Optional. You can change settings like resolution, bitrate, aspect ratio, etc., and trim/cut/crop videos for perfect web streaming.
Related Articles: Convert Video to YouTube Format | Compress Videos for Facebook | The Best Twitter Video Specs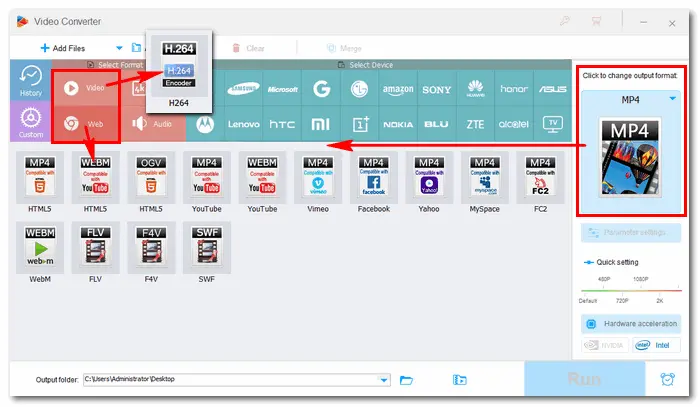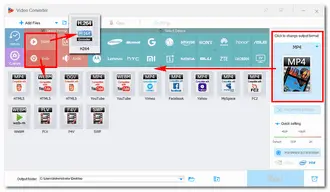 Step 3. Start Conversion Process
Press the bottom inverted triangle button to specify an output folder or leave it as default. Then, click the Run button to convert your video to the best video file format for website immediately. The process will end very soon. After that, you can upload and share your content on any website.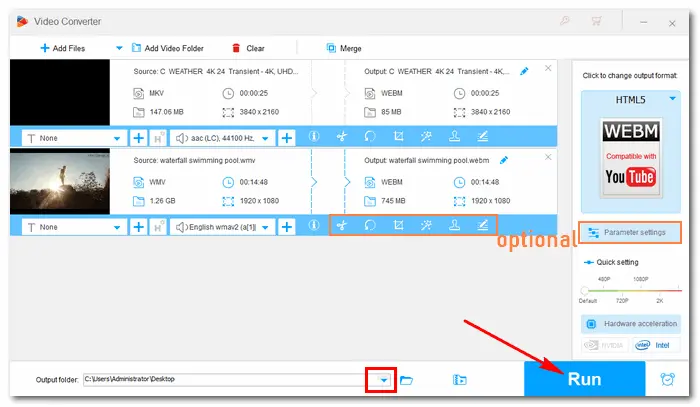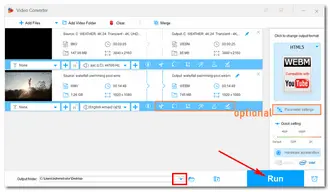 In Summary
In short, the best web video formats are H.264 MP4 and HTML5 WebM with VP8/VP9. To convert videos to the best video format for websites, HD Video Converter Factory Pro can help to simplify the process. It can complete your conversion just with a few clicks. In addition to converting video formats, the software provides many other features, including downloading, recording, editing, making GIFs/ringtones, extracting subtitles, and so forth. GetGet the software and explore more by yourself!