If you are one of those looking for the best 4K video editor today, keep reading our list of 2016 top 5 professional 4K video editing software.
Corel VideoStudio Pro 2018
The first one goes to Corel VideoStudio Pro 2018. It's a good choice for help you doing a student film or family movies, which provide a quick way to finish editing tasks. Why they love Corel VideoStudio Pro 2018?
1. NEW Resize and Crop Video tools
2. NEW Split Screen video
3. NEW Lens Correction tools
4. ENHANCED Stop Motion Animation
Price: $79.99
Recommended System Requirements:
Intel Core i5 or i7 Processor, or AMD Phenom II X4 or X6 Processor
4 GB of RAM or higher and 1 GB of VRAM or higher
CyberLink PowerDirector 16
Why they love CyberLink PowerDirector 16?
1. Intuitive movie maker with easy learning curve
2. Full screen playback
3. Transformation Effects and Visual effects
4. Import/Export high frame rate video
5. Ready-made templates & effects for fast movie making
Price: $69.99
Recommended System Requirements:
AVI Capture/Produce: Profiles: Pentium 4 3.0 Ghz or AMD Athlon 64 X2
128 MB VGA VRAM or higher
Wondershare Filmora
Filmora is relatively new to the supreme 4K video editor industry. But it's pretty compelling as it's not only for professionals but also beginners. Launch it, and you're provided with two modes, Easy Mode or Full Feature Mode. Why they love Wondershare Filmora?
1. Can change aspect ratio
2. Maximum 21 video tracks and 4 audio tracks
3. Edit in storyboard or timeline views
4. Support you to create titles and captions
5. Provide 100+ filmmaking visual effects and color correction function
6. Instantly share your final works to social accounts
Price: for personal use-$49.99, for business-$99.98
Recommended System Requirements:
Intel or AMD processor, 1GHz or above
MAGIX Movie Edit Pro Plus
Why they love MAGIX Movie Edit Pro Plus?
1. Up to 99 tracks, multicam editing, 4K editing and 360° editing.
2. Timeline display
3. Enable you to edit video while fit to the music
Price: $69.99
Recommended System Requirements:
2.8 GHz
at least 512 MB VRAM
Sony VEGAS Pro 16 Edit
Why they love VEGAS Pro 16 Edit?
1. For professionals, it offers more creative control
2. 390+ video and 40+ audio key-frameable filters and effects
3. A comparable faster editing workflow
4. Can change aspect ratio
5. New gesture controls
6. Featured with extensive 5.1 surround sound mixing tools
Price: $399.00
Recommended System Requirements:
2 GHz processor (multi-core or multiprocessor CPU recommended for HD or stereoscopic 3D; 8 cores recommended for 4K)
GPU-accelerated video processing and rendering requires an OpenCL™-supported NVIDIA®, AMD/ATI™, or Intel® GPU with 512MB memory; 1GB for 4K
At the moment, these are 5 of the most popular 4K video editors, which will let you do what you want to deal with your 4K videos. Although after learning enough tutorials and do some training steps, these programs can be handled well. But if you are the one who don't have too many editing requirements and just need a free tool to clip, split, crop, merge, enhance, rotate your captured 4K videos and simultaneously download 4K video resource and convert or compress 4K video, you can follow the simple guide below.
Maybe A Simple Alternative: A Free 4K Video Editor
If you decide to seek for a simpler and "free would be nice" method to edit 4K resolution videos, the Free HD Video Converter Factory is highly suggested.

Free HD Video Converter Factory
Simpleast Free 4K Video Editor Free Download for Windows OS [100% Free and Clean]. Crop unwanted parts, cut video clips, and merge multiple media files and more with ease. Learn more >
3 Steps on How to Free Edit 4K Video(in Any Format)
Free download the free 4k video editor and converter now. You are also able to download 4k resolution resources from the web with Free HD Video Converter Factory.
Step 1: Open the free 4k editor and drag your 4K videos into the program.
Step 2: Cut video clip: click "scissors" icon to clip 4K video. Drag the bar to control the starting and ending time. Moreover, you're able to adjust the time by minutes, seconds and milliseconds as well as set by frame.
Note: Learn how to clip segments from DVD.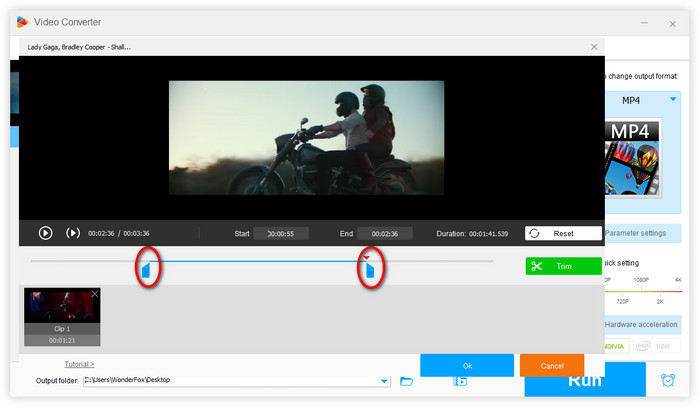 Cut 4k video clips
Crop video: If you want to cut off black bars of a 4K video, just click Crop button. And here you can easily rotate video.
Add visual effects: If you like to add special effects to enhance the 4K video, press Effect icon.
Merge video: click on Merge in the main interface. Flexibly drag and drop the 4K video clips which are in different formats to combine multiple videos into a film.
Step 3: Press "Run" button to start the task.
Still got question? Submit it to us and get answer within 24 hours.